SEC Approves Nasdaq's Board Diversity Disclosure and Board Recruiting Service Proposals
SEC Approves Nasdaq's Board Diversity Disclosure and Board Recruiting Service Proposals
Under newly SEC-approved Nasdaq rules relating to required disclosure of board diversity, beginning in 2023 listed companies will be expected to have at least two diverse directors - one female and one under-represented racial or LGBTQ+ individual – and in 2022 publicly disclose certain board diversity statistics. If they do not have two diverse directors, listed companies will be required to explain the reasons why. To help provide access to diverse directors, Nasdaq is offering free board recruiting services for one year to certain companies.
Summary of Rulings
On August 6, 2021, the SEC approved Nasdaq Stock Market LLC's ("Nasdaq" or the "Exchange") proposed rule changes related to the Board Diversity Disclosure and Board Recruiting Service Proposals. All Nasdaq-listed companies, unless subject to certain exceptions, are required to have at least two diverse board members or explain why they do not. The new listing standard will also require disclosure, in an aggregated form, of information on the voluntary self-identified gender, racial characteristics, and LGBTQ+ status of the company's board.

The rules provide for certain cure measures and periods if a company fails to comply with the new disclosure requirements.

In addition to the disclosure rule, the board recruiting service proposal gives certain companies access to Nasdaq's and their partners[1] board recruiting services for one year, on a complimentary basis. This is intended to provide access to a network of board-ready diverse candidates for companies.
Required Disclosures
All operating companies listed on Nasdaq's U.S. exchange will need to use the Board Diversity Matrix (pictured below), or a format substantially similar, to annually disclose board-level diversity data. Companies will provide this disclosure in the company's proxy statement or its information statement (or if the company does not file a proxy, its Form 10-K or 20-F), or on the company's website.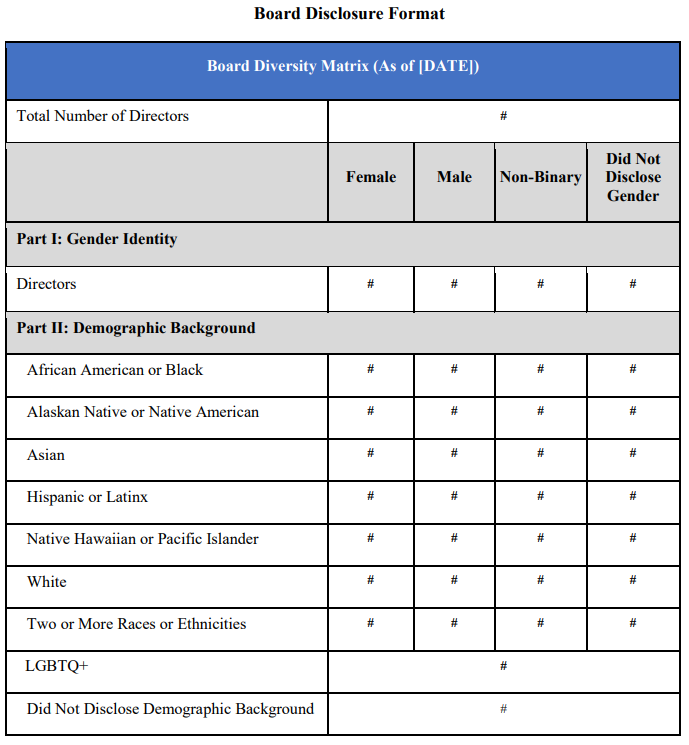 Note: For Foreign Issuers, demographic background would reflect underrepresented individuals in the home country jurisdiction and LGBTQ+.

View examples of acceptable (i.e., same or substantially similar) and unacceptable (i.e., substantially different) disclosures by Nasdaq.

Additionally, a company that does not have at least two diverse directors, as defined above, is required to disclose why it does not meet the diversity objectives. Nasdaq will verify whether the company has provided an explanation but will not assess the merits of the explanation. That is, there is no "right or wrong" reason that a company may give for not having at least two diverse directors.
Effectiveness, Exemptions and Transitions
Disclosure of board diversity data similar to the data above will be required annually and companies have until the later of August 8, 2022 or the date the company files its proxy statement or information statement for its annual shareholder meeting during 2022.

With respect to the requirement to have diverse board members or disclose why the company does not meet the diversity requirements:
Based upon the company's listing tier:

Nasdaq Global Select Market or Global Market companies are required to have (or explain why they don't have) one diverse director by August 7, 2023 and two diverse directors by August 6, 2025

Nasdaq Capital Market companies are required to have (or explain why they don't have) one diverse director by August 7, 2023 and two diverse directors by August 6, 2026

All companies with boards that have five or fewer directors are required to have (or explain why they don't have) one diverse director by August 7, 2023

Smaller Reporting Companies can meet the diversity objective with two female directors, or with one female director and one director who is an underrepresented minority or LGBTQ+.

Newly listed companies (e.g., including IPOs and direct listings) and SPACs (including the post-merger registrant) have special phase-in rules.

Foreign Issuers can meet the diversity objective with two female directors, or with one female director and one director who is an underrepresented individual based on national, racial, ethnic, indigenous, cultural, religious or linguistic identity in the country of the company's principal executive offices, or LGBTQ+.
SEC Approval
Many feel that this is step in the right direction to advance board diversity, which has been top of mind for investors. In approving these rules, SEC Commissioners Allison Herren Lee and Caroline A. Crenshaw issued a joint public statement indicating "NASDAQ's proposal should improve the quality of information available to investors for making investment and voting decisions by providing consistent and comparable diversity metrics." SEC Chair Gary Gensler stated that he believes that "these rules will allow investors to gain a better understanding of Nasdaq-listed companies' approach to board diversity, while ensuring that those companies have the flexibility to make decisions that best serve their shareholders." However, there is also dissent among SEC Commissioners Hester M. Peirce and Elad L. Roisman who, while supportive of Nasdaq's board recruitment services and the goal of expanding diversity within the boardroom, question the legal basis for proposed disclosure requirements and delisting implications and whether the proposal is actually within the scope and purpose of the Securities Exchange Act of 1934.
What's Next for Board Diversity
According to BDO's 2021 BDO Winter Board Pulse Survey, boards are enhancing their Diversity, Equity & Inclusion (DE&I) strategies. BDO's pulse survey collected results on corporate strategies in four priority areas related to DE&I:

In addition to these important advancements, the recent reckoning around social justice has furthered the push for greater diversity on boards. Board directors (55%) are signaling plans to focus on building a more diverse board and leadership team in the next 12-18 months. Six months ago, 50% said building a more diverse board leadership team was at the top of their long-term ESG priority list. The SEC's approval of the Nasdaq rules underscores the need for board diversity and the importance of reporting as a short-term priority for Nasdaq listed organizations.

Moving forward, incorporating hiring and human capital advancement practices into business processes and protocols cannot just be a human resource responsibility. It is also the duty of the board and management teams to ensure maximum efficacy and integration into the organization's overall business strategy. Historically, business leaders have turned to their networks to identify potential board members. The new disclosure rules may upend this tradition and encourage leaders to look beyond their established networks to identify candidates with diverse skills, experiences and perspectives to help grow their organizations. Organizations whose missions are to further the recruitment of diverse boards will be a crucial resource when it comes to providing companies access to a larger pool of diverse candidates to move beyond the limits of traditional networks and thinking.

Major institutional investors, including BlackRock, State Street and Vanguard, all called for increased board and management diversity in external communications ahead of last year's shareholder meeting season. This pressure from institutional investors remains high. It remains to be seen if other exchanges will follow Nasdaq's lead, whether imposing diversity requirements or penalizing those companies that do not act to diversify their boardrooms.

While unprecedented within the U.S. listing exchanges, this type of ruling has been anticipated since 2020. The investing community has significant power to create change. Investors are seeking accountability from management and the board. They also want boards to create an environment for board effectiveness based on the corporate strategies and priorities. Diversity, both on boards and management teams, has been proven to lead to better returns and increase long-term value, a win for both organizations and shareholders. It also has the benefit of minimizing reputational risk – a more diverse board comes with a broader range of perspectives, allowing organizations to identify areas of risk that may have otherwise been overlooked.
Learn More
Nasdaq provided an FAQ publication on its new diversity rules and intends to host several live webinars to help companies understand key elements of the rules and access a variety of free board recruiting services. Register for the first program on August 17, 2021.

We invite you to explore additional resources of interest and educational programming via the BDO Center for Corporate Governance and Financial Reporting.

---
[1] To date, Nasdaq has established partnerships with Equilar, Athena Alliance, and the Boardlist to aid Nasdaq-listed companies that have not yet met the diversity objectives and would like assistance doing so. The services offered are complementary and are not mandatory. Here's how your company can gain free access to Equilar's BoardEdge Platform and Equilar Diversity Network, Athena Alliance's community of women leaders, and the Boardlist's premium talent marketplace.