Market Perspectives: Quarterly Review - The Fed Impact Arrives
Market Perspectives: Quarterly Review - The Fed Impact Arrives
April 2023
"The U.S. banking system is sound and resilient. Recent developments are likely to result in tighter credit conditions for households and businesses and to weigh on economic activity, hiring, and inflation. The extent of these effects is uncertain. The Committee remains highly attentive to inflation risks."
-Federal Reserve Monetary Policy Statement, March 22, 20231
Two years after the widespread emergence of COVID-19 in March 2022, the Federal Reserve (the "Fed") began reversing their "easy money" zero interest rate policy by hiking interest rates. These rate hikes were in response to inflationary pressures emerging in various parts of the economy. The graph below depicts the Federal Funds Target Rate since 2017, and the blue shaded portion reflects market expectations of future Fed cuts. As the chart illustrates, the interest rate hiking cycle may be ending soon.
Raising interest rates increases the cost of debt, which can have broad economic implications. Higher interest rates make it more expensive to obtain and service a home mortgage or car loan, increases financing costs for businesses, and leads to many more ripple effects as banks generally are less willing to lend. Notably, these effects are not immediate in most cases; rather, they often take as long as six months to over one year to work through the economy to main street. The Fed started raising rates in March 2022 and accordingly, the economic effects are stacking up. In the first quarter of 2023, signs of stress emerged.
Despite this, equities generally rallied during the first quarter (see the chart immediately below) as did bonds (see the second chart below).
After a year where stocks (S&P 500 Index) and bonds (Bloomberg US Agg. Index) were both down double digits — a phenomenon that has never happened before2 — the first quarter of 2023 ended with both major asset classes in positive territory. While this quarter was a welcome reprieve from last year's disappointing returns, this quarter did not pass without drama and volatility. A banking crisis began to blossom among regional banks (our previous note "Market Flash: Silicon Valley Bank 101" is available upon request).
The international developed stock market performance remained strong, although a dramatic recovery in growth stocks in the U.S. led the way. Small U.S. company stocks lagged their larger counterparts. Emerging market stocks also managed to turn in a positive quarter, but did not appreciate as much as large stocks in the U.S. or international developed countries. Value style stocks gave up ground versus growth style stocks as the Russell 1000 Growth Index outperformed the Russell 1000 Value Index by more than 13%.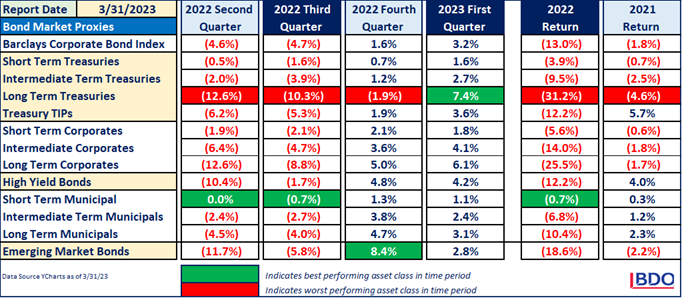 Once again, the asset class that seemed to be the most exciting was the one which normally is calmer: bonds. Interest rates remained flat in January but started to increase quickly in response to positive economic data, potentially challenging the Fed's attempt to slow growth. However, during the time of regional bank stress, interest rates dropped substantially. As a reminder, the price of bonds and interest rates have an inverse relationship. When rates rise, the price of bonds fall, and vice versa. Long-term treasuries were the big winner for the quarter (see above), as interest rates have declined year-to-date and investors have pulled bank deposits in search of higher yields and the relative safety of government bonds, a trend which benefitted the entire yield curve.
While a debate continues to rage amongst economists and investors as to whether the Fed's policy response was later than it should have been, there is no question that the response has been swift. The chart below shows the speed of recent interest rate hike cycles. This current cycle has been one of the most rapid in history.
The financial sector, which takes in deposits and lends out capital, was meaningfully impacted by the dramatic move in interest rates. So far, smaller institutions that have niche deposit bases (e.g., venture capital depositors in the case of Silicon Valley Bank) have been under pressure. At this time, the extent of the stress appears limited, although this certainly can change quickly as the recent episodes have shown.
This Fed hike cycle has begun to cause economic slowing, albeit in an uneven manner. For the Fed this is purposeful, as economic deterioration is a mechanism to tame inflation. As noted in the quote from the Fed statement above, the banking system broadly is sound, and the Fed remains focused on inflation. That being said, the data from other parts of the economy that are particularly sensitive to changes in interest rates, such as housing and auto sales, are beginning to see the strain of higher interest rates.
Stocks and bonds experienced bouts of volatility in the first quarter. These movements are to be expected as the Fed works to tame inflation with higher interest rates. Fed policies are often uneven and tend to behave with a lag. Our team will remain focused on the longer term as the economy works through the new world of higher interest rates.
Please reach out to your BDO advisor with any questions or comments.
---
1 Source: https://www.federalreserve.gov/newsevents/pressreleases/monetary20230322a.htm
2 Source: Ned Davis Research, Standard and Poor's for the S&P 500 and Bloomberg US Aggregate Total Return Index, Long-term Treasuries prior (Ibbotson prior to 1973).
BDOWA, LLC., is a wholly owned subsidiary of BDO USA, LLP.
Opinions expressed in this commentary may change as conditions warrant and are for informational purposes only. Information contained herein is not intended to be personal investment advice for any specific person for any particular purpose. We utilize information sources that we believe to be reliable but cannot guarantee the accuracy of those sources. Past performance is no guarantee of future performance; investing involves risk and may result in loss of capital. No graph, chart, formula or other device can, in and of itself, be used to determine which securities to buy or sell, or when to buy or sell such securities, or can assist persons in making those decisions. Consider seeking advice from a professional before implementing any investing strategy.
BDO Wealth Advisors, LLC is a Registered Investment Adviser dedicated to providing clients with unbiased, personal financial advice. Working in partnership with our clients, our wealth management team helps organize, enhance, manage, and preserve wealth through sound financial strategies. This information is provided by BDO Wealth Advisors for the personal use of our clients and friends. It should not be construed as personalized investment, tax, or legal advice. Information compiled from Ned Davis Research and additional third-parties. Please be sure to consult your CPA or attorney before taking any actions that may have tax consequences and contact BDO Wealth regarding any investment decisions. Every investment strategy has the potential for profit or loss.
At BDO, our purpose is helping people thrive, every day. Together, we are focused on delivering exceptional and sustainable outcomes — for our people, our clients and our communities. Across the U.S., and in over 160 countries through our global organization, BDO professionals provide assurance, tax and advisory services for a diverse range of clients.
BDO USA, LLP, a Delaware limited liability partnership, is the U.S. member of BDO International Limited, a UK company limited by guarantee, and forms part of the international BDO network of independent member firms. BDO is the brand name for the BDO network and for each of the BDO Member Firms. www.bdo.com
Material discussed in this publication is meant to provide general information and should not be acted on without professional advice tailored to your needs.
© 2023 BDO USA, LLP. All rights reserved.