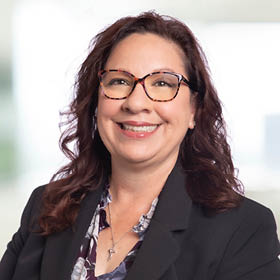 Stella Shanovich
Assurance Office Managing Partner
CPA
Executive Summary
Stella Shanovich has more than 20 years of public and corporate accounting experience. Her areas of knowledge include building strong client relationships, developing dynamic and diverse teams, and overseeing audit and accounting projects. She is actively involved in teaching, developing, and facilitating process- and culture-related transformation.
Stella has substantial experience serving both publicly-held and privately-owned companies, domestic and international, in the areas of financial statement audits, compliance audits, strategic planning, transaction workflow/process improvement, internal control structure review and design, and complex financial reporting.
Stella previously served as the chief financial officer of a medical laboratory in New Mexico where her significant accomplishments included negotiating construction financing for new building construction, coordinating a legal restructure project, managing business optimization and functional realignments over the front-end and billing processes, overseeing merger and acquisition due diligence activities, and reviewing/negotiating third-party payor contracts.
American Institute of Certified Public Accountants (AICPA)

Arizona Business Leadership

Arizona Society of Certified Public Accountants

National Association of Corporate Directors

Pacific Southwest Conference Executive Board – Finance Committee
B.B.A., Emphasis in Accounting, University of New Mexico