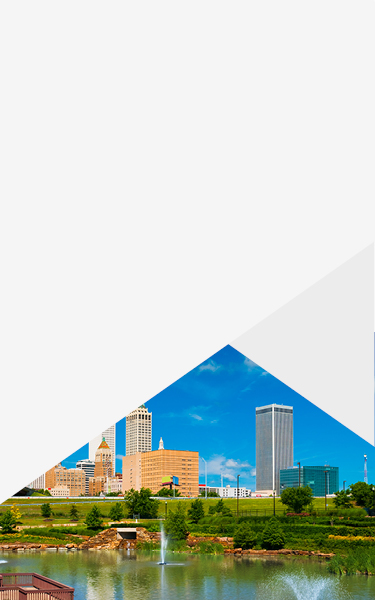 Empowering our clients in Tulsa and northeastern Oklahoma
Historically known as the Oil Capital of the World, Tulsa's location at the nation's center has made it a hub for logistics businesses, connecting the region with international trade and transportation for an economy diversifying into aerospace, finance, technology and manufacturing. Our Tulsa office provides the local presence, experience, accessibility and insight businesses expect from BDO. And cross-functional teams offer a comprehensive array of assurance, tax and business advisory services, utilizing the depth and breadth of resources offered by a leading global accounting and advisory firm.

At BDO, we believe that being a true business advisor means delivering the knowledge needed to assist in achieving your goals — and more. Our Tulsa office delivers strategies to help build resilience, uncover opportunities and adapt to a constantly changing marketplace in manufacturing and distribution, natural resources and other key industries throughout Green Country. Our national and global resources are here to help you chart additional strategies for success.
BDO Tulsa Office
8908 South Yale Avenue
Suite 450
Tulsa, OK 74137
Community Engagement
BDO's core purpose of helping people thrive, every day, extends beyond our clients and into our communities. We encourage our people to give of their time, talents and resources by committing themselves to local and national charities in and around Tulsa. Our corporate social responsibility program, BDO Counts, builds on this generosity of spirit through our local, regional and national community initiatives to which our people contribute their energies.
Tulsa Food Bank
Tulsa Food Bank
BDO Tulsa is committed to supporting local community initiatives, including Tulsa Food Bank, through our time and talent eagerly volunteering throughout the year
Cystic Fibrosis Foundation - Eastern Oklahoma Chapter
Cystic Fibrosis Foundation - Eastern Oklahoma Chapter
BDO Tulsa's purpose of helping people thrive everyday is reflected through the support of the Cystic Fibrosis Foundation who is committed to providing all people with CF the opportunity to lead long, fulfilling lives by funding research and drug development, partnering with the CF community, and advancing high-quality, specialized care.
Tulsa Area United Way
Tulsa Area United Way
BDO Tulsa is proud to support United Way who is committed to seeking to improve lives by mobilizing the caring power of communities around the world to advance the common good.