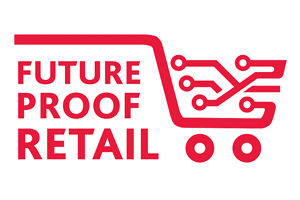 Chapter 1: From Retail Worker to Product Expert and Customer Experience Specialist
Imagine a homeware store in 2043: An employee named Jess starts her shift by reviewing the company's latest product line on a VR headset. Through gamified VR training, Jess had been working to improve her product knowledge retention and accelerate her learning. Jess's customer Alex has booked a VR interior styling appointment for that afternoon and sent images of his living room last night. Jess loads the images into the VR system and leverages the store's Artificial Intelligence (AI) to provide suggestions and speed her decision making in determining what recommendations to make to Alex.
Additionally, Jess used her data analytics training to understand what Alex's buying preferences are based on his customer profile, as well as predict the ultimate sales outcome for each item. When Alex arrives, Jess and Alex use the VR headsets to see how the latest vases, chairs, and throw pillows could look in his living room. While Alex decided to come to the store to touch and feel the products, Jess also provides virtual consultations to customers who are using their VR headsets from the comfort of their own home. With the proper training in VR technology, AI, data analytics and on the new home décor products, Jess feels confident she can help Alex inject more personality into his home.
The retail employee's role has quickly evolved beyond simply staffing the cash register or stocking inventory. Retailers will need the help of technology, AI, and data analytics to future proof their business and upskill staff, turning them into both product experts and customer experience specialists. So where do you begin in building these soon-to-be critical employee skill sets? Using product knowledge as an example, a first step could include fun tools.
Digital "gamification" platforms can make product education exciting and competitive. For example, employees can take a quiz on a retailer's new product line and score points to move higher on a leaderboard. A TalentLMS study found that 84% of surveyed employees believed gamification made them feel more engaged.
Employee training is already going beyond traditional computer gamification, with retailers using augmented reality (AR) and virtual reality (VR) to teach their staff. With its wow factor, VR and AR can help make product training more exciting for your employees.
The increasing digitization of employee training, combined with the incorporation of AR and VR into product demonstration, could help you maximize staff engagement and limit turnover. As technology transforms retail employment, knowledgeable staff with emerging technology and data analytics skills will be the X-factor that deepens employee-customer relationships.
Hear how the drop in US education will impact the retail workforce in the "How the Drop in US Education Will Impact the Retail Workforce" episode of the 60-second Retail podcast.
Chapter 2: Engagement Means Retention
Customers are often not receptive to strong-armed upselling or disingenuous recommendations – that's where authentic product knowledge and these other advanced skills come in. Knowledgeable employees are the foundation for enhancing the customer experience and growing sales. When a customer comes in for a silverware set, an employee can ask some questions about what they're looking for in their ideal set, and use data analytics to reveal opportunities to point them towards a set of plates or cloth napkins that they'll also love.
Many retailers wish all their employees could be like their best employees. With AI, data analytics, and digital training tools, "cloning the best employee" is not only possible, but made easy. For example, AI may soon be able to converse with employees in real-time to speed their learning and provide a more rewarding workplace experience. With data analytics, retailers can identify trends in employee engagement and learning – helping them to focus only on the training that produces the best results.
As a great example of digital training tool success one large technology retailer uses an intra-company social network to encourage employees to collaborate – if one person has a successful way to increase sales of core products, they post specific tips for their colleagues.
This could easily be replicated with success at most any retailer to share out winning sales strategies. Community building technology like this doesn't just boost employee engagement, according to Forrester research, it can empower them.
When employees feel empowered, they often feel motivated to deliver a better customer experience. Having the knowledge and confidence to ask the right questions can lead to stronger recommendations, which could in turn lead to reduced returns.
Retailers can greatly benefit from employees who are ready to embrace new technologies and improve their customer service skills. However, identifying candidates with the right skills for the mission is an ongoing challenge. Hires should ideally be both a technical and cultural fit – and that can be hard to find. Because of this, many retailers are focused on strengthening their talent acquisition programs to future proof their business.
Explore how the rise of e-commerce and returns are impacting retailers in the "Returns and the Rise of eCommerce" episode of the 60-second Retail podcast.
Chapter 3: The Hardest Skill to Teach May be Retail's Most Important
Retail faces a two-pronged labor challenge: Finding talent and finding the right talent. The labor market remains tight, and retailers are increasingly competing with remote and app-based gig opportunities for talent. Luckily, the strategies retailers can use to attract employees are also ideal for finding people who will stay and thrive. For example, AI could be used to hone targeting on the talent pool, and in rapidly training new workers. Meanwhile, data analytics could be used to better predict demand for talent and allow the retailers to make good, timely hiring decisions.
Many of today's retail candidates are looking for employers that understand the value of positive experiences with fellow employees and customers alike. Learning and growth opportunities help employees improve their technical skills as well as find fulfilment by forming connections with customers and colleagues. That's why it's often paramount that retail leadership consider the potential for upskilling in talent acquisition practices.
However, a committed employee isn't just someone who shows up. Retailers should strive to hire candidates with the necessary soft skills that today's retail environment demands.
Communication, grace, and a team-oriented mentality are hard traits to teach, but are foundational for learning and customer relationship building.
Let's look back to our future homeware employee from Chapter 1. This staff member would need the dedication and patience to walk her customer through a comparison of different couch upholsteries, and the technical skills to use VR to show how the selected furniture would accent the walls of his living room. As more retail employees guide customers through purchase journeys like this, having both technical and soft skills will become a requirement.
Finding the right retail candidates in the future will require an even more delicate balance than what is seen today – meeting shifting employee expectations while also identifying those candidates whose skillsets match modern, tech-enabled store experiences. This retail future isn't far off, but getting there alone can be difficult.
Find out how to help your company prepare for the workforce of the future by reading our "3 Steps to Digital Workplace Excellence" infographic.
Chapter 4: Modernizing the Retail Floor for Future Success
A modernized retail floor, where technology streamlines the employee experience, can allow workers to be better trained and focus on becoming true product experts. Helping staff hone the necessary skills to guide customers and contribute to the bottom line will likely require both digital innovation and cultural transformation.
But how can you achieve and maintain a culture of excellence?
A digital workplace modernization plan is an important place to start. BDO Digital's modern business workplace solutions help retailers create digitally enhanced working environments designed to drive sales and boost engagement. Our team works with clients to tailor productivity-improvement solutions with a focus on boosting staff efficiency and collaboration.
By developing employee experience optimization plans, BDO can help you limit friction and nurture a culture of motivation that emphasizes training employees on product expertise. This, of course, can significantly influence the overarching customer experience and buoy sell-through. Since securing employee buy-in is key for such initiatives, we also assist clients with creating and implementing change management strategies for new workplace directives.
Retail staff have proven themselves adaptable to new challenges and technologies in the past few years – so let's prepare them to take on a digitized retail future.
Now, it's up to you to upskill talented workers and pave the way.
Having trouble retaining the right retail talent? Explore how BDO's Digital Workplace Solutions can help you optimize your employee experience and improve productivity.
Ready to start building the workforce of the future for your business?
BDO's Retail and Consumer Products professionals are readily available to offer deep industry expertise around employee upskilling strategies and actionable insights for enhancing the customer experience.