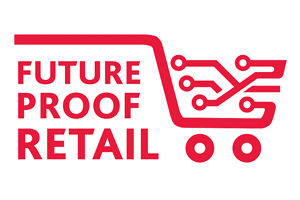 Chapter 1: Generative AI Supports Retail in Space – a SciFi Snippet or Imminent Reality?
The South Pole Lunar Colony's 200 residents needed new clothes for the 2100 New Year's Eve bash. So, the information officer generated a few hundred suggestions from the AI-powered, personalized product designer for NASA's official retail partner.
Shipping to the moon still took a few days, but generative AI took just a few minutes to iterate custom designs personalized to fit each person. Augmented reality (AR) helped the colony residents "try on" dozens of designs in a virtual fitting room and choose their favorites. Then small-batch runs of the top designs could be produced and delivered within a week instead of the six- to 12-month lead time common in previous decades.
While 2100 may seem far off, the transformative technology that will shape our lives for decades to come is already here. Generative AI can learn patterns and produce new content. It will soon be used in almost all customer interactions to evolve the omnichannel approach into truly unified commerce — connecting back-end data with customer experience in real-time.
The market size for AI in retail globally was "valued at $5.5 billion in 2022 and is projected to grow from $7.14 billion in 2023 to $55.53 billion by 2030, exhibiting a compound annual growth rate (CAGR) of 34.1% during the forecast period," according to a June 2023 Fortune Business Insights report. Generative AI represents a huge technological leap forward that is already changing retail and disrupting the competitive landscape.
To learn more about the potential of AI in retail, listen to our 60-second Retail podcast episode "AI Opportunities in Retail."
Chapter 2: Generative AI Gives Way to Out-of-This-World Customer Intelligence
Leveraging AI is critical to building and maintaining a competitive edge. In fact, 75% of retail CFOs say falling behind on technology innovation poses either some (39%) or a significant risk (36%) to their business, according to BDO's 2023 Retail CFO Outlook Survey.
It's no surprise to see retailers rapidly implementing AI tools across their businesses. While there are a plethora of use cases for generative AI, two of particular note are autonomous agents and hyper-personalization – both extremely useful in a retail business application.
Autonomous agents use large language models (LLMs) to complete an objective with limited prompting — such as answering customer queries — by stacking AI models and using software practices like loops and functions, which enables the completion of complex tasks with minimal human intervention or oversight.
When it comes to hyper-personalization, audience segmentation will soon become a thing of the past.
Generative AI and machine learning can enable a personalized experience for each customer at scale by synthesizing their data with real-time information to unlock dynamic messaging, recommend products, customize loyalty offers, and more.
Soon, retailers will use generative AI for developing entire fashion shows and ad campaigns by licensing a model's likeness and producing scalable, unique content at far less cost. Customers can then receive a personalized version of that content at their preferred time and in their preferred channel.
Overall, retailers can significantly boost efficiency and enhance customer intelligence in ways that lead to measurable improvements in both revenue and profitability, helping to future proof the business.
Listen to our 60-second Retail podcast episode, "CFO Outlook: P3 - Specialty Retailers Speed Ahead with Digital Innovation," to hear which sectors of the retail industry are building an edge with digital innovation.
Chapter 3: 'With Great Power Comes Great Responsibility'
Almost every single part of a business can stand to benefit from improved efficiencies and insights yielded by generative AI. A retailer looking to deploy generative AI should conduct an assessment of the organization's AI readiness, then develop a strategy that aligns with key business goals in the near and long term.
If a retail business still relies on legacy IT systems or makes limited use of the cloud, then some degree of tech modernization may be necessary to start. But there are still various outsourced or "off-the-shelf" options for generative AI.
Some retailers may have limited resources that make it challenging to implement large-scale change. But using AI technology is an existential decision for retailers, and it will be necessary for those with budget constraints to prioritize accordingly.
There are also potential risk factors and biases for retailers to consider, so it's important best practices for enablement and adoption, risk mitigation, and governance are adhered to. For example, data breaches are a significant concern for companies that train an in-house GPT model on sensitive enterprise data. It's critical to ensure the corporate IT environment is secure. Responsible AI principles, along with related tools and policies, also support the ethical use of AI that upholds transparency, fairness, accountability, and compliance.
Realizing the benefits of generative AI is likely more attainable than most might think. There are multiple options and a wide range of applications available, so tapping experienced consultants with deep industry knowledge can help in developing a custom strategy and plan of action for a business.
Read more about ways to secure budget for digital innovation, or make the most of limited resources, in our insight "Securing Dollars for Digital."
Chapter 4: How BDO Can Help You Map the Future
BDO's experienced professionals can assess your generative AI readiness and help devise a strategy with an implementation roadmap that maintains focus on end-to-end security. Our offerings include a technical consultation tailored to your specific needs with cloud, ERP, and CRM systems. Companies that still need to upgrade their legacy systems can opt to use an AI as a Service option, like BDO Digital GenesisTM, to gain quick wins with existing tech capabilities.
BDO also offers an In-House GPT solution vs. a service, which enables your business to integrate generative AI capabilities within your existing corporate IT environment, giving your team total control of access while your data remains encrypted and securely stored. We provide an adoption plan, training sessions, a custom interface, and ongoing support to capitalize on the many benefits of generative AI. We can also help monitor, review, and mitigate potential bias while helping identify and iterate new improvements.
By harnessing the power of generative AI, we can help you get more value out of your data, extract actionable insights, enhance decision-making and velocity, boost digital capabilities, and unlock performance improvement all while capturing efficiencies across the organization.
Learn more about BDO Digital's in-house GPT solution with this one sheet, which includes a customized "Jumpstart Program" to help your business realize the benefits of generative AI ASAP.
Ready to see how Generative AI can transform your business?
BDO's Retail and Consumer Products professionals can provide deep industry expertise and tailored guidance on AI use cases in retail to help retailers stay competitive today, tomorrow, and beyond.