Regulations in the European Union for the Use of Triton X-100 in the Pharmaceutical Industry
Regulations in the European Union for the Use of Triton X-100 in the Pharmaceutical Industry
The European Chemical Agency, as part of the European Parliament and Council, established the Registration, Evaluation, Authorization, and Restriction of Chemicals (REACH) regulation, Regulation (EC) No 1907/20061, to ensure a high level of protection of human health and the environment. Triton X-100 (4-(1,1,3,3- Tetramethylbutyl) phenol, ethoxylated) was included on the candidate list of substances of very high concern under the regulatory framework on 19 December 2012 based on the endocrine disrupting properties of the Triton X-100 degradation product ((4-(1,1,3,3-Tetramethylbutyl) phenol)2. The "Sunset date" (the date from which the use of a substance is prohibited unless an exemption is granted) for Triton X-100 was almost 2 years ago (04 January 2019).

Hence, multiple questions have arisen regarding the use of Triton X-100 in the pharmaceutical industry including the use of Triton X-100 as a formulation excipient as well as the use of Triton X-100 for viral inactivation, solubilizing inclusion bodies and reducing endotoxin content during purification.

Pharmaceutical companies manufacturing products in the European Community and/or, importing products for use in clinical trials or for marketing in the European Community have raised concerns about requirements concerning products containing Triton X-100.

Today, most pharmaceutical companies developing new products and processes are avoiding the use of Triton X-100 and instead searching for alternative options. Multiple studies have been conducted to identify suitable replacements for Triton X-100 to minimize the impact on the environment and public health. For drug product formulation, multiple other detergents are readily available and commonly used such as polysorbates and poloxamer 188. For viral inactivation, replacement candidates include PEG9 lauryl ether, PEG6 caprylic/capric glycerides, SimulsolTM SL11W and a proprietary compound called Nereid.

An in-depth review of the REACH regulations for all substances identified to be of very high concern was conducted to understand if the concerns from the pharmaceutical industry relating to Triton X-100 are substantiated. The regulations specify that if a substance of very high concern meets the conditions listed below, they shall not be manufactured in the European Community or placed on the market unless they have been exempted in accordance with the regulations:
Substances that are used in quantities of one tonne or more per year

Substances that are intended to be released (from an article} under normal or reasonably foreseeable conditions of use

Typically, the above conditions are not anticipated to be met when using Triton X-100 as an excipient or as a raw material in a purification process for a biopharmaceutical product.

However, assuming one or both of the conditions were met, there are exemptions in place to the REACH regulation for medical, veterinary, alimentary and cosmetic products. For substances of very high concern (such as Triton X-100) that are used in pharmaceutical manufacturing the rules summarized in Table 1 apply. The rules specify that substances that are used for scientific research and development are exempt; hence when manufacturing products for clinical trials, the exemption applies. Further, the requirements to register, evaluate and apply for authorization for use do not apply if the substance is used in a medicinal product. Finally, even when Triton X-100 is not specifically used in a medicinal product, if the final concentration is ≤ 0.1% (w/w), notification and request for authorization is not required. These rules make it feasible for the pharmaceutical industry to continue using Triton X-100 (and other substance of very high concern) in legacy products and permits the sponsor or applicant to use Triton X-100 in the manufacturing of new drug products intended for clinic trial and/or commercialization.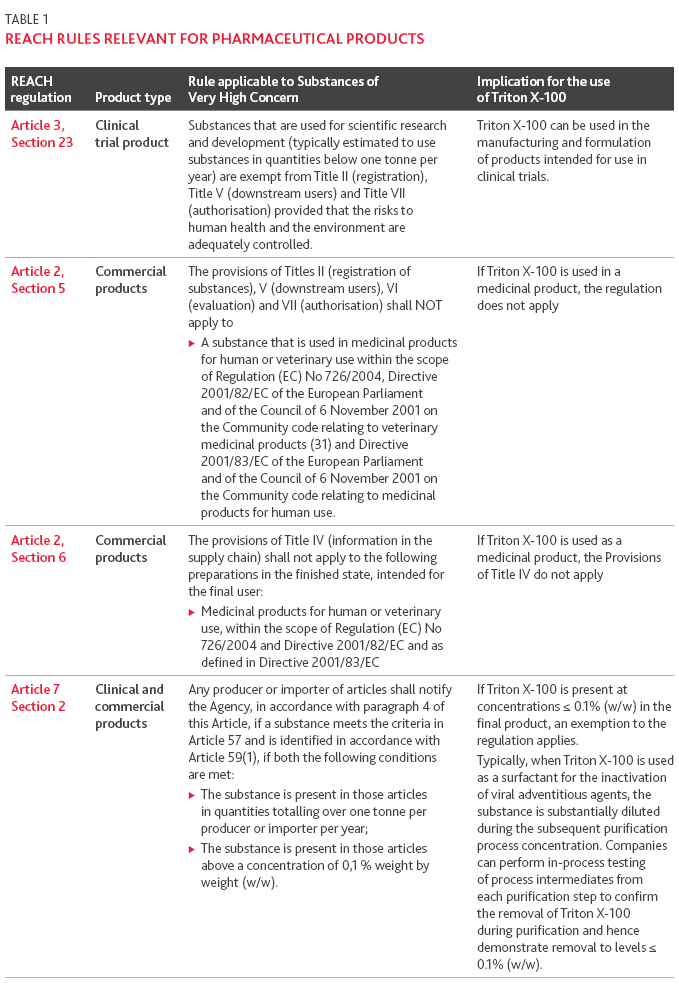 ---

[1] https://eur-lex.europa.eu/eli/reg/2006/1907: REGULATION (EC) No 1907/2006 OF THE EUROPEAN PARLIAMENT AND OF THE COUNCIL of 18 December 2006 concerning the Registration, Evaluation, Authorisation and Restriction of Chemicals (REACH), establishing a European Chemicals Agency, amending Directive 1999/45/EC and repealing Council Regulation (EEC) No 793/93 and Commission Regulation (EC) No 1488/94 as well as Council Directive 76/769/EEC and Commission Directives 91/155/EEC, 93/67/EEC, 93/105/EC and 2000/21/EC
[2] https://echa.europa.eu/documents/10162/f6ae4ec7-0a73-45eb-bafb-43e37bd3b42e: European Chemical Agency (ECHA): 4-(1,1,3,3-tetramethylbutyl) phenol, ethoxylated (Triton X-100)