BDO Alliance USA Member Spotlight – Myron Gellman, The Mercadien Group
BDO Alliance USA Member Spotlight – Myron Gellman, The Mercadien Group
BDO Alliance USA is among the industry's largest associations of accounting and professional services firms. In more than 750 locations throughout the U.S., member firms are fully autonomous, united in mindset, caliber of service, and spirit of collaboration. In this series, we introduce you to Alliance Member leaders who are making a difference in their firms.

Meet Myron Gellman, CEO and Managing Director of The Mercadien Group.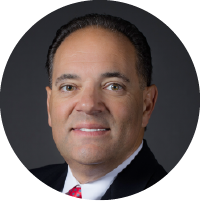 With offices in New Jersey and Pennsylvania, The Mercadien Group joined the BDO Alliance USA in 2016. Myron has been with the firm for almost 25 years. He started as an Executive Director managing all operations of the firm and a limited book of clients, but eventually discovered that what he liked doing most was business development. About 10 years into his operations role, Myron stepped into a business development role by giving up most of his operations duties, yet he continued to maintain his book of clients. He enjoys the interaction with and pursuit of prospective clients and, of course, eventually the client win.

His role evolved further over time and as a result of formal succession planning by firm leaders, Myron assumed the first phase of his CEO role in July 2016, eventually fully transitioning into the role in January 2020. Two months later, COVID-19 hit the U.S. and he was immediately challenged to lead his team and maintain his firm's culture. Despite the difficulties, The Mercadien Group navigated that time well, even developing several new strategic initiatives like "Vision-Mercadien 2030" and an Innovation committee, whose focus is to foster an innovative environment within the firm, including developing new service offerings. Myron says, "In five to seven years, we will not look like the same firm as we are today, so we need to predict where the puck will be and meet it at that future point." The innovation team taps into the best and brightest minds in the firm, while also engaging an outside expert to advise them.

Myron has an active role in the business community; he sits on several boards and continues to be involved with business development in the market. He still represents a limited number of clients, but the firm decided that the highest and best use of his time is managing the firm.

Did you ever see yourself being a managing partner of a CPA firm?
I've always led, even as a kid. I've always held varied leadership positions. Being a leader can be challenging, but I've managed by trying not to worry about every little thing. Identify your goals and never give up as it will all work out eventually (and hopefully).

What do you enjoy most about being managing partner?
I like leading and bringing teams of people together. I haven't always been that way. I used to think I needed to do everything myself, but I've learned through experience that engaging others is not a weakness. Self-awareness and knowing your team's strengths and weaknesses is key. With that, the entire team ends up in a better place. I like self-motivated folks that have passion and drive – people that are highly effective not because they need to be, but because they want to be. My desire is to drive and lead a future for our firm and for my fellow partners and associates, while providing a good quality of life and work-life balance for all. We have a fantastic culture at Mercadien and I believe that happy people lead to happy clients. I continuously strive to be in a state of growth through knowledge development to enhance skills and exposure to innovative ways of thinking to better myself and my firm. I believe in never-ending self and organizational improvement.

Where do you think your philosophical perspective came from?
I grew up on a family farm with very modest means. I worked on the fields through the age of 19, and then I left the farm for college. During those years of very hard work, I realized that this was not the career I wanted for my future. However, I do believe that experience helped shape me into the person I am today. My parents and grandparents instilled in me the notion of hard work and to never give up, and the notion of endless possibilities if you have the tenacity to strive for what you want.

My parents and grandparents have since passed, but the land stayed in our family. I now farm some of that same land today as a hobby. We grow every type of vegetable we can! I have the same 70+-year-old farm equipment, which we still use to this day.

Who is your idol?
My parents. They had limited education, especially my father, but they had wisdom and common sense that compared to no one. My maternal grandparents, as well. They owned three businesses and were very bright in many ways.

What role do you play in maintaining your firm's award-winning culture?
Leading by example. I try to demonstrate that these are not just words on a piece of paper or on a board; you must live by them. What matters is how you show up and behave, especially when things are being tested. It all starts at the top.

What's a fun fact that people may not know about you?
I earned a black belt in karate and have been training in Japanese Karate and Jiu-Jitsu for over 25 years. I particularly like the old Japanese expression: "There are no limits. There are only plateaus, and you must not stay there; you must go beyond them."

What would you like to share about your experience in the BDO Alliance USA?
We have had a tremendous experience with the entire BDO Alliance team, especially Jim Hayden (our Relationship Partner). He helps us get connected to all things BDO. We work very closely together, and he has been a fantastic resource for us. We also value the technical support, referral opportunities and the area meetings for knowledge-sharing and networking. We were in another association prior to joining the Alliance and I can honestly say that over the last five years, the opportunities with BDO have been 10x greater than in our previous experience.