Responding to the Market
Responding to the Market
At BDO, we consider our reputation in the markets we serve to be both a responsibility and an opportunity. Our audit professionals do not view the audit simply as a compliance exercise. We know that our clients rely on and trust audits to provide not only the necessary financial reporting assurance for stakeholders but also important and actionable insight about the risks and opportunities facing their businesses.
Our auditors work to gain a full understanding of each client's business so that we can help those organizations recognize the financial accounting ramifications of their decisions. That's why we commit ourselves every day to building these types of client relationships and embracing our role as a true business partner.
Of course, this role includes advising on key business issues as soon as they arise. Our rapid response to U.S. tax reform and our ongoing efforts to help clients fortify their cybersecurity efforts are just two examples of how we look at the issues clients are facing holistically. In both cases, we have built teams of highly skilled professionals across our audit, tax, and advisory practices to help clients address their most pressing business challenges. The result is a cross-functional effort that draws on the knowledge of professionals who are on the front lines dealing with these issues for clients in the U.S. and around the world.
We believe that our ability to replicate this model of responsiveness to address whatever new challenges and questions arise in our clients' industries has a meaningful impact on audit quality—for our individual clients and for the profession as a whole.
U.S. Tax Reform: A Lesson in Rapid Response
When Congress passed the U.S. Tax Cuts and Jobs Act in late 2017, businesses were looking for immediate insight into how the law would affect their operations, tax planning, and overall decision making and reporting. Our multidisciplinary leadership team of tax, accounting, financial reporting, and audit professionals immediately went to work analyzing the law and identifying issues clients would need to address both immediately and over the near term to comply with the law's requirements and to take advantage of the opportunities resulting from its passage.
We then overlaid an industry lens, identifying specific issues and opportunities most relevant to each client's industry and situation. Once we completed our initial analysis, our response team began identifying how the law would affect individual audit and tax engagements so those insights and adjustments could be incorporated immediately into any client engagements already underway.
Within days of the new law's passage, our professionals were providing clients with focused advice on issues and questions specific to each organization. Going forward, in tandem with the anticipated release of over 1,500 pages of U.S. regulation related to the law, our response team will continue its work helping our clients navigate the myriad implications of these regulations.
---
"BDO provided outstanding service to our business both before and after the enactment of the Tax Cuts and Jobs Act of 2017. Beforehand they provided useful analyses of both the House and Senate bills enabling us to advise executive leadership of the impact of each. After the enactment, BDO provided a final analysis that facilitated accurate year-end 2017 tax accounting. And in 2018, BDO continues to advise us on emerging developments with regard to tax accounting and disclosures."
TOM SISK
Director of Tax, Spartan Motors
---
Cybersecurity: Emerging Threats Demand Ongoing Diligence
Few issues today cause C-level executives and board members as much angst as cybersecurity threats. No industry is immune from these risks. That is why we are marshalling the full force of BDO's intellectual capital to help our clients protect their data—and their stakeholders.
To help clients deal with current and emerging cybersecurity threats and manage their responsibilities for data protection, we maintain a multidisciplinary team that includes an audit partner leader who serves on the American Institute of Certified Public Accountants (AICPA) and the Center for Audit Quality (CAQ) Cybersecurity Working Groups. It is the goal of these groups to help both BDO and our clients understand cybersecurity issues and, more importantly, identify the resources necessary to mitigate risks, including updating and adapting internal controls to deal with these threats. Our auditors also work directly with leading cybersecurity professionals within the firm's Advisory practice, including former FBI experts, to offer clients the latest tools, insights, and mitigation strategies around cyber risk.
Our professionals have spent the last several years working with the AICPA on its cybersecurity initiatives, including the development of its new cybersecurity examination engagement. Additionally, BDO was a key contributor in the development of the AICPA's Cybersecurity Risk Management Framework. Our team regularly uses that framework to examine companies' controls, protocols, and policies related to cybersecurity and to perform attestation engagements detailing the effectiveness of client cybersecurity risk management programs. Additionally, we further support the CAQ's efforts in this area and contributed to the recently released CAQ Cybersecurity Risk Management Oversight: A Tool for Board Members.
Our work in Systems and Organization Controls for Cybersecurity (SOC for Cybersecurity) is an important outgrowth of our team's efforts. This comprehensive examination service helps clients describe their risk management programs, assert that the controls implemented are suitably designed and operating effectively, and highlight the auditor's attestation as to the fairness of the description and the suitability of the design and operating effectiveness of the controls.
Thanks to our team's relentless vigilance in a field of rapidly emerging new threats, we continue to improve our effectiveness in developing and implementing cybersecurity controls gudiance, benchmarking the state of clients' efforts against best practices, and auditing cybersecurity risk management programs.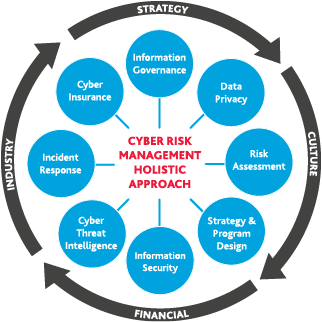 Supporting Complexity
Audit relationships with our clients require a careful balancing act. For these relationships to work, both parties must bring the same level of commitment to ethics, learning, and knowledge, while also having similar approaches to reporting financial information. In this type of relationship, auditors learn from clients and vice versa as both parties share insight into new regulatory and reporting requirements, industry developments, and changes to the client's business.
Our investments in client education and support are essential to the success of our client relationships. To help clients better understand the complexities of implementing emerging accounting requirements and implications of new business transactions, we have developed our Accounting & Reporting Advisory Services (ARAS) practice.
One area where ARAS has been particularly valuable is in helping clients manage the intricate new accounting standards for revenue recognition and lease accounting that are priorities for many corporate finance and accounting departments. ARAS also provides services to help under-resourced finance and accounting departments deal with the questions and analysis involved in major business transactions, which can include everything from business combinations and discontinued operations to debt modifications and stock compensation. Another critical element of ARAS is in providing support for ongoing reporting requirements, including those related to a company's readiness for an initial public offering.
Shaping the Future of Audit
One of our most crucial responsibilities is to work with both the audit profession and our clients to shape the future of the audit. To that end, we are making investments in the form of personnel, time, technology, and resources to ensure BDO ideas and innovations play a leading role in that conversation. BDO partners and other experienced professionals are dedicating thousands of hours annually to this endeavor.


Enhancing the Audit Profession: Partners in Action
See how several BDO partners are at the forefront of the effort to continually enhance the audit profession's ability to shape the audit of the future to best serve our stakeholders:

WAYNE BERSON
Chief Executive Officer / Greater Washington, D.C.
Serves on the Center for Audit Quality (CAQ) Governing Board and chairs the CAQ Financial Oversight Committee.

CHRISTOPHER TOWER
National Managing Partner, Audit Quality and Professional Practice / Orange County, CA
Named to serve on the Standing Advisory Group (SAG) of the Public Company Accounting Oversight Board (PCAOB), which advises the PCAOB on the development of auditing and related professional practice standards. Serves on both the CAQ Professional Practice Executive Committee and the CAQ Advisory Council.

JIN KOO
National Accounting Partner / Dallas, TX
Recently completed a two-year fellowship with the Financial Accounting Standards Board (FASB), which involved contributions to accounting standard setting related to cash flows, income tax disclosures, and stock compensation.

BRIAN MILLER
National Partner, Audit Transformation & Innovation / San Francisco, CA
Member of the American Institute of Certified Public Accountants (AICPA) Audit Data Analytics working group and author of portions of the AICPA Guide to Audit Data Analytics, Chair of the Rutgers AICPA Data Analytics Research ('RADAR') initiative focused on advanced integration of data analytics within the accounting profession and leader of BDO's global Data Analytics Strategy, Standards & Programs initiative.

JEFF WARD
National Managing Partner of Third-Party Attestation Services / St. Louis, MO
Played a key role in developing the AICPA's 2017 Cybersecurity Risk Management Framework used to examine companies' controls, protocols, and policies related to cybersecurity and to perform attestation on the effectiveness of client cybersecurity risk management programs.

JAN HERRINGER
National Assurance Partner / Woodbridge, NJ
Member of the CAQ Task Force on Auditor Reporting focused on the new PCAOB auditing standard that expands the auditor's report and requires auditors to identify critical audit matters (CAM) and describe how these matters were handled in the audit. Member of the Auditing Standards Board of the AICPA and is further serving as President of the New York State Society of CPAs.

Raising the Knowledge Bar
We believe having a client base that values continuing education is an important factor to ensuring overall audit quality. Thus, we continue to amass significant client-centric educational offerings focused on issues that matter and add incremental value to our service. Thanks to the BDO Center for Corporate Governance and Financial Reporting, the marketplace has a convenient way to keep up with the latest thinking on issues relevant not only to audit, finance, and accounting executives but also corporate board and audit committee members.
The Center offers complimentary access to real-time education with continuing professional education (CPE) credits through access to live webinars and in-person local forums, along with self-directed learning through self-study coursework, publications, practice aids, and tools. This information covers important emerging issues in corporate governance and trending topics in accounting and financial reporting that impact those charged with governance and their advisors.
The Center also provides in-depth analysis and best practices on issues that range from director diversity and on-boarding new directors to the pitfalls of boardroom involvement in capital formation and significant evolving standards on revenue recognition, lease, and financial instrument accounting. The Center also captures emerging areas like information governance under the European Union's General Data Protection Regulation (GDPR) that recently went into effect, providing companies with real-time insight into risks it may or may not yet be contemplating.
---
"Board members and, in particular, audit committees need to remain sharp and educated on issues of importance to our stakeholders. BDO recognizes this and provides our board with direct access to its National technical experts, who make learning impactful for our directors and financial executives."
MORTON ERLICH
Audit Committee Chair, Skechers USA Inc.
---

Social Sustainability Connection to Audit Quality
We believe that audit quality begins with a workplace that is conducive to the needs of our professionals and our clients and that instills a clear and consistent value system. We aim to always put people first, a core value deeply rooted in our firm. We have been recognized for our achievements and continue to work hard in caring for our people and our clients.
As important as creating an internal environment that is supportive of producing quality work, we believe in connecting with the external environments that have supported us for over 100 years. We therefore support a variety of local-office led initiatives that allow our professionals to give back through being socially conscious citizens in doing good deeds and supporting initiatives that sustain our communities.
Building a global organization that serves clients in a wide range of industries around the world.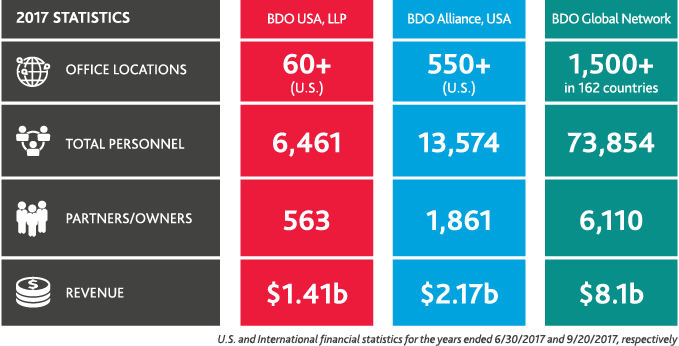 What we are proud of
Top Entry Level Employers for 2018
CollegeGrad.com
Working Mother 100 Best
Working Mother magazine
When Work Works Award
When Work Works
World at Work, Work-Life Seal of Distinction
World at Work
IAB Network of the Year Award
International Accounting Bulletin
Vault Accounting 50; Top Internship Program
Vault Accounting
Best Places to Work For
National Association for Business Resources
Best and Brightest in Wellness
National Association for Business Resources
NAFE Top Company for Executive Women
National Association for Female Executives
---
---