Operational Efficiency, Through Innovation, Remains the Holy Grail
Operational Efficiency, Through Innovation, Remains the Holy Grail
As the volume of work and expectations demanded of legal departments increases—cited by 19 percent of survey participants as their biggest personal challenge—so does the pressure and desire to operate at optimal efficiency.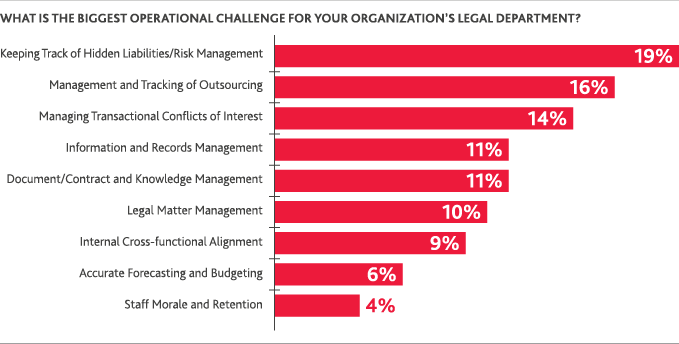 To streamline their processes, many legal departments have traditionally looked to two main sources for help—outside counsel and technology.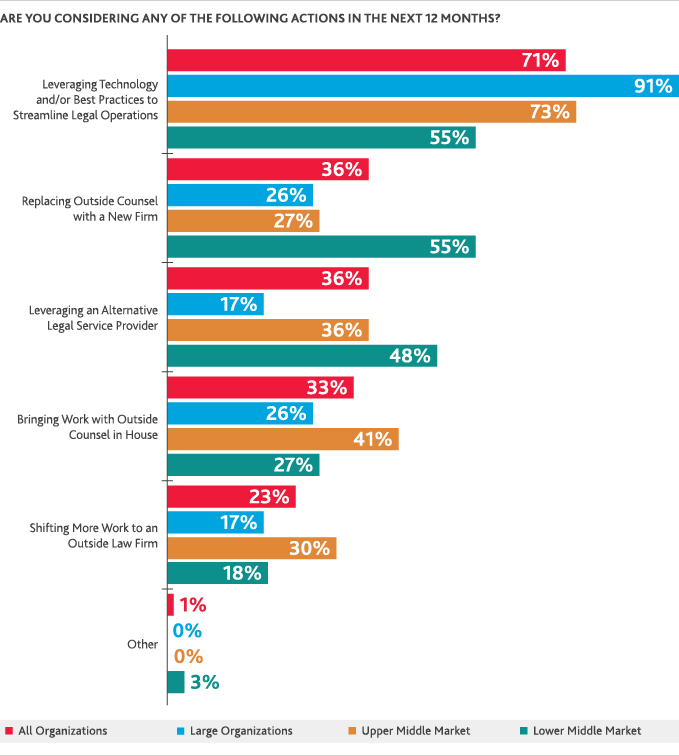 Seeking Outside Counsel: Corporate Counsel and Law Firms' Evolving Relationship
Seeking advice from outside counsel has traditionally been an action taken by organizations to fill any gaps in skills, knowledge or resources. Nevertheless, this year's survey reveals a startling statistic: Over a third (36 percent) of general counsel are considering replacing their outside counsel with new firms over the next 12 months. This is especially true among lower middle market companies, where over half (55 percent) are considering switching partners.

Why the change? The answer is eye-opening, with 29 percent of organizations citing a lack of innovation (also the top complaint). It's even higher among lower middle market organizations (39 percent), who are perhaps eager to innovate and catch up to their larger peers. Other complaints are more logistical in nature, including issues with pricing models (17 percent), poor project management (15 percent) and inaccurate budgeting (14 percent).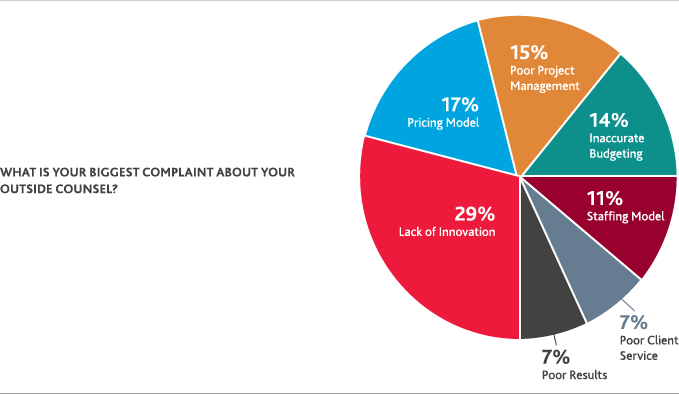 Transforming the Legal Department
Corporate counsel's desire to innovate may not be completely new, but increasingly, it's becoming a top priority. Critical to this process is digital transformation. While technology adoption isn't easy—17 percent of survey participants cite using new technology, tools and techniques as their biggest personal challenge—it's inevitable, and general counsel are getting the memo. Seventy-two percent are considering leveraging technology or best practices to streamline legal operations—a percentage that rises to 91 percent among large organizations.

The good news is that the environment is ripe for innovation. Data analytics, predictive modeling, artificial intelligence, machine learning and automation, among other technologies, are quickly becoming essential to the legal profession, helping organizations sort through complex information, find relevant documents more quickly and accurately, make better strategic decisions, improve workflows and more. Fortunately, many outside vendors and consultants have invested significantly in these various technologies to differentiate themselves from the pack. When figuring out which firm(s) to partner with, in-house counsel should pay attention to these factors and choose organizations with the vision and capabilities that best reflect their own goals and roadmap.

While a world of technologies exist, here are a few we believe will be most prevalent this year (as noted in our 2019 E-Discovery & Beyond Predictions):
Data Analytics
The use of data analytics in e-discovery will come into its own in 2019, as practitioners move beyond using concept searching and predictive coding to deploying a much richer mix of capabilities such as information extraction, biologically-inspired computing and computer vision.

Artificial Intelligence (AI)
AI will become more popular among firms, but will still be met with pushback —especially regarding concerns about how AI works, how personally identifiable information is used and abused, and what will happen when AI begins thinking on its own.

E-Discovery for Mobile Data
Mobile data will become the new email, as text, WhatsApp, Slack and their counterparts become even more widely used. Software developers are taking note and will likely offer a multitude of new offerings for identifying, preserving and collecting, processing, reviewing, and analyzing mobile data in its various forms this year.

Robotics Process Automation (RPA)
RPA will become a major disruptor, driving legal departments and law firms to rebuild their operations from the ground up, while also delivering the much-needed increased reliability, speed and accuracy that effective automation can provide.
---
CONCLUSION
Corporate counsel will have a lot to contend with in 2019. The continued explosion of Big Data and dissemination of information will require organizations to heighten their focus on information governance, e-discovery and data management. Regulatory developments at the national and international levels—ranging from the EU's GDPR to industry- specific laws—will demand an almost religious upkeep of legal and regulatory compliance processes. Meanwhile, increasing competition, market pressures and burgeoning fears of a potential recession make cutting costs and maximizing operational efficiency even more of a business imperative.

Luckily, legal departments are arming themselves up to meet these challenges. From increasing investments in information governance and e-discovery, to adopting new technologies and processes, to fully undergoing digital transformation, corporate counsel are finding new and innovative ways to stay ahead.