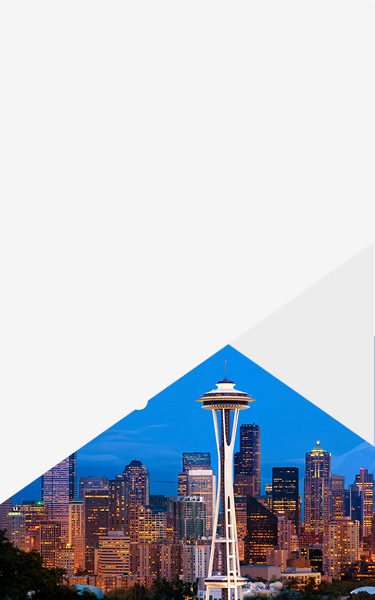 World-class resources and exceptional service in Seattle and throughout Washington
The largest city of the Pacific Northwest region, Seattle is a major gateway for trade with Asia and headquarters for Fortune 500 companies across a diverse mix of industries. Our downtown Seattle office provides the local presence, experience, accessibility and insight businesses expect from BDO. And cross-functional teams offer a comprehensive array of assurance, tax and business advisory services, utilizing the depth and breadth of resources offered by a leading global accounting and advisory firm.

At BDO, we believe that being a true business advisor means delivering the knowledge needed to assist in achieving your goals — and more. The team of professionals in our Union Square office provides strategies to help build resilience, uncover opportunities and adapt to a constantly changing marketplace in technology, manufacturing and distribution, consumer products, auto dealerships and other key industries across the region. Our national and global resources are here to help you chart additional strategies for success.
BDO Seattle Office
601 Union St
Suite 2300
Seattle, WA 98101
Community Engagement
BDO's core purpose of helping people thrive, every day, extends beyond our clients and into our communities. We encourage our people to give of their time, talents and resources by committing themselves to local and national charities in and around the Emerald City. Our corporate social responsibility program, BDO Counts, builds on this generosity of spirit through our local, regional and national community initiatives to which our people contribute their energies.
The Food Lifeline
The Food Lifeline
BDO Seattle is committed to supporting local community initiatives, including The Food Lifeline, whose goal is to feed people who are experiencing hunger today and, at the same time, solve the issue of hunger for tomorrow.
Treehouse Wearhouse
Treehouse Wearhouse
BDO Seattle's purpose of helping people thrive every day is reflected through the support of the Treehouse Wearhouse who is committed to creating a world where every child that has experienced foster care has the opportunities and support, they need to pursue their dreams and launch successfully into adulthood.
Seattle Children's Hospital
Seattle Children's Hospital
BDO's is proud to volunteer at organizations like the Seattle Children's Hospital whose mission is to provide hope, care and cures to help every child live the healthiest and most fulfilling life possible.