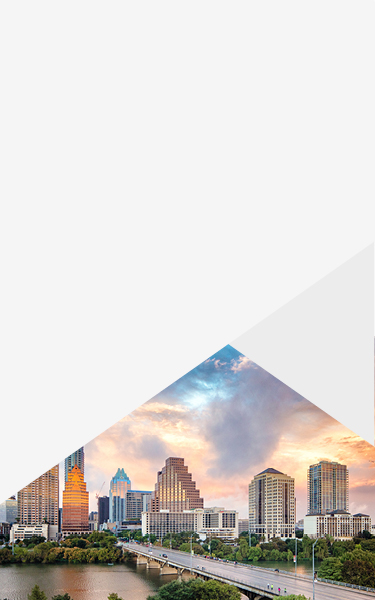 Empowering our clients in Austin and Central Texas
Capital city of the Lone Star State, Austin is an important crossroads for commerce and industry throughout Central Texas. Our downtown Austin office provides the local presence, experience, accessibility and insight businesses expect from BDO. And cross-functional teams offer a comprehensive array of assurance, tax and business advisory services, utilizing the depth and breadth of resources offered by a leading global accounting and advisory firm.
At BDO, we believe that being a true business advisor means delivering the knowledge needed to assist in achieving your goals — and more. Our Austin office provides strategies to help build resilience, uncover opportunities, and adapt to a constantly changing marketplace in technology, natural resources, manufacturing and other key industries across the region. Our national and global resources are here to help you chart additional strategies for success.
BDO Austin Office
515 Congress Ave
Suite 2600
Austin, TX 78701
Community Engagement
BDO's core purpose of helping people thrive, every day, extends beyond our clients and into our communities. We encourage our people to give of their time, talents and resources by committing themselves to local and national charities in and around Austin. Our corporate social responsibility program, BDO Counts, builds on this generosity of spirit through our local, regional and national community initiatives to which our people contribute their energies.
Rodeo Austin
Rodeo Austin
BDO Austin is committed to supporting local community initiatives, including Rodeo Austin, who provides hands-on learning experiences for students and fair goers.
Colorado River Alliance
Colorado River Alliance
BDO Austin's purpose of helping people thrive is reflected through the support of the Colorado River Alliance, who is committed to championing the long-term vitality of the Texas Colorado River through education and engagement.
The Austin Area Food Bank
The Austin Area Food Bank
BDO Austin is honored to volunteer with The Austin Area Food Bank who is committed to nourish hungry people and lead the community in the fight against huger.