Public Company Board Directors Take Action on Controversial Issues
Public Company Board Directors Take Action on Controversial Issues
Alana Gold
Bliss Integrated Communication
(646) 386-2924
[email protected]
BDO's annual Board Survey finds governance areas of focus are expanding amid volatility
Chicago, IL − In a volatile business climate, the focused oversight of boards of directors has become even more critical. According to the 2019 BDO Board Survey, public company board directors are in the thick of tackling key issues, from trade tensions and regulation, to technology disruption and diversity. Companies across every industry have been thrust into the spotlight on political and reputational matters, and directors recognize the need to take a more proactive approach to risk management. As a result, the board's role in providing oversight and governance to business strategy, investments, and policies—and their focus on emerging issues—has reached new heights.

"To describe 2019 as a turbulent year for companies would be an understatement," said Amy Rojik, BDO USA's National Assurance Partner - Communications and Governance. "Now, more than ever, public company board members are providing a steady hand through strategic direction, oversight and risk management—making them an essential voice when planning for issues from digital disruption to market volatility."

Plotting Paths Through Controversial Issues: Economy, Trade, Diversity
As boards of directors and management teams begin discussions on 2020 business strategy and risks, there are no shortage of issues to tackle. Chief among them: the economy. Nearly half (48%) of directors have a strategy to address a potential economic downturn, and a plurality (30%) say it is the most discussed issue in their boardroom.

The trade war and resulting uncertainty has also been a major issue for boards of directors, with 48% citing a high or moderate impact to their organizations. Almost a third (29%) are considering other countries for sourcing products and materials. While businesses have taken a reactive approach to tariffs in the past, more proactive planning will be essential for the coming year, as the 2020 U.S. election is likely to create additional turbulence around the issue. Boards should ensure that management takes into account their companies' total tariff liability in their strategy and risk mitigation plans.

"Trade policy in 2019 has brought more questions than answers, and companies are understandably concerned about the volatility of expenses and tax exposures," said Damon V. Pike, BDO's Customs & International Trade Services Leader. "Boards are right to prioritize this issue and keep an open mind about potential actions to mitigate exposure and risk. Trade issues in 2020, a U.S. presidential election year, promise to be just as tumultuous as 2019, if not more so."

Boards also continue to focus on ensuring their company has access to diverse perspectives and viewpoints, with gender parity a key priority. While progress in board diversity continues to be made with all companies in the S&P 500 currently including at least one female board member, parity in board composition still has a long way to go. Just two-thirds of directors (67%) surveyed report high or moderate levels of diversity on their board.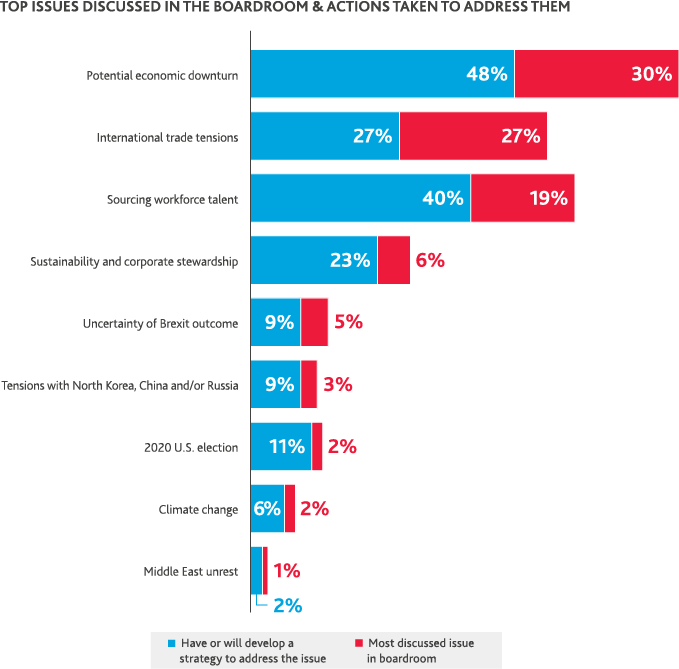 Digital Transformation Drives New Risks & Opportunities
As technological innovation and disruption continue to reinvent the rules of business, board directors have ramped up their focus on digital transformation strategy. More than two-thirds (68%) of directors say they have a digital transformation strategy in place. Still, that means roughly one-third of companies have some catching up to do. To address digital disruption, boards are primarily increasing capital allocation to digital initiatives, developing a roadmap and hiring board members with relevant oversight expertise.

Data Privacy and Security Investments
Just over one year after the General Data Protection Regulation (GDPR), and with the 2020 deadline for the California Consumer Protection Act (CCPA) looming, data privacy remains a chief concern for boards. In fact, a plurality of board members (46%) say they are briefed at least quarterly on data governance. Almost half (47%) have implemented or updated internal privacy policies, and 43% have expanded data privacy resources and budgeting in the past year.

"The new standard in data governance is not just privacy, it's ethics," said Karen Schuler, BDO's Governance, Risk and Compliance National Leader. "Boards should ensure not only that companies are prepared to comply with current and developing data privacy regulations, but that they are implementing a holistic data ethics program with a framework that guides data ownership, transparency, consent, privacy and financial value."

Taking a conscientious approach to cybersecurity is also essential as the threat landscape evolves. A whopping 83% of companies increased their investment in cybersecurity in the past year, but investment is only part of the solution. Only 24% of board directors say that they are highly familiar with their company's data breach response plan, and 39% are only somewhat or not at all familiar with it. With more than 1-in-5 directors reporting that their company experienced a breach in the past two years, it's critical that management and the board be well-versed in their company's digital risk profile, mitigation and response efforts.

Governance & Reporting, Redefined
When asked about their top governance challenges, boards point to regulatory requirements and risk oversight prioritization most frequently. However, there are increasing calls for a change in mindset from organizations like the Business Roundtable, who recently said that an organization's purpose should be on addressing stakeholder needs—not simply lining shareholder pockets. Transparency and sustainability are growing priorities, and increasingly connected to reputation and value. Overall, 17% of public company boards indicate they issue ESG disclosures today, with higher concentrations (35%) of large and mid-cap companies reporting that they do so. With mounting regulatory, cultural and generational pressures, we anticipate these reports will become both more prevalent and more important to company performance.

The full 2019 BDO Board Survey including detailed board perspectives on these issues and others including tax reform impact and actions, board refreshment policies, critical audit matters, reporting practices, and more, is available here.

About the BDO Board Survey
The 2019 BDO Board Survey, conducted by Market Measurement, Inc., an independent market research consulting firm on behalf of the Corporate Governance Practice of BDO USA, examined the opinions of 180 corporate directors of public company boards during July and August of 2019. Respondents represent a distribution of organizations across industries and market value, from less than $200M to more than $10B, who serve on a variety of board oversight committees in varying capacities and tenures.

About BDO USA
BDO is the brand name for BDO USA, LLP, a U.S. professional services firm providing assurance, tax, and advisory services to a wide range of publicly traded and privately held companies. For more than 100 years, BDO has provided quality service through the active involvement of experienced and committed professionals. The firm serves clients through more than 60 offices and over 700 independent alliance firm locations nationwide. As an independent Member Firm of BDO International Limited, BDO serves multi-national clients through a global network of more than 80,000 people working out of nearly 1,600 offices across 162 countries.

BDO USA, LLP, a Delaware limited liability partnership, is the U.S. member of BDO International Limited, a UK company limited by guarantee, and forms part of the international BDO network of independent member firms. BDO is the brand name for the BDO network and for each of the BDO Member Firms. For more information please visit: www.bdo.com.