BDO USA Announces Social Impact Strategy
BDO USA Announces Social Impact Strategy
CHICAGO, AUGUST 30, 2023 – BDO USA, one of the nation's leading accounting and advisory firms, recently launched a holistic social impact strategy that aligns its peoples' passions with BDO's purpose – helping people thrive every day.
The strategy builds on the firm's long-standing employee-driven volunteer program, BDO Counts, and centers on four cause areas: Children & Youth, Education & Literacy, Human Rights, and Environment. The firm identified these cause areas by surveying its professionals to find alignment between personal interests and firm priorities. As the strategy evolves, BDO will announce strategic relationships with nonprofits that support one or more cause areas to amplify the impact within the communities the firm serves.
"We have a long history of being engaged in the communities where we live and work," said Wayne Berson, CEO of BDO USA, "The launch of our social impact strategy reinforces our commitment to a vision of corporate citizenship built on shared responsibility for community well-being."
The social impact strategy rolled out with more than 100 local service events hosted in the days surrounding the launch. During this time, over 2,000 BDO professionals contributed more than 8,500 hours to their local communities.
"Our people play a crucial role in delivering on this vision and fulfilling our commitment to positive social change by coming together and contributing their time and talents," said Chad Gabriel, Social Impact Strategy Steward. "Their engagement is key to further enhancing our social impact strategy and driving lasting change."
To learn more about BDO USA's social impact efforts, please visit our Community Engagement page.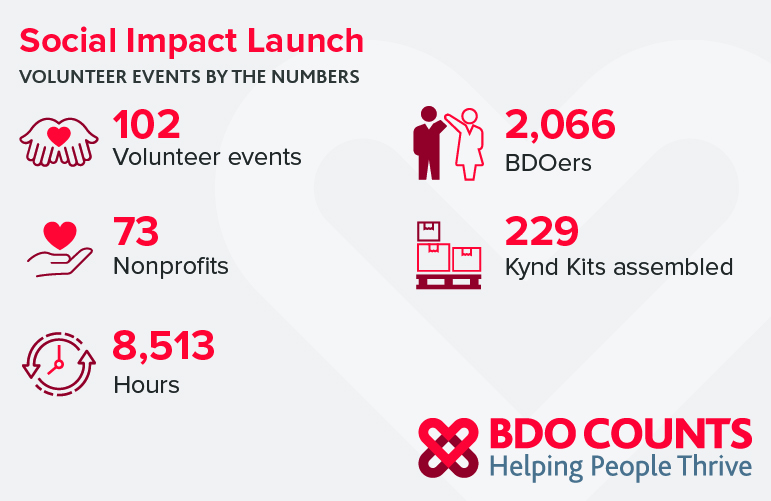 Kynd Kit assembly was offered in collaboration with Project Helping for those BDO professionals who chose to volunteer virtually.
About BDO USA
At BDO, our purpose is helping people thrive, every day. Together, we are focused on delivering exceptional and sustainable outcomes for our people, our clients and our communities. Across the U.S., and in over 160 countries through our global organization, BDO professionals provide assurance, tax and advisory services for a diverse range of clients.
BDO is the brand name for the BDO network and for each of the BDO Member Firms. BDO USA, P.A., a Delaware professional service corporation, is the U.S. member of BDO International Limited, a UK company limited by guarantee, and forms part of the international BDO network of independent member firms: www.bdo.com.