​Through the Nonprofit CFO Lens
​Through the Nonprofit CFO Lens
About half (48 percent) of the survey respondents are nonprofit chief financial officers (CFOs). As the primary stewards of an organization's fiscal health, CFOs have a unique view into nonprofits' operations and challenges.

For the purposes of this comparative analysis, the other 52 percent of respondents are categorized as other C-Suite executives. Positions encompassed in this group include CEOs, Executive Directors, and Presidents (25 percent cumulatively) and a small number of other title levels, including General Counsel, CIOs, COOs, Directors, and Vice Presidents.
CFOs' Perception of Financial and Regulatory Challenges
Overhead
CFOs consistently weigh financial challenges more heavily than other nonprofit C-Suite executives. About two-thirds of CFOs (67 percent) consider rising overhead costs to be a moderate or high-level challenge in the next year. Among the broader C-Suite, 50 percent say the same.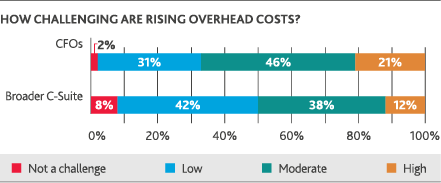 Tax Reform, Regulations, and Legislative Changes
Responding and complying with new government regulations and legislative changes likely falls under the CFOs' purview. Unsurprisingly, 52 percent of CFOs rank this area as a high or moderate challenge in the next year, compared to 38 percent of the broader C-Suite. Following the passage of the tax reform law, nonprofit financial executives were tasked with assessing the impact of the legislation, implementing the necessary changes, and determining the most beneficial structures for the year ahead. Beyond tax reform, nonprofits are in varying stages of implementing accounting changes to revenue recognition, lease accounting, and the presentation of nonprofit financial statements. While the deadline for public companies to be in compliance with revenue recognition has since past, private organizations are facing a fast-approaching deadline (calendar year 2019).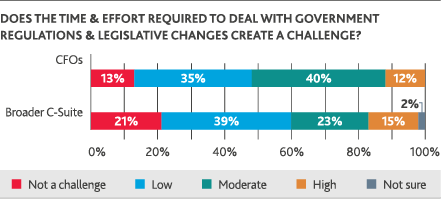 Liquidity
Thirty-four percent of CFOs say maintaining adequate liquidity is a high or moderate challenge, compared to just 17 percent of the other nonprofit leaders. While CFOs place a greater emphasis on shoring up a supply of operational reserves (liquid, unrestricted net assets) than their C-Suite counterparts, 35 percent of CFOs say maintaining adequate liquidity is not a challenge.

Beyond Finance: CFOs Could Be Overlooking Tech-Related Challenges
CFOs are more likely to consider cybersecurity a low-level challenge—nearly half of CFOs (46 percent) categorize cyberthreats as such, compared to 35 percent of other nonprofit executives. While information technology (IT) is often not under CFOs' immediate responsibilities, the security of financial technology systems—including donor databases—is a crucial element of a nonprofit's overall cyber hygiene. There also could be a disconnect between nonprofit leadership and their boards on the issue of cybersecurity, as anecdotally, protecting organizations from cyberthreats is consistently on board agendas. A CFO's role might primarily live within the organization's finance arm, but as veterans of the nonprofit space know well, an effective leader in the dynamic nonprofit world is a jack of all trades.

---