Scope and Impact
Scope and Impact
Most nonprofits (79 percent) did not expand the scope of their mission in the last fiscal year. In the uncertain political and economic climate, many organizations could be taking a wait-and-see approach before pursuing mission-expansion.

Expenditures to Program-Related Activities
Nonprofits spend an average of 77 percent of their total expenditures on program-related activities—a metric many nonprofit watchdogs use to determine financial efficiency. This aligns with Charity Navigator's findings that 7 in 10 nonprofits spend at least 75 percent of their budget on programs and services.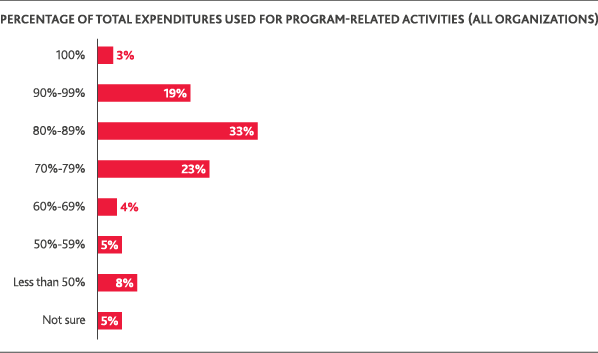 While organizations are under pressure to minimize overhead and prioritize programmatic spending, more isn't always better and the "right" level of spending varies greatly by organization type. Falling on either end of the spectrum—underfunding or over-allocating—can both be causes for concern. About 1 in 5 nonprofits (19 percent) report spending between 90 to 99 percent on program-related expenses.

This type of high programmatic spending could mean that organizations are underfunding necessary infrastructure—new technology, employee training, and fundraising expenses—a phenomenon known as "the starvation cycle." The prevalence of restricted donations could also be a contributing factor to the high program-related spending.
Overhead Costs
Sixteen percent of all organizations categorize rising overhead costs as a high-level challenge, and 42 percent consider it to be a moderate-level challenge. One quarter of large organizations say it is a high-level challenge.

Changing Regulatory Landscape
Getting in compliance with new regulations can put a strain on nonprofit resources, and this past year has seen no shortage of changes. Forty-five percent of nonprofits say that the time and effort required to deal with government regulations and legislative changes will pose a moderate or high-level challenge to their organization in the next year.

The plethora of changes in the new tax reform law and the trifecta of financial accounting changes looming—including revenue recognition, lease accounting, and changes to the presentation of nonprofit financial statements—immediately come to mind, but international regulations are also adding to the changes afoot. The EU's General Data Protection Regulation (GDPR), for example, has implications for many nonprofits. Any organization that serves constituents in the EU or accepts donations from individuals are within the regulation's scope.

Large organizations consider the changing regulatory landscape to be a greater challenge than their smaller counterparts: 56 percent of organizations with annual revenues above $76 million say it poses a high or moderate challenge. Conversely, 30 percent of midrange nonprofits do not view the time and effort required to deal with government regulations and legislative changes as a challenge.
Reporting Impact
The vast majority (93 percent) of organizations communicate impact outside of their organization and many are under increased pressure to demonstrate results and provide further transparency. Sixty-one percent say that some portion of their funders have required more information than was previously required, meaning organizations may be facing additional administrative burdens. When comparing revenue levels, upper-midrange nonprofits were the most frequent recipients of such requests. More than three-quarters (77 percent) of this group indicate some portion of funders required more information on impact.

Challenges Related to Reporting Impact
When it comes to reporting impact, the two areas most commonly identified as high or moderate challenges include no consistent framework for measuring and reporting impact (60 percent), and the lack of adequate technology to gather data on impact (58 percent). These are closely followed by human resources constraints (51 percent), lack of clear program objectives or key performance indicators (KPIs) to measure against (48 percent), and inadequate financial resources (43 percent).



Reporting Methods
Annual reports remain the most popular vehicle for communicating outcomes with external stakeholders, distributed either online or in print by 87 percent of nonprofits surveyed.

Social media is becoming a more widely used method to communicate outcomes with external stakeholders and is tied with email in popularity. Nearly three-quarters (72 percent) communicate via social media—nearly double the 38 percent of organizations who leveraged the platforms last year.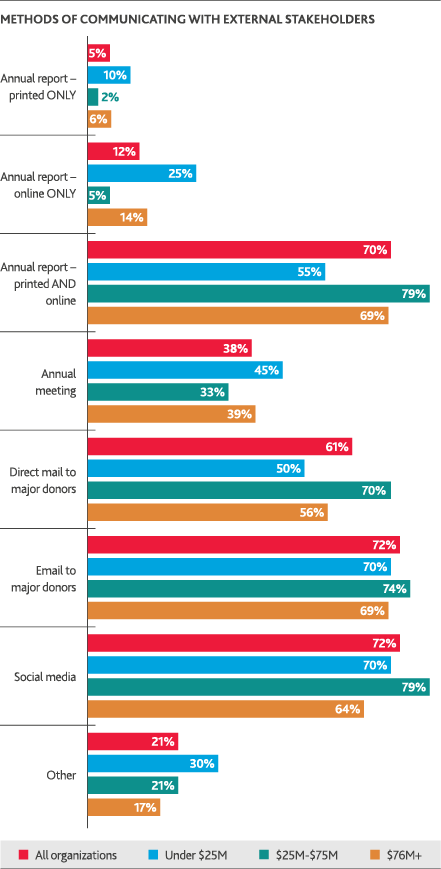 ---