​PErspective in Tech
​PErspective in Tech
The Private Equity Download
This year, almost half of tech CFOs (48%) expect to engage in M&A activity, while 59% expect tech valuations to increase, according to the 2018 BDO Technology Outlook Survey.

What does this mean for private equity?

While tech deal activity continues to advance steadily, private equity is faced with an ever‑increasing amount of challenges.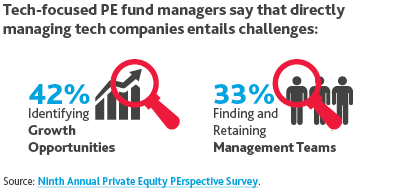 ---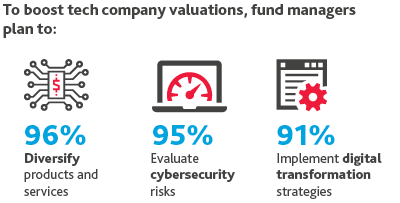 ---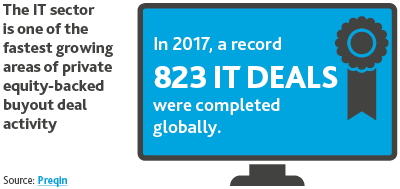 ---

Corporate Venture Capital (CVC) Takes a Byte
Armed with mountains of capital and deep tech knowledge, the corporate venture capital arms of companies like Google and Intel are confidently deploying capital in the tech arena.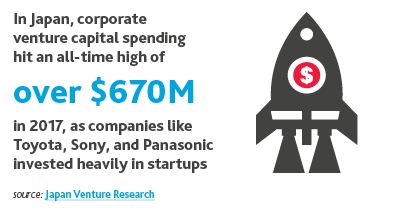 ---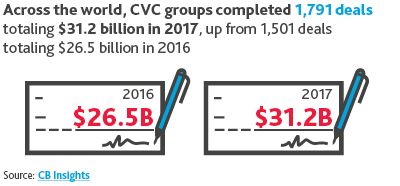 ---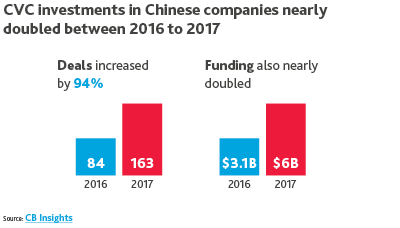 ---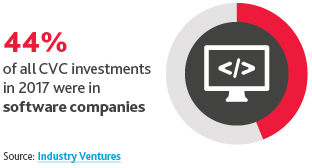 ---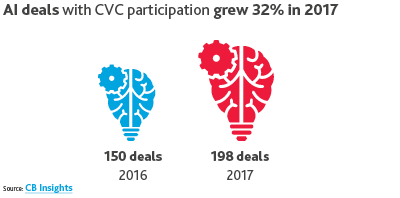 ---
Sovereign Wealth Funds Optimize the Search for Tech
In the year up to Nov. 22, 2017, Asian sovereign wealth funds invested more than $6 billion directly into tech, $1 billion more than they did during the same period in 2016.*

In terms of cross-border partnerships, for example, China Investment Corporation (CIC) Capital and the Ireland Strategic Investment Fund (ISIF) teamed up in mid-March to create a €150 million fund to invest in high-growth Irish tech companies that want to access the Chinese market.

This new fund is a successor to the $100 million China Ireland Technology Growth Fund, announced in 2014 by ISIF's predecessor, the National Pensions Reserve Fund, and CIC.

*Source: Sovereign Wealth Fund Institute's SWF Transaction Database
---

PE, CVC & SWFs Combine Codes
As the rush for tech targets intensifies, sovereign wealth funds are teaming up with venture capital firms, pension funds, private equity firms, strategics and CVCs to get deals done. In fact, according to PitchBook data, they were partners on some of the largest tech deals of 2017:

Nets Group, a Danish developer of digital payment technology designed to provide digital payment services, was acquired by Hellman & Friedman, Advent International, Bain Capital, Fisher Lynch Capital, Sampo, StepStone Group, and GIC Partners, which is one of Singapore's sovereign wealth funds. The deal was completed as a $5.3 billion public-to-private LBO on Sept. 25, 2017.

IDEMIA, a French provider of electronic security systems and identity management services, was acquired by Oberthur Technologies via its financial sponsor, Advent International, through a $2.7 billion LBO on May 31, 2017. France's sovereign wealth fund, Bpifrance also took a minority stake in the company.

Didi Chuxing, a Chinese mobile ride-hailing application, raised $4 billion of venture funding from SoftBank Capital, the United Arab Emirates' sovereign wealth fund Mubadala Development, and other undisclosed investors on Dec. 21, 2017, putting the company's pre-money valuation at $52 billion. The funding will be used to invest in artificial intelligence technology, international expansion, and new business initiatives.

NeuStar, a U.S.-based provider of real-time information and analytics services, was acquired by Golden Gate Capital and Singapore's GIC through a $2.9 billion public-to-private LBO on Aug. 8, 2017.
---
Have Questions? Contact Us