Gearing Up for a Biotech M&A Boom
Gearing Up for a Biotech M&A Boom
This article was originally published in the October 2021 issue of Life Science Leader magazine.

At the height of the pandemic, economists and sociologists alike prophesized a second Roaring Twenties, during which people would emerge from their quarantine bubbles ready to throw money at restaurants, theaters and anything else that promised socialization and distraction from memories of COVID-19. While society at large may not yet live up to the fantasies conjured in quarantine, the business of biotech mergers and acquisitions really does seem ripe for a resurgence.

Biotech M&A was slow in the first half of 2021, but that may be changing, with emerging trends indicating that a biotech M&A boom could be on the horizon. If your biotech is hoping to be acquired by a larger pharma company, it's crucial that you start preparing now.
A look at biotech in 2020
In the first half of 2021, the biotech market has been relatively cool, with few major deals taking place. There are several factors that may have driven this slowdown—the impact of the pandemic, which caused a major drop-off in biotech deals in early 2020, can't be discounted, and the fact that biotech valuations are sky high has made deal-making extraordinarily expensive, which may have also dampened activity. An analysis of the most recent 10-K SEC filings on the NASDAQ Biotech Index (NBI), however, gives us reason to believe that the tides may be changing.

BDO's Summer 2021 Biotech Brief Report uncovered two major trends that could result in a hotter M&A market in 2021. First, the pace of R&D spending growth is decreasing—in 2020, R&D spending increased by 16%, whereas in 2019, R&D spending had increased by 20%. Second, biotechs accrued much more debt in 2020 than in previous years. In fact, 2020 saw a 185% increase year-over-year in debt compared to 2019.

With more cash on hand and slower growth in R&D spending, larger biotechs have greater resources to spend on pursuing M&A deals. When combined with low interest rates and the lower cost of capital, these factors create an appealing M&A market for biotech in the second half of 2021.

When considering the direction of the biotech M&A market, we foresee particular interest in the following areas:
Oncology: The Global Oncology Drugs Market is estimated to grow at a CAGR of 6.6% from 2019 to reach USD 157.65 million by the year 2025. In addition, the American Society of Clinical Oncology meeting was held in June this year, which led to a 5% increase in the NBI. The conference usually offers an opportunity to shop for acquisitions. Following the conference and considering the high growth projections for the oncology space, we're likely to see significant interest in this area.

COVID-19: With the emergence of the delta variant, continued development of COVID-19 diagnostics, therapeutics and vaccines will be important to our ability to overcome the pandemic. Further investments in this area will likely continue until such a time as herd immunity is reached on a global scale.

Pioneering Medicine: The COVID-19 vaccines represent a breakthrough in mRNA technology. As the world considers how to grapple not just with this pandemic, but with the pandemics of the future, mRNA is likely to receive more attention and investment. As a result, companies working to develop mRNA technology will be attractive candidates for M&A and other types of investments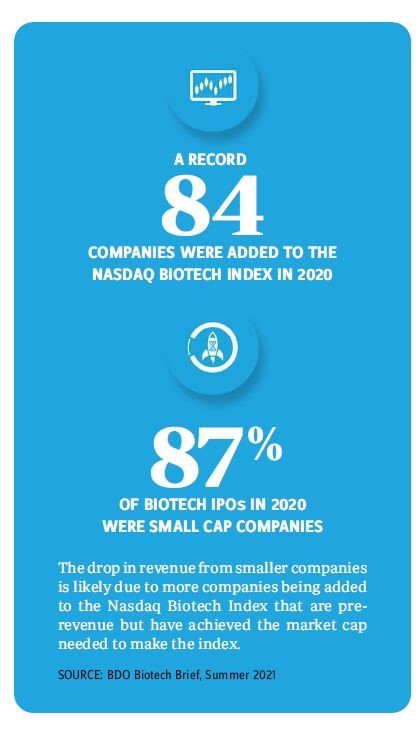 Not all new trends are M&A friendly
While signs are pointing to a hotter M&A market for biotechs in the coming months, not all factors are working to drive more M&A in 2021.

One potential hurdle to the M&A boom are the Federal Trade Commission's plans to increase scrutiny on pharmaceutical deals. In January, the FTC announced its intent to study the effects of physician group and healthcare facility consolidation that occurred from 2015 through 2020. Two months later, the agency aligned with the Department of Justice and other government stakeholders to update the approach to analyzing the impact of pharmaceutical mergers. Such anti-trust measures could dampen enthusiasm for the M&A market.

Additionally, if biotech valuations remain high, big pharma companies may shy away from acquisitions due to the expense. It's probable that these companies will continue to look at earlier-stage targets for co-development or acquisitions to remain cost-effective. When we see valuations start to decrease, we're likely to see M&A activity start to pick up.
So what should biotech companies do next?
Now is the time for biotechs hoping to be acquired through M&A to increase their appeal to potential buyers. As Roman philosopher Seneca famously said, "luck is what happens when preparation meets opportunity." Biotechs looking to benefit from the potential boom should prepare by taking the following steps:
Develop a concrete and clear clinical strategy. Your strategy should be communicated to all levels of your organization as well as your stakeholders, to ensure everyone is on the same page and you have sufficient buy-in to move forward.

Project an image of corporate organization. It's crucial to have all of your organizational ducks in a row if you want to make your company attractive to a potential buyer. Ensure your legal, regulatory, financial and operational processes are strong and reliable. Proper documentation is key to demonstrating to potential buyers that your company's corporate organization is conducive to a deal.

Be aware of potential liabilities. Buyers will want to know not only your strengths, but your liabilities as well, prior to making a deal. You'll need to make an honest assessment of what liabilities you'll be bringing with you into the deal and communicate them clearly with your potential buyers. There should be no unpleasant surprises after the ink has dried.

Tell a story. The life sciences industry may deal largely in facts and figures, but the most successful biotechs are able to weave these into a compelling narrative that tells an inspiring story about their brand and mission. Being able to communicate that story in an engaging way is crucial to attracting the attention of potential buyers.

Seek and seize value creation opportunities. Potential investors not only evaluate prospective acquisitions by past achievements and long-term possibilities, but also by current initiatives. Biotechs looking to be acquired should be on the lookout for new value creation opportunities that can enhance their attractiveness to buyers.

While it's impossible to predict exactly what will happen in the future, there's a strong case to be made for an impending biotech M&A boom. It isn't enough to prepare for an M&A deal once the boom is already in full sway—it's crucial to start preparing well in advance to make yourself attractive to buyers. That way, you're in position to capitalize on the best opportunities and avoid leaving value on the table.

---