BDO Healthcare Rx: An Urgent Script for Healthcare
BDO Healthcare Rx: An Urgent Script for Healthcare
Accelerated Change Requires Urgent Action
BDO Healthcare Rx brings together clinical innovation, financial improvement and digital transformation to help support organizations as they rapidly identify the operational, care model, workforce, technology, and real estate opportunities that are preventing them from maximizing the return on their strategic commitments.

By applying our proprietary BDO performance diagnostic tool, you can form a thorough and objective assessment of your current state of operations, envision your future possibilities then move with haste to realize them.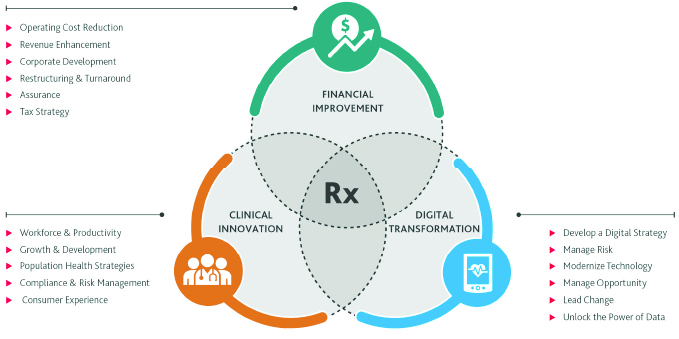 The BDO Healthcare Rx Method
Quickly Convert Opportunities into Reality
BDO has helped healthcare organizations plan and implement cost savings, new strategies, working rapidly with stakeholders to envision and implement future-state models to optimize performance and improve care with minimal disruption.

The BDO Healthcare Rx method rapidly guides clients through four phases of activity to yield quantifiable results. Each phase of work is calibrated to meaningfully engage stakeholders and provide critical insights in weeks not months.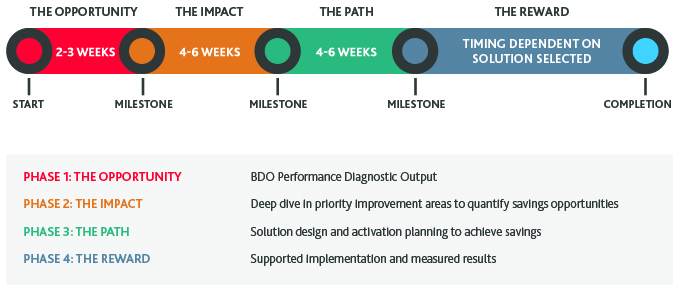 Much like patients need regular health check-ups, your organization needs routine assessments to ensure you're on track to grow and thrive. Our goal is to help you diagnose your organization's current condition, performance opportunities, and future growth scenarios.
---
See how healthy your organization is and what you can do to improve performance.