What's Next for Work: The Intersection of People, Purpose & Pivots
What's Next for Work: The Intersection of People, Purpose & Pivots
The story at the heart of the pandemic is that of human resilience—people adapting to their new circumstances and persevering through personal and professional hardship. The businesses that have prevailed through the coronavirus recession have done so on the strength of their people. But the story of work amid a pandemic isn't over yet. When the dust finally settles, what's next?

At the start of the crisis, the workforce was forced to adapt; now organizations must adapt to their workforce. Reimagine not what work could look like, but what it should look like in a post-pandemic world in which the way we work, where we work and even why we work has been forever altered.

What's next for work, and what should you do about it? In this first of a three-part series, we break down the big trends shaping the workforce of the future.
Trend #1: The Empathetic Leader
The pressures of COVID-19 placed higher demands on executives to become better leaders—more decisive in the face of unpredictability, more inspiring amid fear and confusion, and more compassionate with anxious and fatigued employees. Leaders were given windows into their employees' personal lives in a way that they never previously had. With that came the expectation that they would expose more of their own true selves. Executives had to walk a tightrope between showing up authentically and exuding calm and confidence under pressure. More than ever, employees needed their leadership to have all the answers.

This crash course in effective leadership brought five longstanding traits into sharper focus: 1) empathy to understand employees' unique experiences, their hopes, dreams, fears and motivations; 2) authenticity to build real relationships and a culture of openness and honesty; 3) agility to incorporate new ideas, strategies and perspectives for new challenges; 4) integrity to align business goals with a higher common purpose; and 5) courage to challenge the status quo and make bold moves amid uncertainty.


Trend #2: The Socially Conscious Employee

The socially conscious employee isn't a COVID-19 phenomenon. Changing worldviews on issues like climate change, human rights and equality, amplified by social media, have given rise to a generation of workers with a greater sense of civic responsibility in both their personal and professional lives. At the same time, increasing polarization is fueling passionate—and sometimes divergent—viewpoints in the workplace on the role businesses should play on everything from climate change to politics to racial injustice. By and large, people want to work for organizations that not only embrace their views but take a stand for them.

The existential threat of COVID-19 as well as increased awareness and advocacy around racial inequality have magnified the importance of getting more out of work than a paycheck. Faced with their own mortality and isolated from people they love, many workers are questioning what they do and why they do it. Doing well at work isn't enough anymore; they want to do well by doing good. Taking a risk on a career switch or heading back to school feels less perilous after living through a global pandemic. If they look for meaning in their work and come up short, they may be out the door as soon as the job market recovers.

"Your employees want to change the world. Our job, as leaders, is to give them the permission, perspective and pathways to do it."
Cathy Moy, BDO Chief People Officer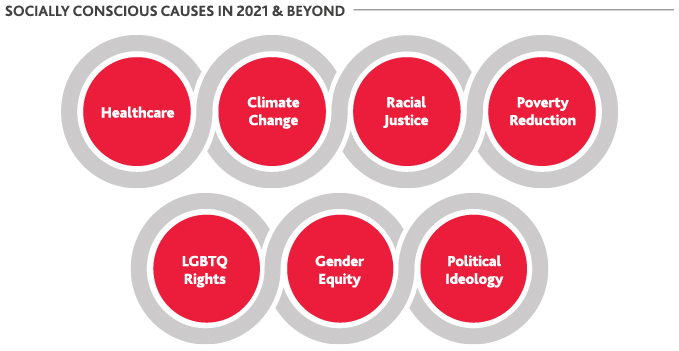 Trend #3: The Diversity Imperative
The range of issues that the socially conscious employee cares about is vast and varied, but few, if any, have more momentum behind them than social injustice. Before 2020, diversity in the workplace was a nebulous goal that for many businesses lacked urgency. The tragic deaths of George Floyd, Breonna Taylor, and so many others have laid bare the systemic racism and structural inequalities Black, Indigenous and people of color face. It's not just employees; customers, vendors and investors expect real change. Real change takes real work.

COVID-19 has also led to major setbacks for gender diversity, particularly in senior leadership roles, as the outsized burden at home has forced hundreds of thousands of women—865,000 in September alone—to leave the workforce or scale back their careers. Time will prove out that the businesses that showed greater empathy and provided more flexibility to working parents received a return on that investment—lower turnover, higher productivity, and greater goodwill from investors.

Countless studies show diversity in the workplace makes good business sense: Diverse companies outperform their more homogenous peers. However, those performance gains are tempered without proactive measures to combat biased perceptions and pressure to conform. In short, diversifying your talent pipeline isn't going far enough.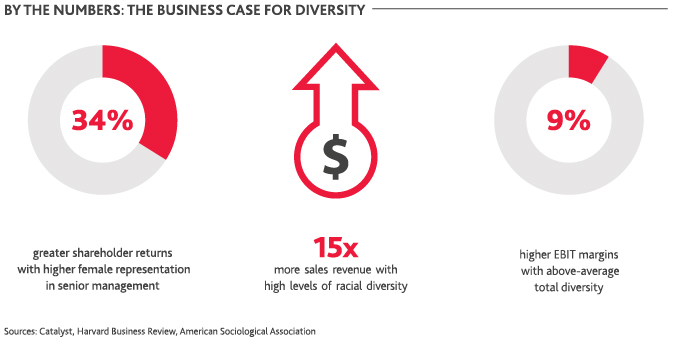 Trend #4: Skills Disruption
The skills employees need to successfully perform their jobs today may not be the skills they need tomorrow. As business models change and technology adoption accelerates, the pace and scale of skills disruption is shifting with it. COVID-19 has fast-tracked the rate of technology integration, creating what the World Economic Forum (WEF) calls a "double-disruption scenario" for workers. According to the WEF's October 2020 study on the future of jobs, 44% of the core job skills required today will change by 2025. A study from IBM indicates that COVID-19 has also exacerbated the existing skills gap.

Over the next five years, digital adoption and automation are expected to create more jobs than they destroy—an estimated 97 million new roles compared to 85 million job displacements for a net gain of 12 million, the WEF's study found. However, many of those new jobs require skills that are in scarce supply, either because they are in an emerging field or because of fierce competition, or both. Expertise in blockchain technology, for example, is currently in high demand, but the talent pool is miniscule. Though the preponderance of hard-to-find skills are STEM-related, there will still be need—and competition—for top-notch talent with project management, critical thinking, communication and creative skills. The only way for businesses to acquire all the skills they need will be to build them.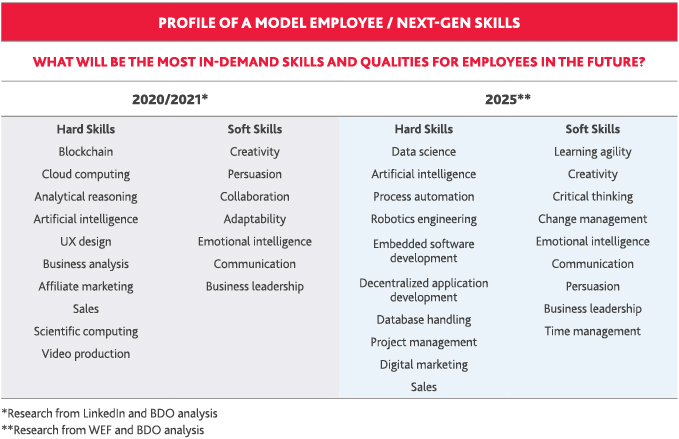 The Power of People
In change, there is opportunity. Resilient businesses will cultivate their human capital with an eye on the disruptive forces changing how, where and why we work. The leadership lessons learned in crisis will become the fuel of cultural change that embraces innovation and agility. And as disruption continues to reshape markets and business models, the organizations that will come out on top will be those that invest in their people.
---
Catch up on the other two installments of our What's Next for Work series: