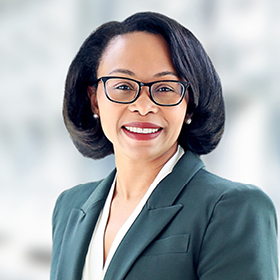 Tiffany Prudhomme
National Managing Partner – Quality in the Regions and Industry
Executive Summary
Tiffany Prudhomme has 25 years of public accounting experience, including client-facing service delivery, audit quality, professional practice, and other leadership roles.
Tiffany currently serves as a technical partner for the Central Region of BDO USA, LLP. In this role, she oversees the delivery of the region's audit and attestation services and implements and monitors audit quality initiatives. Tiffany is also a member of BDO's Professional Practice whereby she consults with engagement teams on the resolution of audit, accounting, and reporting issues and compliance with professional standards and firm policies.
Prior to her tenure with BDO, Tiffany spent a significant portion of her career with a Big Four firm which included experience as a client service partner and five years in various professional practice (National Office) roles. Her client service included direct responsibility for leading financial statement and internal control over financial reporting audits. She has served large Securities and Exchange Commission (SEC) registrants as well as a diverse group of privately held companies. Tiffany has extensive experience with Public Company Accounting Oversight Board (PCAOB) and American Institute of Certified Public Accountants (AICPA) auditing standards. Tiffany's National Office roles included monitoring U.S. and international standard setting and developing interpretive guidance on accounting and auditing matters.
Currently, Tiffany also serves as a National leader of BDO's Multicultural Alliance.
American Institute of Certified Public Accountants

Illinois Society of Certified Public Accountants

Texas Society of Certified Public Accountants

National Association of Black Accountants
B.B.A., Accounting, Lamar University