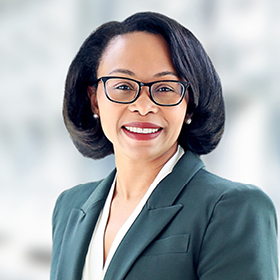 Tiffany Prudhomme
Assurance National Managing Partner - Quality in Markets and Industry
Executive Summary
Tiffany Prudhomme has 26 years of public accounting experience, including client-facing service delivery, audit quality, professional practice, and other leadership roles.

Tiffany is the Assurance National Managing Partner - Quality in Markets and Industry in the Professional Practice Group of BDO USA LLP. In this role, she leads the assurance national technical partner network in its focus on the firm's delivery of audit and attestation services, implementation and monitoring of audit quality initiatives, and compliance with professional standards and firm policies.

Tiffany is currently a member of the Board of Directors of BDO USA LLP. She has also previously served as a National leader of BDO's Multicultural Alliance.

Prior to BDO, Tiffany spent 21 years with a Big Four firm where she focused on the delivery of attest services and held other roles in the assurance national office. Tiffany's client service base mainly included large Securities and Exchange Commission (SEC) registrants, and her national office experience included roles monitoring U.S. and international standard setting, developing interpretive guidance on accounting and auditing matters, and consulting on audit-related topics.
American Institute of Certified Public Accountants
AICPA and CIMA Women's Initiative Executive Committee
Illinois Society of Certified Public Accountants
Texas Society of Certified Public Accountants
National Association of Black Accountants
B.B.A., Accounting, Lamar University