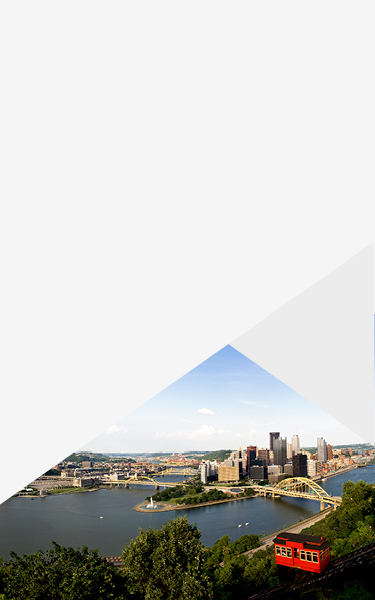 World-class resources and exceptional service in Pittsburgh and throughout southwestern Pennsylvania
Historically known as "the Steel City," Pittsburgh has diversified to become a hub for healthcare, education and technology with 30 skyscrapers and the federal agency headquarters for cyber defense, software engineering, robotics, energy research and the nuclear navy. Our downtown Pittsburgh office provides the local presence, experience, accessibility and insight businesses expect from BDO. And cross-functional teams offer a comprehensive array of assurance, tax and advisory services, utilizing the depth and breadth of resources offered by a leading global accounting and advisory firm.

BDO is a community of talented professionals, collaborating with one another and our clients to define and enable meaningful success. Our commitments — to exceptional client service and an exceptional people experience — are at the core of our business, and our contributions power our work in manufacturing and distribution, real estate and construction, technology, life sciences, nonprofit and education and other key industries across the region. Our national and global resources are here to help you chart additional strategies for success.
BDO Pittsburgh Office
339 Sixth Avenue
8th Floor
Pittsburgh, PA 15222
Community Engagement
BDO's core purpose of helping people thrive, every day, extends beyond our clients and into our communities. We encourage our people to give of their time, talents and resources by committing themselves to local and national charities in and around southwestern Pennsylvania. Our corporate social responsibility program, BDO Counts, builds on this generosity of spirit through our local, regional and national community initiatives to which our people contribute their energies.
United Way of Southwestern Pennsylvania
United Way of Southwestern Pennsylvania
BDO Pittsburgh's purpose of helping people thrive every day is reflected through the support United Way who is committed to improving lives by mobilizing the caring power of communities around the world to advance the common good.
FOCUS + Pittsburgh
FOCUS + Pittsburgh
BDO Pittsburgh has been a proud sponsor of FOCUS + Pittsburgh for many years, and takes pride in being an active participant in many different types of community events.
Pittsburgh Community Initiatives
Pittsburgh Community Initiatives
BDO Pittsburgh is committed to supporting local community initiatives, including Friendship Circle, Sarah Heinz House, Humane Animals Rescue of Pittsburgh and Leukemia & Lymphoma Society Light the Night, through our time and talent eagerly volunteered throughout the year.