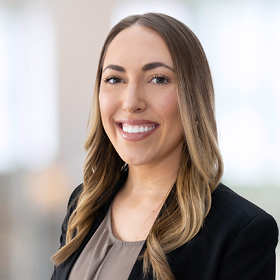 Kiah Tyler
People & Culture Recruiter
Executive Summary
Kiah received a bachelor's in psychology and Spanish from Oklahoma State University. Her interview tip is, "Practice good nonverbal communication skills and come prepared to ask questions."
Get to know Kiah
What do you do in your free time?
I travel, ski, and hike with my dogs.
What does thriving mean to you?
Thriving means showing up as the best version of yourself every day.
What do you enjoy most about working for BDO?
There are many opportunities to get involved with my local office. There are so many ways to meet people and have fun while doing it!
What's the best concert you've seen?
Taylor Swift, Eras Tour
People who know community, know BDO.