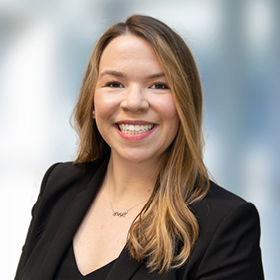 Katherine Acuff
People & Culture Lead
Executive Summary
Katherine received a bachelor's degree in political science from Valdosta State University and a master's degree in public administration from the University of Georgia. Her interview tip is, "Practice being comfortable telling stories about what you have accomplished. The STAR interview method is helpful."
Get to know Katherine
What do you do in your free time?
I enjoy learning and experiencing new things, especially through travel, cooking, and reading.
What is your favorite food?
I like potatoes because they are so versatile.
What does thriving mean to you?
Thriving means having the opportunity to learn while also sharing knowledge. It is great to be in an environment that encourages people to be their best.
What do you enjoy most about working for BDO?
I was impressed at how seriously everyone takes our "People First" core value. It is so easy to reach out to someone across the company because they want you to feel included.
People who know innovation, know BDO.