2020/2021 Health Insurance Sales Force Insights Report: Compensation Growth Highlights Value of Sales Teams
2020/2021 Health Insurance Sales Force Insights Report: Compensation Growth Highlights Value of Sales Teams
Introduction
The recently published 2020 BDO Health Insurance Industry Sales Force Compensation (HISC) Survey provides an in-depth look at compensation levels, plan designs and practices for sales positions. Companies regularly re-evaluate their sales incentive plans to ensure they reflect changes to the external market and changes to their internal go-to-market strategy. The survey is intended to provide health insurance companies with the data they need to assess market pay and compensation practices.

This Insights Report highlights key findings from the full survey report, which addresses many compensation issues and questions, such as appropriately incentivizing the sales force to drive high performance while minimizing turnover, specifically:
How have pay levels changed year over year during the prior cycle?
What are the key influencers of pay levels among sales positions by nature of sales roles, type of product(s) sold and market segment?
What factors impact the decisions regarding the amount of pay that should be at risk?
What type of sales incentive plan(s) should be used? Are companies using sales bonuses, commissions or a combination of both?
Year-Over-Year Growth in Pay Levels
Senior-level sales representatives across all markets saw an increase in both base salary and actual total cash compensation (TCC), while junior-level sales representatives saw their pay remain relatively flat, experiencing a decrease of 1% in both base pay and actual total cash. Much of the growth seen by senior representatives was driven by pay increases in the Medicare market, including an average increase in total incentives of 35% expressed as a percentage of base salary.

Key Influencers of Pay Levels
The nature of the sales job influences how sales representatives are paid. Our survey revealed the following:
Senior sales roles that focus on account management/renewals are paid more than roles that reflect new sales only or a combination of new sales and account management.
Junior sales roles that focus on new sales only are paid more than roles that focus on account management/renewals or a combination of sales and account management.
Sales representatives who sell both health insurance and specialty products are paid more than those who sell only one or the other.
Sales representatives who focus on national and major accounts are the most highly paid team members. This finding is typical across most industries due to the skill set necessary for the role.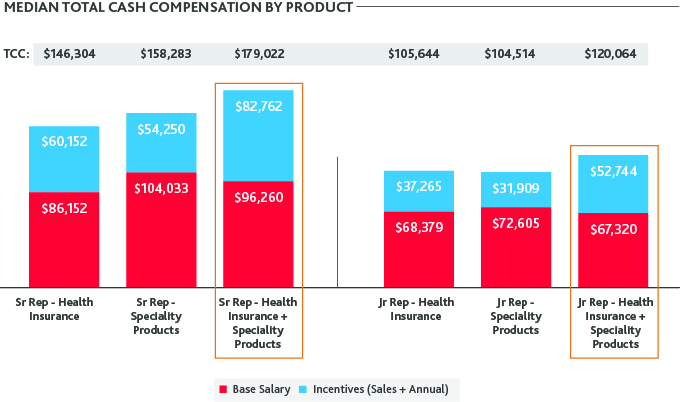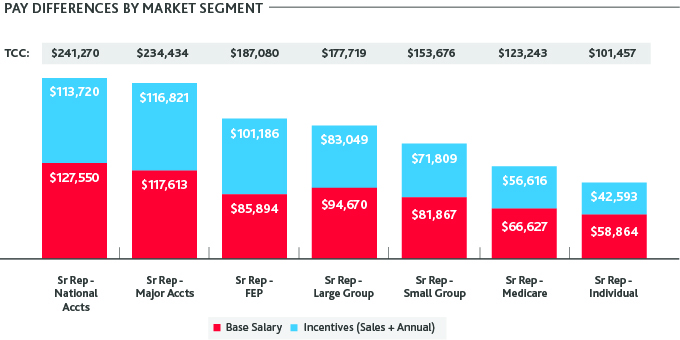 Key Influencers of Mix of Pay
The mix of pay refers to the amount of pay allocated to base salary relative to the amount allocated to incentives. Compensation plans are typically more leveraged (i.e., pay is more allocated to incentives) when sales representatives have a high impact on their sales results. As such, direct sales representatives tend to have more leveraged pay plans than account managers. However, sales representatives' target market segments have minimal impact on pay mix.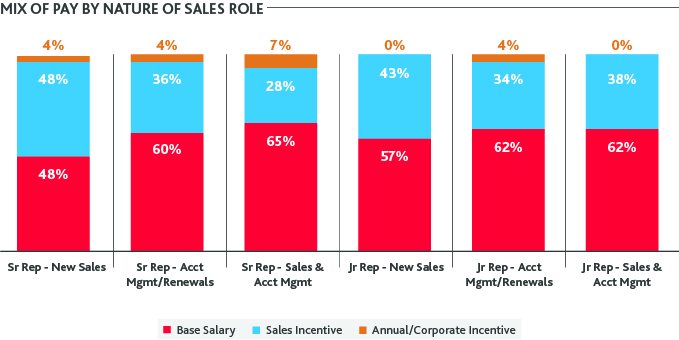 Types of Sales Incentive Plans
The companies surveyed slightly favor sales bonus only plans over commission only or combination plans. Sales bonus plans allow companies to focus their sales force on both product sales as well as other strategic priorities, such as product type, customer type or profitability.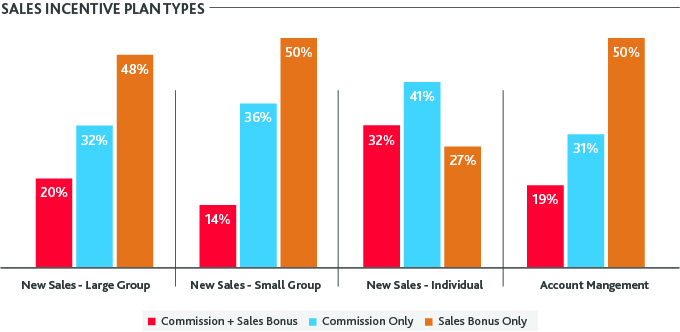 When designing sales bonus plans, selecting the correct performance metrics is paramount. Among companies surveyed, New Sales Representatives - Large Group reported that the top three metrics include:
Number of new health insurance contracts sold (96% prevalence),
Number of dental contracts sold (72% prevalence), and
Number of vision and Rx contracts sold (60% prevalence).
Clearly, most companies focus on new health insurance contracts sold. Strategically, however, companies also encourage sales teams to sell dental, vision and prescription contracts as part of a full-service suite of insurance products.
Conclusion
Developing effective sales incentive plans is one of the most complex compensation design challenges for a company, and the health insurance industry is no exception. Survey market data provide a starting place for establishing an effective plan design, and these data can help quantify decision making.

However, companies' specific offerings, size and strategies must be the primary drivers for plan design; this is the "art" of developing effective sales incentive plans. Ideally, sales incentive plans will drive behaviors that create results to ensure companies achieve their strategic objectives.

As industry models change, it is important that your sales plans are designed to incentivize the behaviors that will be effective in the new health insurance business environment.
"Creating an effective sales compensation plan requires an in-depth assessment of the sales metrics and goals, as well as all the possible plan design features. There are typically many levers that can be shifted to align the plan with the company's go-to-market strategy and encourage employee performance."
Judy Canavan, Managing Director, Global Employer Services