Meet BDO's 2021 Working Parents of the Year
Meet BDO's 2021 Working Parents of the Year
BDO is incredibly proud to be included in Seramount's 100 Best Companies list for the 11th consecutive year, as well as the Best Companies for Dads list.

BDO is stronger when it is able to embrace and learn from the perspectives of all our professionals, including those who are starting, growing or nurturing their families. We are committed to providing the right programs, policies and resources to help our working parents thrive.

We are also excited to recognize our 2021 Working Mother of the Year, audit partner Sofia Blair, and Working Dad of the Year, senior instructional designer, Michael Sweet. Below, Sofia and Michael share their experiences as working parents and their insights on finding work+life fit.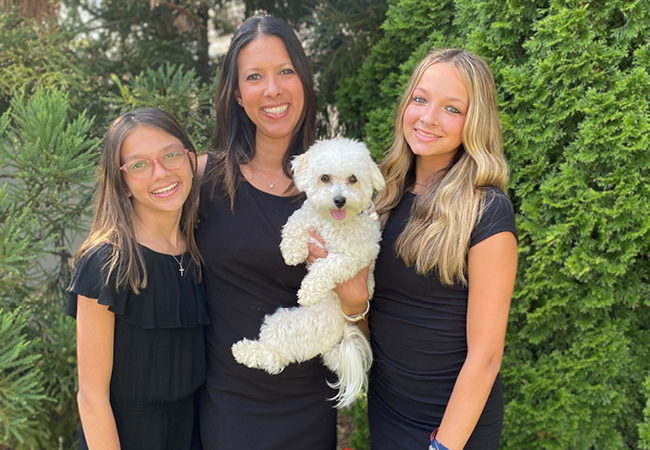 Sofia Blair, Audit Partner
Working Mother of the Year

When I became a mom fifteen years ago, I was at a crossroads. I was passionate about my job and wanted to demonstrate strong leadership for my daughter, but I also wanted to be present and involved in her life. My husband and immediate family knew how much my career meant to me and were an incredible support system. It was in those early days of motherhood that I learned openness and transparent communication are key to maintaining work+life fit.

When I returned from maternity leave, I arranged to work from home one day a week. The firm had just begun to embrace a strategic approach to flex, and I was the first woman on my team to propose a more flexible schedule. When I was granted this flexibility, my team and I quickly realized it did not impact my ability to effectively serve my clients and meet my responsibilities. A couple years later, my second daughter was born with special needs. I remained open with my team and received the support I needed to be fully present with both my children.

As my kids have grown, I've continued to prioritize open communication which has enabled me to build trust and close relationships with both my colleagues and clients. The people I work with have become like family, and I always feel empowered to ask for what I need, knowing that these requests will be met with understanding and support.

The trust built has also allowed me to work on setting boundaries between work and home. This was especially important over the past year and a half as I – and many others - transitioned to working from home due to the pandemic. Not only did this foundation of openness and communication allow me to seamlessly transition, it also helped establish guardrails for time spent with my family, which can be hard to maintain in a remote environment. For new working parents, there is nothing as important as being open with your team. That openness will pay dividends as you grow your family and your career.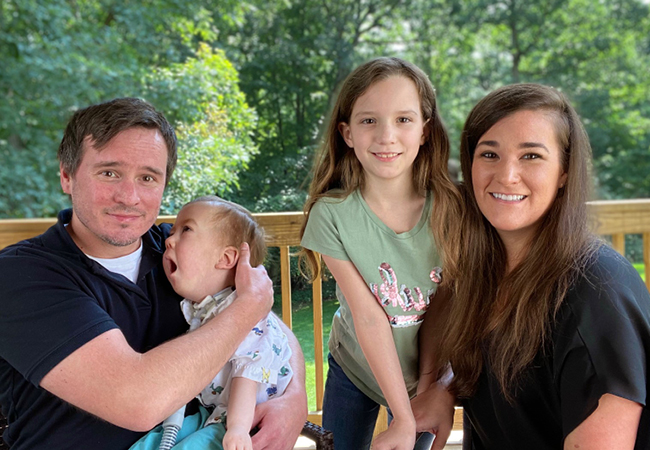 Michael Sweet, Senior Instructional Designer
Working Dad of the Year

Over the past few years, I've learned to prioritize and find joy in the seemingly small, and oftentimes impromptu, moments with my family, which truly add up and significantly contribute to work+life fit.

Some days, it is as simple as planning ahead to balance my workload to ensure we can eat breakfast or dinner together as a family. Other times, I utilize day-to-day informal flex to step away and spend quality time with my kids.

My daughter is nine years old, and we love to get out and explore our neighborhood. Occasionally, I'll plan my day so that I can take a long lunch break with her to try a new restaurant or visit the library. While these aren't elaborate outings, taking the time out of my day to spend a few hours one-on-one with her is instrumental to building a strong father-daughter relationship.

I also use flex to ensure I'm able to be involved with my eighteen-month-old son. He was born with serious health concerns and requires in-home care. I'm easily able to step away to check in with him or attend doctors' appointments, and to be present in the day-to-day of his life.

I feel fortunate to work at a company that doesn't just accept working parents, but actively partners with them to ensure they are able to effectively do their jobs while maintaining their responsibilities at home. I work with a team who has been very involved, understanding and supportive of my requests for flexibility and I always feel encouraged to express my needs.

One of the most important things you can do as a working parent is to prioritize the everyday activities with your family. When you look back at the early days of parenthood these are the moments that you – and your kids – will remember.