Tech Leaders Worldwide Have Optimistic Outlook For 2021
Tech Leaders Worldwide Have Optimistic Outlook For 2021
Amid unanticipated crisis, technology leaders sprang into action and helped business continue across many industries. After weathering the worst of the storm, tech executives carry continued optimism into 2021, anticipating a continued surge in demand and further opportunities for growth.

In our 2021 BDO Technology CFO Outlook Survey, we surveyed 100 tech CFOs in September 2020 to get their take on what to expect in 2021. In February and March 2021, we surveyed 785 more participating technology leaders—both from the U.S. and internationally—to get their updated outlook on revenue expectations, ongoing business priorities, the impact of new administration on the industry and more.

Key Takeaways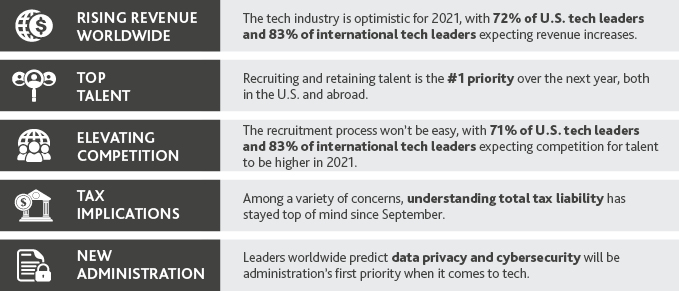 Revenue expectations are on the rise
As a result of demand rising across the industry throughout the past year, most technology leaders, both in the U.S. and internationally, are expecting their company's revenue to increase in 2021. Optimism in this area has risen significantly since the CFO survey was originally conducted in 2020, when only 54% of tech CFOs forecasted any revenue increase.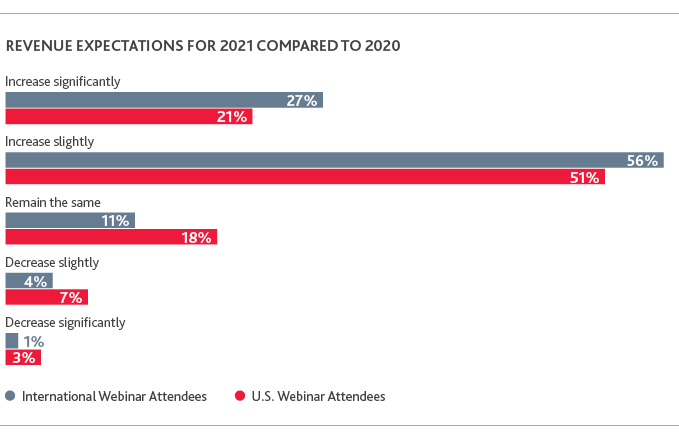 Business priorities are split
After successfully weathering the pandemic and managing a surge in demand, webinar respondent's business priorities suggest anticipated continued growth. For both U.S. and international tech leaders, talent takes the top spot, but managing through economic downturn and investing in tech and infrastructure are also major priorities for the industry worldwide in 2021. This perspective has shifted since the original survey was conducted, where tech leaders stated cutting costs was much higher on the list of business priorities and talent was ranked last.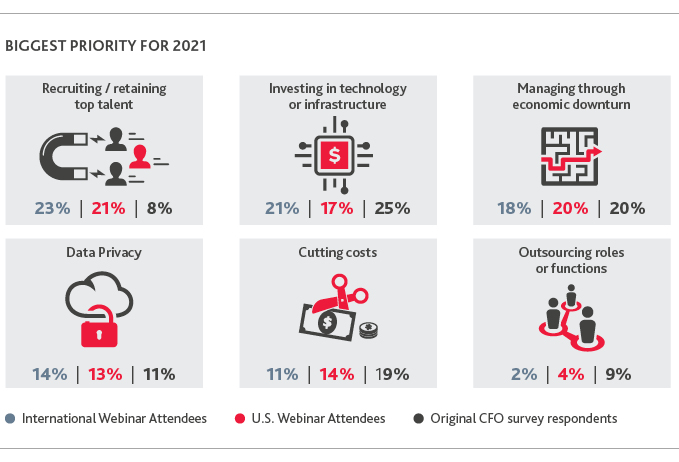 Competition for top talent abounds
As tech companies prioritize recruitment in their business plans, they expect to face fierce competition to snap up skilled employees in 2021. Given that tech is a global industry and work-from-home is expected to be standard post-pandemic, the talent pool is no longer limited to geographic location—meaning leaders need to think global when considering where to source top talent.

To learn more about the future of work post-pandemic, check out our What's Next for Work guide.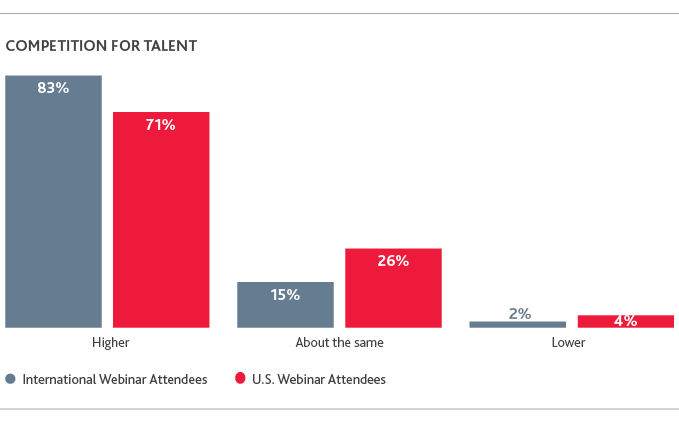 Tax changes bring an array of concerns
According to the 2021 BDO Tax Outlook Survey, 70% of tax executives anticipate that total tax liability will increase in the next 12 months. Given this, it is no wonder that technology CFOs—both original respondents and US webinar attendees—say their top tax concern will be understanding total tax liability.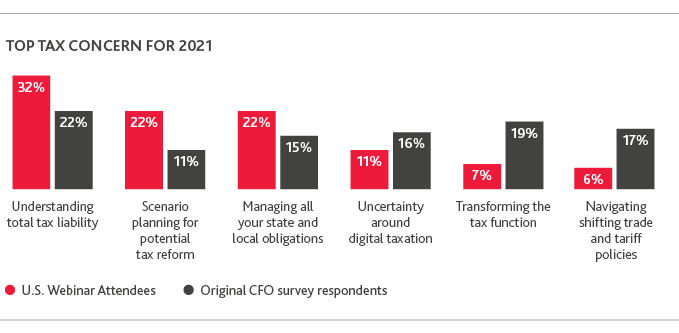 New administration sparks expectations for change
A new U.S. federal administration inevitably leads to change that can have global implications. Tech companies, both in the U.S. and internationally, overwhelmingly expect the Biden administration to prioritize cybersecurity and data privacy first.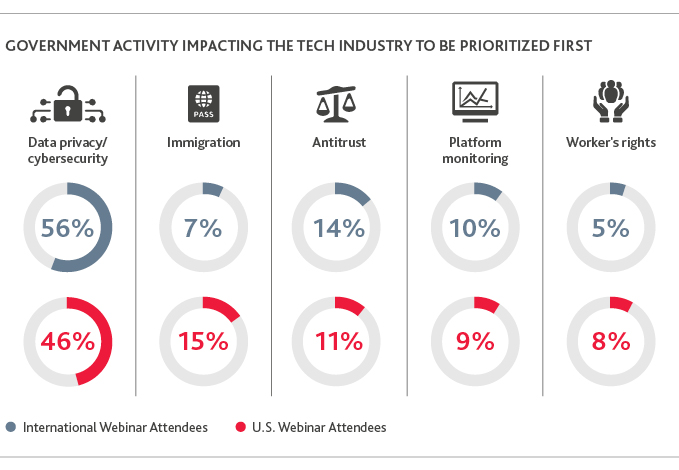 Missed out on the webinar?
You can access the U.S. webinar recording and the global webinar recording.

To learn more about how tech CFOs are optimizing their organizations, read the full survey.