​8 Tech Predictions for 2018
​8 Tech Predictions for 2018
Scaling Up the Disruption
Last year was quite the year for tech.
On one hand, the industry in 2017 witnessed an incredible amount of innovation, from soaring breakthroughs in artificial intelligence (AI) and machine learning to remarkable advances in the internet of things (IoT) and automation. At the same time, however, a slew of complex political and economic events challenged many U.S. tech companies to break from old paradigms to embrace new ways of problem solving.

Can U.S. tech continue to reign in 2018— or will political and economic windfalls hamper its potential?

Here are the top trends we predict will shape the industry in 2018.
---

PREDICTION #1
A Brave New World: Tech Enters an Era of Heightened Social Responsibility
For over a decade, tech has been America's golden child—an industry that has elicited favorable views from the majority of the public for its unabashed confidence, daring risk-taking, and skyrocketing growth. But as prominent news headlines revealed last year, even tech's biggest players are not immune to public scrutiny—especially as their products and platforms play an increasingly bigger role in influencing behavioral norms and public conscience.

We predict 2018 will be a deeply reflective and transformative year for the industry, as tech companies take on a more expansive role in solving critical issues of gender inequality, fake news, and immigration reform, among others, while continuing to make their opinions heard.
---

PREDICTION #2
The Internet Of Things (IoT) Gets a New Edge

The IoT market is about to get edgier. While IoT devices have long harnessed cloud computing to collect data and send it to the cloud, we expect 2018 will witness the emergence of a new wave of IoT products using edge computing (or "fog computing")—defined by Hewlett Packard as a "distributed, open IT architecture that features decentralized processing power." In edge computing, "data is processed by the device itself or by a local computer or server, rather than being transmitted to a data center," which provides multiple benefits.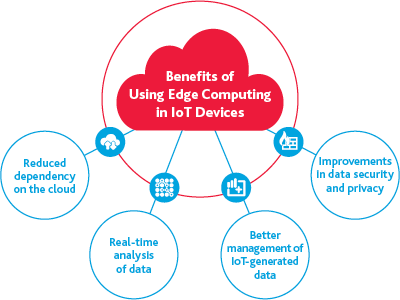 ---

PREDICTION #3
Enterprise Chatbots (Continue) to Take Over

Advancements in deep learning, natural language processing, and conversational interfaces will grow by leaps and bounds in 2018, and we can expect a greater proliferation of enterprise chatbots as a result. In fact, many tech companies—including IBM, Facebook, Google, Microsoft, and Amazon— are already pursuing M&A as part of their strategy to build chatbots.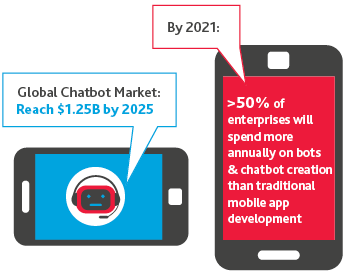 ---

PREDICTION #4
Chief Information Security Officers (CISOs) Outsource Higher-End Security Services To External Vendors
CISOs ensure that an organization's information assets and technologies are adequately protected. But as cyberattacks and data breaches increase in sophistication and frequency, they may find it increasingly difficult to face the cyber battle alone. As a result, we expect more CISOs at large enterprise organizations this year will outsource their higher-end security services to managed security service providers (MSSPs) and cyber Software-as-a-Service (SaaS) providers.

---

PREDICTION #5
Data Governance Becomes the New Buzzword
"Digital transformation" may be the buzzword of the moment, but 2018 will see another term growing to equal prominence: data governance. In 2018, data governance will no longer be an issue only for the IT department, but one involving and affecting every aspect of a business. With the European Union's General Data Protection Regulation (GDPR) also coming into effect this year on May 25, we expect the demand for information governance services to soar.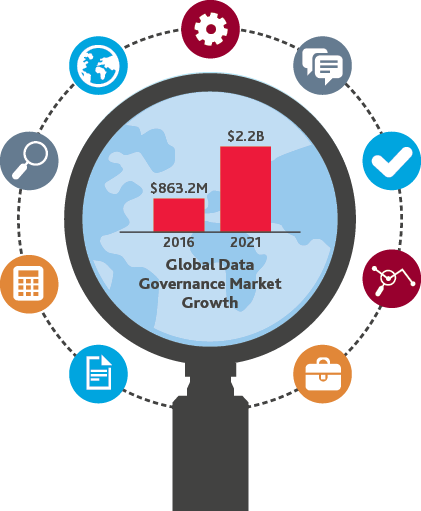 ---

PREDICTION #6
U.S. Tech IPOs Make a Comeback
Following a slight uptick in U.S. tech IPOs in 2017 after a lackluster 2016, this year may well be the year the U.S. tech IPO drought ends. While it's true that many tech companies are finding an increasing number of reasons or excuses to stay private, we believe many tech unicorns are ready for the public spotlight.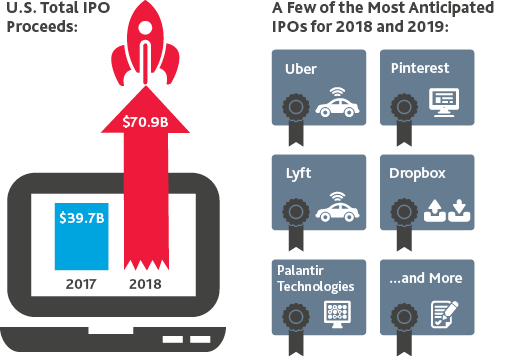 ---
PREDICTION #7
Cloud IT Infrastructure Spending Rises to New Heights
Thanks to more companies moving away from traditional data centers, the cloud IT infrastructure market (including the public, private, and hybrid cloud) is set to explode. The private and hybrid cloud markets, especially, are expected to soar to new heights, as more companies invest in building their own private and hybrid clouds, using solutions from Microsoft Azure, Google Cloud, Amazon Web Services, IBM Cloud, and other vendors. Eventually, overall spending on cloud IT infrastructure is expected to eclipse spending on non-cloud IT by 2020.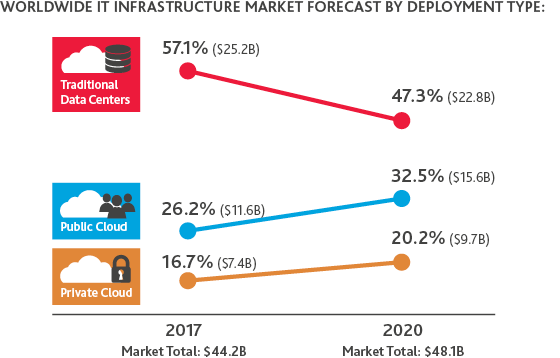 ---

PREDICTION #8
China Ramps Up to Become a Global Tech Superpower
When it comes to tech, China is just getting started. Last year, the Chinese government made a series of significant investments in emerging tech as part of its goal to make China a global tech superpower over the next decade—including an ambitious plan to build a domestic AI industry worth $150 billion by 2030. The U.S. tech industry may reign as the world's undefeated tech champion right now, but its position is not guaranteed.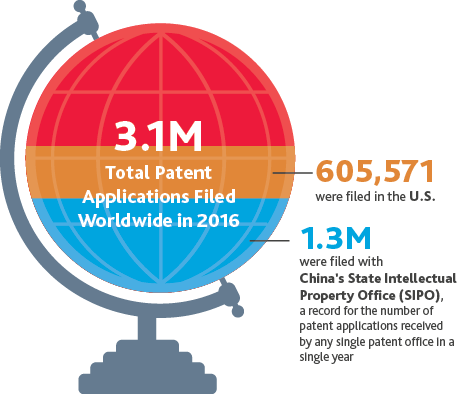 ---
Advancements in AI, IoT, blockchain, and other key technologies have set U.S. tech on an accelerated growth trajectory in 2018.
The question now remains: Will the sector be able to continue capitalizing on its first-mover advantage to remain a world power over the next few years? Or will Silicon Valley find domestic disputes detracting from its overall growth?

We are optimistic, but much remains to be seen.
---