2017 BDO Technology RiskFactor Report
2017 BDO Technology RiskFactor Report
The 2017 BDO Technology RiskFactor Report examines the risk factors listed in the most recent annual shareholder reports of the 100 largest publicly traded U.S. technology companies by revenue. The risk factors were analyzed and ranked in order of frequency cited.

Tech's Wild Ride: Can Emerging Risks Burst the Bubble?
Technology revolution and trade regulation. Innovation and immigration. Sky-high valuations and security concerns.

These are just a few of the forces shaping tech industry opportunities and risks in 2017. While the pace and promise of innovation has never been higher, so too is the level of uncertainty and concern around the new administration's impact on policies that have long been essential to U.S. tech industry advancement.

---

"The speed at which the tech sector is disrupting entire industries and creating new business opportunities has never been greater, fueled by an optimistic investment environment and a constant appetite for innovation. Nevertheless, the regulatory uncertainties introduced by a new U.S. administration, in addition to other global changes, have led many tech companies to step back and reassess their risk mitigation strategy for this year."
Aftab Jamil
Assurance Partner and Leader of BDO's Global Technology practice
---

Top 25 Risk Factors for the 100 Largest U.S. Technology Companies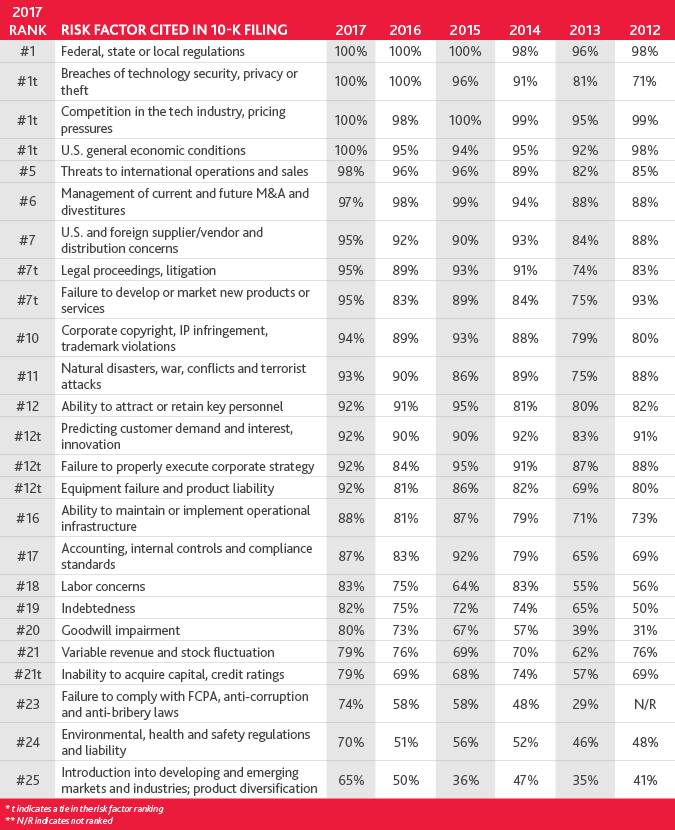 Security Risks Show Staying Power
Cybersecurity has gone from a blip to a beacon. In 2009, just 30 percent of technology companies disclosed information security risks; now, for the second year running, all companies point to cyber concerns. Looking ahead, it's hard to imagine a reversal of this trend. Tech companies are prime targets for sophisticated attacks and ransomware, given their high value assets and IP, as well as network access to their clients' information systems. All it takes is one user to click on a bad link or fall for a phishing scheme for hackers to infiltrate even the most heavily guarded information. Tech companies need a holistic approach to cyber risk management from the boardroom to the break room.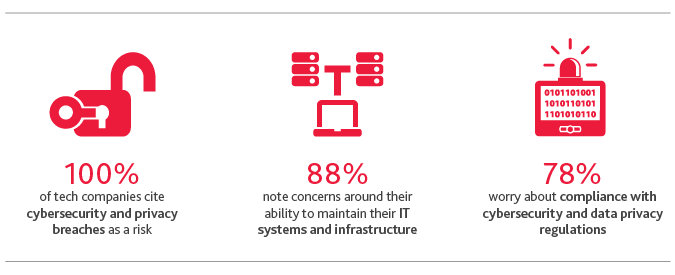 Tech Companies Recognize New Regulatory Risks
While the new U.S. administration is eyeing a regulatory overhaul, a host of complex regulations and upcoming compliance deadlines are growing concerns in the tech industry. With the January 1, 2018 public company deadline for the new Financial Accounting Standards Board (FASB) standard on revenue recognition fast approaching, more tech companies are flagging implementation concerns, including change management, the impact on their balance sheets and stakeholder education. These results are consistent with the findings of BDO's Global Risk Landscape Study, which found that 35 percent of global executives identify regulatory risks as the top threat to overcome.


Innovation Drives Deals, But is a Bubble Looming?
Industry innovation and growing markets like artificial intelligence (AI), the Internet of Things (IoT) and virtual reality (VR) are continuing to drive both strategic and financial investor interest in the technology industry. And they're willing to pay a premium: Two-thirds of tech CFOs accurately predicted valuations would rise this year in our Technology Outlook Survey. When it comes to key concerns around deals, balance sheets are currently healthy, but tech companies appear somewhat leery of an impending bubble as more cite access to capital and goodwill impairment as risks.


The IP Imperative
With innovation critical to survival in the hyper-competitive tech industry, the number of tech companies citing IP protection as a top risk is at its highest level in our study's history. Tech companies are investing in increased security protections and willing to fight costly legal battles to protect patents and proprietary technology, which can make or break a brand in today's market. We expect the focus on product development and protection will only increase in the coming years.

Tax, Trump & Tech: Navigating Tax Liabilities Ahead
A change in the U.S. administration means a change in the status quo—and the introduction of a new set of risks. Nearly all (97 percent) of tech companies cite exposure to additional tax liabilities as a risk this year because of changing state and local, national and/or international tax laws. Rhetoric around U.S. tax reform specifically has prompted 41 percent of tech companies to cite concerns over changes to federal tax policy, while worries about complying with differing tax laws in domestic and foreign jurisdictions loom large. With "uncertainty" the word of the day, companies are exhibiting extra caution when figuring out how to navigate tax issues in the year ahead.
---

What Status Quo? Tech's Global Risks Reach an All-Time High
As the international political system hangs in the balance—and waves of protectionism threaten to upend the status quo—tech companies' 10-Ks reveal an industry increasingly concerned with international operational risks. This year, almost all tech companies (98 percent) cite threats to international operations and sales, including those stemming from business, political, tax, currency and protectionist variables.
---

Tech Manages Innovation Burnout
In an industry with powerful behemoths and nimble startups all vying for market share, differentiation in the marketplace is a challenge. The constant pursuit of innovation is tech's holy grail, as the race for the next best thing never abates—and often, success boils down to who can bring innovation to market fastest. As competition heats up in the year ahead, companies look to diversifying their product offerings, entering new markets, recruiting top talent and innovating current processes to keep ahead of the game.
---