2017 BDO Life Sciences RiskFactor Report
2017 BDO Life Sciences RiskFactor Report
The 2017 BDO Life Sciences RiskFactor Report examines the risk factors listed in the most recent annual shareholder (10- K) filings of the 100 largest publicly-traded U.S. life sciences companies listed on the NASDAQ Biotechnology Index by revenue. The risk factors were analyzed and ranked in order of frequency cited.

Life Sciences Cites Familiar Business Risks as Regulatory Tailwinds Promise to Bolster Innovation
Life sciences companies are facing familiar business risks, according to their most recent 10-K filings. But revolutionary forces—driven by innovations in technology, regulatory bodies, consumers, legislators and healthcare providers—will require new ways of thinking about risk mitigation.

The top risks cited by the largest 100 U.S. publicly-traded life sciences companies have remained relatively consistent over the last several years, with competitive pressures, intellectual property (IP) challenges, and the ability to commercialize and market products all tying for first place this year. Nevertheless, new leadership steering the Food and Drug Administration (FDA), paired with political and regulatory uncertainty, could impact how those risks evolve.

---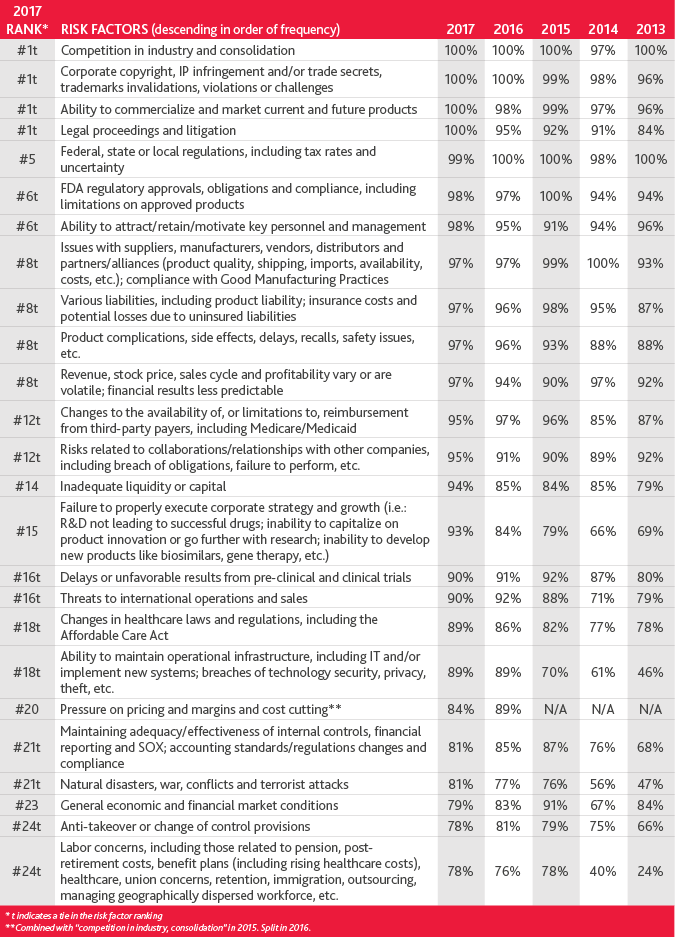 Responding to Regulations
Changes in healthcare laws and regulations, including the Affordable Care Act (ACA), have steadily increased since 2013. This year is no different, as uncertainty around further healthcare reforms reached an all-time high during the Republican effort to repeal and replace the ACA. More companies mention changes in healthcare laws and regulations this year (89 percent) than in all five prior years of the study.

Life sciences companies are also thinking more about risks relating to FDA regulatory approvals, obligations and compliance this year compared to previous years: Almost all (98 percent) cite it as a risk in their most recent 10-K filings. Components of the 21st Century Cures Act aimed at streamlining drug and medical device approvals, as well as the FDA's recently unveiled Digital Health Innovation Action Plan, among other forms of deregulation, will require organizations to reconsider their business strategies and risk frameworks.


FCPA, Fraud Risks Remain Top of Mind
Despite reports that anti-corruption efforts might lag under the Trump administration, life sciences companies' concerns around compliance with the Foreign Corrupt Practices Act (FCPA) have not lessened. This year, 59 percent cite the FCPA and other anti-bribery and anti-corruption laws as risks, in line with 2015 levels (59 percent) and marking a 17 percentage-point increase from 2013 (42 percent).

Concerns around anti-fraud regulations, meanwhile, are elevated. Seventy-three percent of companies cite anti-kickback regulations as a risk. Seventy-two percent mention the False Claims Act (FCA) as a concern, up from last year (69 percent) and 2014 (43 percent). This followed the Department of Justice (DOJ)'s third highest annual recovery in FCA history, recouping more than $4.7 billion from FCA cases in fiscal year 2016. Of that amount, $2.5 billion was from the healthcare industry, which included drug and medical device companies, hospitals, nursing homes, labs and physicians.

When it comes to maintaining adequate internal controls and keeping up with accounting and financial reporting regulations, concerns remained nearly flat this year, with 81 percent of companies citing it as a risk. This marks a significant increase from 2013 levels (68 percent), but only slightly below last year's level (85 percent).

At the same time, life sciences companies are preparing for a new revenue recognition standard, ASC Topic 606 Revenue from Contracts with Customers, which takes effect on Jan. 1. The standard aims to create comprehensive accounting guidance for revenue recognition and will substantially replace existing U.S. GAAP (Generally Accepted Accounting Principles) on this topic. For life sciences organizations, ASC 606 adoption will vary depending on the nature and stage of each business. For instance, transactions such as license transactions will face more significant changes than others and will require careful planning.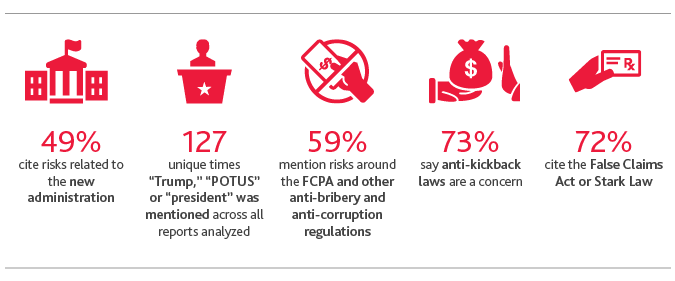 Navigating Tax Liabilities Ahead
With healthcare reform dead in the water, the Trump administration has brought another hot button issue back into the spotlight: U.S. tax reform. Nearly three-fourths (71 percent) of life sciences companies cite tax liabilities as a risk in their latest 10-K filings, including issues related to potential U.S. tax reform, differing tax laws in domestic and foreign jurisdictions, and state and local tax (SALT) issues.
---

Third-party Threats and Regulatory Uncertainty Push Operational Risks Higher
Changes to third-party reimbursement models within healthcare are pushing life sciences companies into unknown territory. In addition to regulatory uncertainty, emerging cyber risks, unstable access to capital and geopolitical shifts weigh heavy on companies' financial, compliance and information systems this year.
---

Answering to Pricing Pressures
Value-based reimbursement models will soon become the norm in healthcare; as they take hold, life sciences companies will need to better define, and constantly refine, what value their products provide to the marketplace. Competitive and product development pressures will likely remain primary risks for the industry, but the emphasis on value will alter the game.