Retail in the Red: BDO Bi-Annual Bankruptcy Update
Retail in the Red: BDO Bi-Annual Bankruptcy Update
An overview of U.S. retail bankruptcies and store closures in the second half of 2020
The COVID-19 pandemic served as a catalyst for a slew of bankruptcy filings by struggling retailers. Along with existing consumer preference shifts and continuing e-commerce growth, the pressures of government-mandated store closures pushed retailers already in crisis to the precipice.

2020 resulted in the largest number of retail bankruptcies filed since the financial crisis in 2009. However, the pace of Chapter 11 filings curbed off at the end of 2020, making the numbers less bleak than originally expected. This underscores the efficacy of retailers' resilience throughout the pandemic, including their ability to make faster decisions, respond to unforeseen demand shifts, and adjust their supply chains for stronger omnichannel execution. However, retailers should not rely entirely on the changes made mid-pandemic to sustain momentum. Shifts like buy-online-pickup-in-store (BOPIS) and e-commerce capabilities are now the baseline, and it's time for retailers to think through their businesses' post-pandemic vision to keep their revenues up and risk of bankruptcy low.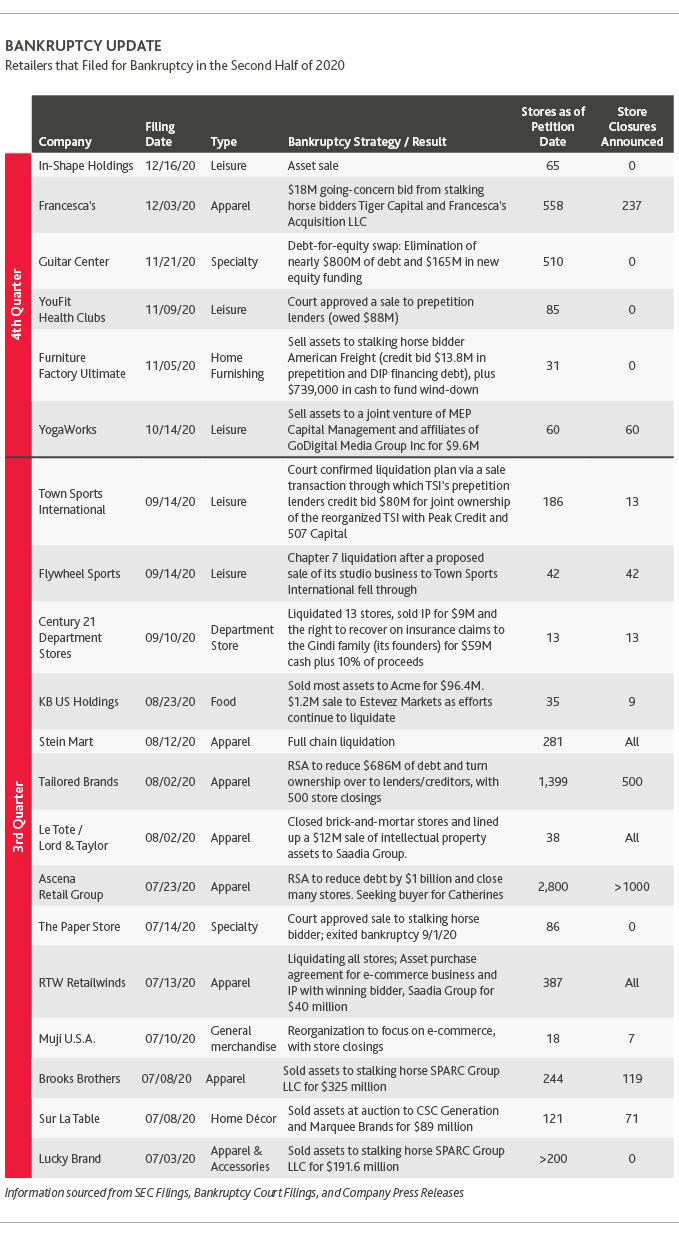 There were 15 major filings in the first half of 2020: 14 in the 3rd quarter—including Brooks Brothers and Le Tote/Lord & Taylor. However, there was a clear slowdown in retail bankruptcy filings after Labor Day, with only six in the 4th quarter, including Guitar Center and Francesca's. In addition, there were four bankruptcy filings in January 2021, only two of which were by retailers with more than 25 stores (Christopher & Banks and L'Occitane).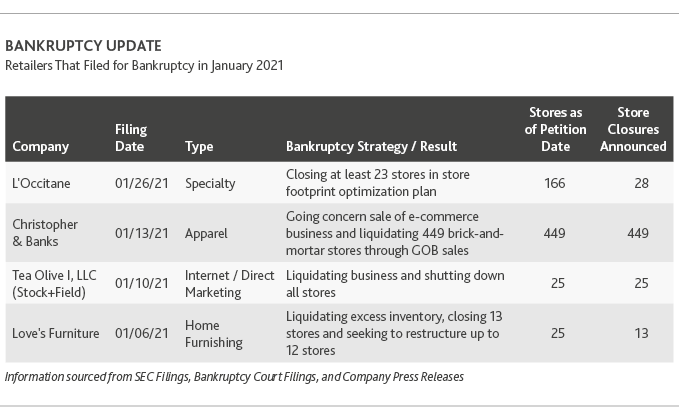 Some retailers that hung on through the holiday season with expectations of capturing Q4 sales upticks may have been disappointed. The National Retail Federation (NRF) says holiday sales grew 8.3%—the highest growth rate on record—with year-over-year gains in six of nine categories, but declines most notably in electronics and appliance stores (-14.4%) and in clothing and clothing/accessory stores (-14.9%). Meanwhile, the latest U.S. Department of Commerce figures show total retail sales in 2020 increased 6.9%. This marks the highest growth since 1999 and the first time in history that e-commerce sales accounted for all of retail sales gains, indicating that sales through all other channels—including brick-and-mortar stores—declined.

Despite overall sales growth last year, the final 2020 retail sales figures will not be known until returns have been processed from the holiday season. According to a recent survey by the NRF and Appriss Retail, returns account for more than $400 billion in lost sales for U.S. retailers, and online returns more than doubled from 2019. On average, retailers expect 13.3% of merchandise sold during the 2020 holiday season to be returned, which is expected to cost retailers $101 billion, according to the survey. The level of returns experienced by distressed retailers may be their tipping point toward bankruptcy.

Navigating the impact of returns and unbalanced inventory on retailers' bottom lines is even more critical during pandemic recovery. Throughout 2020, retailers were subject to pandemic-driven extremes such as an unanticipated oversupply in apparel and sustained heightened demand for household essential products. Too little inventory results in some lost sales, while too much typically results in heavy price discounting to clear out unsold goods.

Malls were, and continue to be particularly impacted by the decline in foot traffic and the rise of e-commerce. The mandated closures and capacity limits on experience-based tenants—including movie theaters and gyms— further depressed foot traffic. In the second half of 2020, several mall-based retailers filed for bankruptcy, including Tailored Brands (Men's Wearhouse and Jos. A. Bank), Le Tote (Lord & Taylor), Ascena Retail Group (Justice, Lane Bryant, Catherines and Ann Taylor + Loft), FTW Retail Winds (New York & Company), Brooks Brothers, Lucky Brand and Francesca's. This was in addition to the bankruptcy filings of major retailers in the first half of 2020, including Pier 1, Neiman Marcus, JC Penney and GNC. The numerous filings and store closings of mall-based retailers also gave rise to mall vacancy rates, which grew to 10.5% by Q4—the highest in twenty years—up from 10.1% in Q3 and 9.7% in 2019, according to Moody's Analytics REIS. Looking ahead, Coresight Research estimates 25% of America's roughly 1,000 malls will close over the next three to five years. Underperforming malls are less able to rely on anchor stores to drive foot traffic, requiring them to transform. Previously vacant space may need to be reimagined into healthcare facilities, office space and other non-retail uses.

In the coming months, retail success—both in and out of malls—may depend on rethinking business models to adapt to changing consumer preferences and demand shifts. The pandemic drove many retailers to enhance their omnichannel strategies, including adding curbside pickup, a trend likely to continue post-pandemic. However, these solutions come with a potential reduction in impulse purchases, which have long been profit-drivers for brick-and-mortar retailers.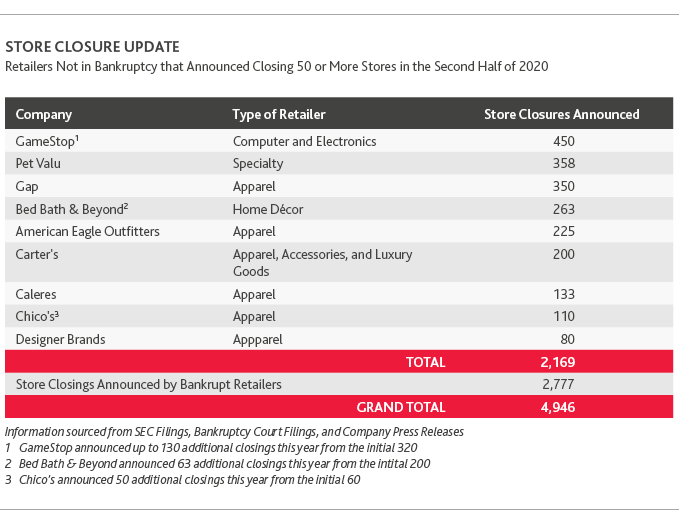 Some retailers that avoided bankruptcy in 2020 were able to do so by right sizing their assets. As the pandemic upended the in-store experience, retailers unable to sustain operations at existing levels began to reevaluate their store portfolios.

After bankrupt and non-bankrupt retailers announced around 10,000 store closings in the first half of 2020, the second half of the year showed a marked decrease, with approximately 4,900 closings announced. A significant number of the store closing announcements were made by apparel retailers, which comprised the majority of the closings by retailers both in and out of bankruptcy.

According to CoStar Group, 159 million square feet of retail space was closed in 2020. Vacancy rates across the retail sector overall averaged 20% in the second half of the year, according to Statista. These vacancies leave significant retail space to be repurposed, especially in malls, which have a high concentration of apparel retailers.

In the year ahead, 36% of retailers are eliminating or consolidating floor space as a means of cost optimization and 31% are reducing their mall-based stores, according to the 2021 BDO Retail CFO Outlook Survey. For stores that are being preserved, retailers will need to focus their attention and investments toward a hygiene-centric, safe and convenient customer experience. For some, making the decision to shutter select locations may be difficult, but freeing up resources to focus on larger revenue generators can help boost the business's long-term health.

BDO's Take: Outlook for the First Half of 2021 and Beyond
It is clear the pandemic will continue to have a far-reaching impact on retailers. The 2021 BDO Retail CFO Outlook Survey also reported 42% of retailers expect to restructure as industry revenue declines persist. Additionally, 40% of CFOs surveyed are reevaluating their real estate footprint this year and the uncertain timing of COVID-19 vaccinations have brands preparing for reduced consumer traffic and spending extending into the summer.

Perhaps the most pertinent takeaway from the state of retail in 2020 is that retailers need to have the ability to pivot quickly and adapt their business models. While it's difficult to plan for all potential business disruptions, the retailers likely to thrive will be those that demonstrate agility in addressing and adapting to customer needs.

We expect the first half of 2021 will continue to see some retail bankruptcies and store closings, but at a slower rate than in 2020. The initial impact of the coronavirus pandemic hastened trends that were negatively affecting the industry for several years, leading to a large number of bankruptcies. As a result, the most distressed retailers have already gone through a restructuring. However, a recovering economy and evolving industry will certainly result in more retailers struggling, leading to a lower—but steady—pace of filings and store closures.