Retail in the Red: BDO Bi-Annual Bankruptcy Update
Retail in the Red: BDO Bi-Annual Bankruptcy Update
An Overview of U.S. Retail Bankruptcies and Store Closures in the first half of 2020
In early 2020, the COVID-19 pandemic completely altered the U.S. retail landscape, exacerbating industry changes that were already underway.

Government-mandated store closures, social distancing measures, supply chain issues and upticks in e-commerce sales have only intensified existing pain points felt by brick-and-mortar retailers, accelerating the pace of bankruptcies going into the second half of the year.

While retailers can usually depend on cyclical spikes in consumer spending in the fall and winter months, the latter part of 2020 looks to be just as uncertain as the first half. As many schools shift to a virtual classroom model, retailers question whether traditionally stable back-to-school sales will result in disappointment. However, it's not all bad news: According to the NRF's annual back-to-class survey, 34% of consumers expect to spend more than they initially thought, and 54% attribute the increase to greater spend on electronics and computer equipment to support virtual learning. This could be a boon for retailers in the consumer electronics sector, but a bust for apparel retailers that depend on back-to-school fashion trends to drive fall sales.

With a slow recovery outlook for the coronavirus recession, retailers need to reflect on the challenges faced in the first part of the year, focus on new product categories, and double down on digital- and hygiene-centric trends in the lead-up to the holiday season.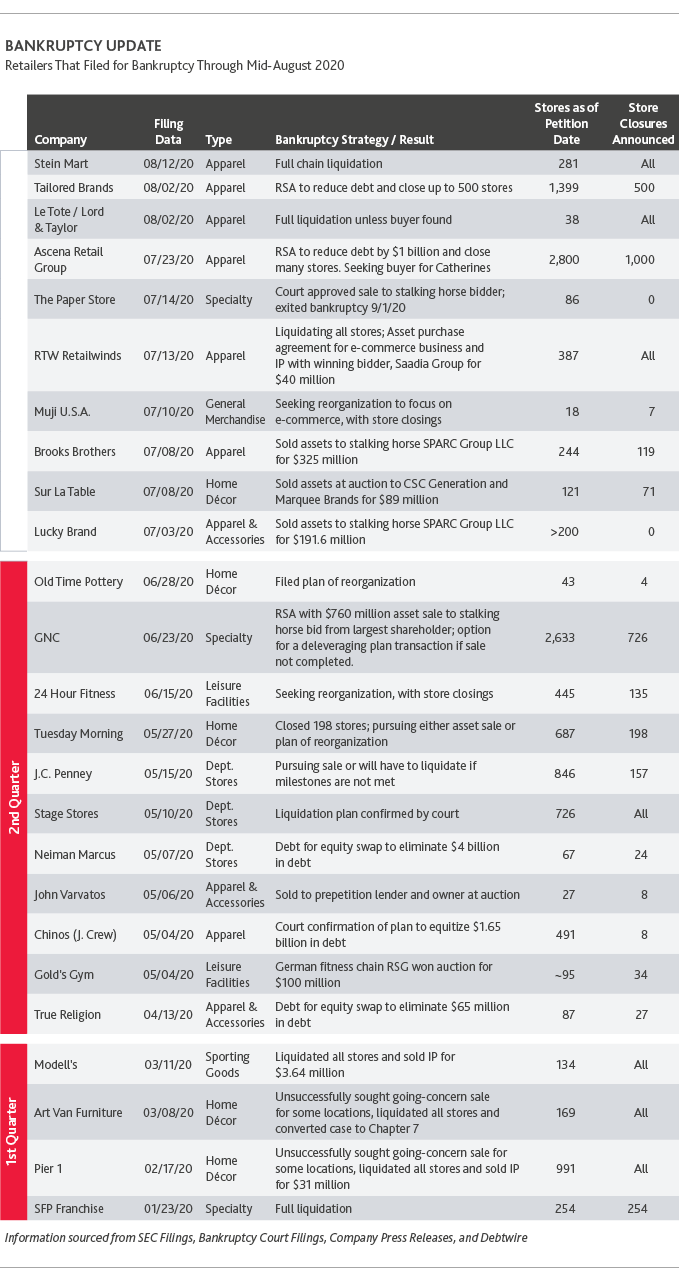 In the first six months of 2020, 18 retailers filed for Chapter 11 bankruptcy, with an additional 11 filing in July through mid-August . These defaults were concentrated in apparel and footwear, home furnishings, food and department stores, with many prominent retailers filing during this time period, including Pier 1, J. Crew, Neiman Marcus, Stage Stores, J.C. Penney, Tuesday Morning, GNC, Lucky Brand, RTW Retailwinds (New York & Co.), Brooks Brothers, Ascena (Ann Taylor, LOFT, Lane Bryant, Justice, Catherines), Le Tote (Lord & Taylor), Tailored Brands (Men's Wearhouse, Jos. A. Bank, Moores Clothing, K&G) and Stein Mart.
With
29 filings in 2020 to date

, this year is on-pace to rival 2010, following the Great Recession, that resulted in 48 total filings.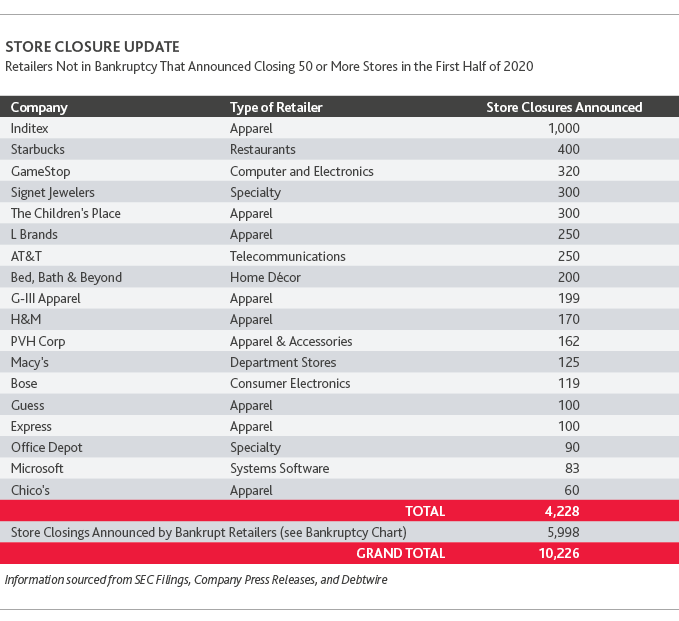 Alongside the uptick of bankruptcy filings and liquidations so far in 2020, the industry has also seen a substantial rise in the number of store closings announced, with bankrupt retailers alone announcing almost 6,000 store closings. From January through mid-August, there have been more store closure announcements in 2020 than the record 9,500 stores that closed throughout 2019. The majority of store closures have taken place in malls, which have seen far less foot traffic due to sustained COVID-19 disruption.

However, retailers on the brink of bankruptcy are not the only ones looking to shed their brick-and-mortar locations. In fact, there are more than 15 retailers that have not filed for bankruptcy—including Macy's, Bed Bath & Beyond and Gap—that have announced the closing of 50 or more stores, totaling a combined 4,200+ stores.

Shifting consumer spending habits driven by the pandemic have added pressure for retailers to minimize their physical footprints and move toward more digital and omnichannel customer experiences. With discretionary spending down, research firm eMarketer projects a 10.5% decline in total U.S. retail sales this year—with brick-and-mortar sales decreasing 14%. That said, these losses are expected to be partially offset by an 18% increase in e-commerce sales, following a 14.9% gain in 2019.

Other consumer shopping trends already underway were only hastened by COVID-19. Even before the pandemic, many workplaces were shifting to more casual dress, decreasing demand for business formal attire. This trend, coupled with diminished need for new clothing for social occasions, has been devastating to apparel retailers and department stores, which have accounted for approximately 54% of bankruptcy store closings and 58% of non-bankruptcy store closings so far this year.
---