BDO's 2019 Retail Rationalized Survey
BDO's 2019 Retail Rationalized Survey
Though consumers increased spending for this holiday period, not all retailers had as much to be happy about as others. With burdensome levels of debt, a steady cadence of bankruptcy filings, new entrants and shifts in buying power across generations, the retail industry faces continued pressure to transform. Meanwhile, with many experts predicting a market correction as soon as this year, it is vital that retailers prioritize financial and operational stability as they weigh business strategy transformation.

In BDO's inaugural Retail Rationalized study, which surveyed 300 retail c-suite executives on overall health and strategic planning, we explored the key differences between how retail Survivors and Thrivers are operating and making decisions. Regardless of when the next market correction hits, industry dynamics will inevitably favor those who are thinking like Thrivers.
What Separates a Thriver from a Survivor?
With the tendency to avoid risk and focus on keeping pace with competitors, more than half of traditional retailers—including big box, department store, discount and specialty retailers—are just surviving.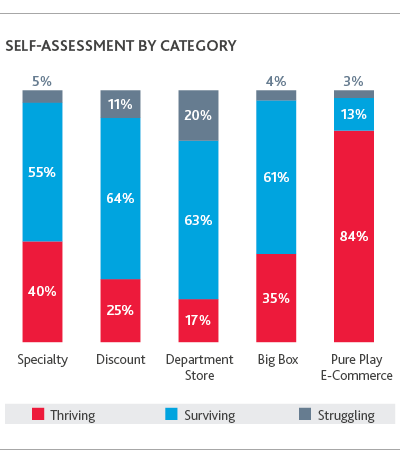 Survivors struggle to keep up with technological innovation and cite higher prices as their biggest weakness. Thrivers, on the other hand, are focused on making smart bets and rely primarily on exclusive offerings to help them stand out from the competition. Today, Thrivers are actively planning for an economic downturn and anticipating increased levels of retail bankruptcy in 2019, while most Survivors are taking a wait-and-see approach to what could potentially be a legitimate retail apocalypse.

Survivors are Unique–Just like Everybody Else
To have foresight, retailers must first have a firm understanding of their status quo, including their strengths, weaknesses and true competitive differentiators. The highest percentage of retailers believe that their exclusive products, customer service and in-store experiences set them apart from their greatest competitor—with the top differentiators varying by category.

Survivors—the majority of which are traditional retailers—rely on their customer service and physical assets to capture business from competitors and create more memorable in-store experiences. With many Survivors reporting the same competitive advantages, it's clear their perceived strengths may not be differentiators in reality.

Thrivers Embrace Tech Risks
Only 14 percent of retailers see superior technology as a top advantage over competitors. As technology continues to disrupt all business functions, from finance to supply chain and marketing, it's likely that future Thrivers will be the ones in that 14 percent. Thrivers are also far more likely to take risks when it comes to technology, with 60 percent reporting openness to adopting an emerging technology that hasn't yet been proven in the industry.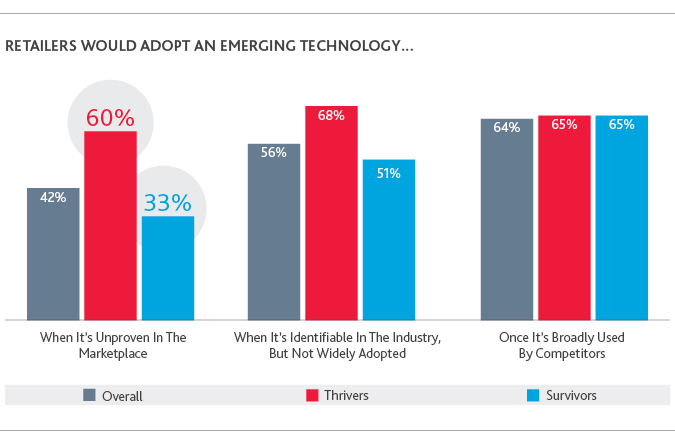 By establishing a digital strategy that balances the long-term vision with realistic short-term goals, and committing to continuous progress, these retailers are better positioned to embrace technological disruption as an opportunity rather than a threat.

Moving from Survivor to Thriver requires a rational approach: ensuring a durable financial foundation and planning with a strong sense of purpose. To break the cycle of survival mode, retailers are forced to shed old habits and adjust their way of thinking; they cannot thrive if they are solely focused on keeping pace with competition.

For more on how today's retail Survivors can learn from Thrivers, be sure to check out the full Retail Rationalized Report here.

Don't miss the latest BDO News and insights – subscribe here – and follow us on Twitter @BDOConsumer.