Powering Growth in 2021 and Beyond
Powering Growth in 2021 and Beyond
After a year of nationwide restrictions subsided and as states began to reopen, leaders are taking a look back at the way their organizations have changed and examining the lessons learned as they shift towards the future.

During a recent webinar, "Turning the Corner on the Road to Recovery," we polled participating leaders in the nonprofit and education industries to hear how COVID-19 impacted their organizations, learn about shifts they made amid crisis, and uncover how their plans have changed for the future.

Key Takeaways:

Assessing Overall Impact
Nonprofit and education organizations unsurprisingly saw negative impacts for the most part from the pandemic, but a significant number were impacted positively—likely due to the combination of increased demand for services and an influx of donations amid the crisis.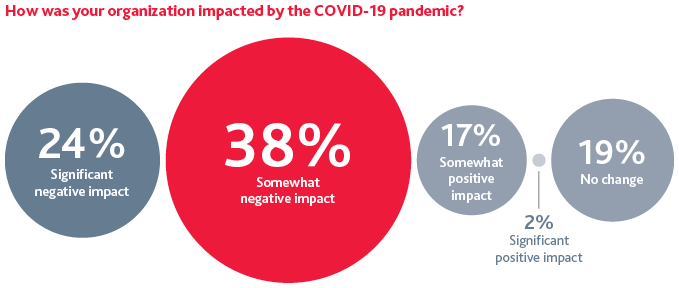 Looking Back at Strategic Pivots
Many organizations made shifts to their existing plans in order to stay resilient. Applying for government relief was the number one pivot made by organizations.



Planning Future Areas of Investment
Nonprofit and education organizations are investing in various areas to achieve their goals, but technology comes out on top, which is an appropriate choice given that nearly half of nonprofit organizations felt technology limitations restricted their ability to respond to COVID-19. This is also in line with trends across the middle market—according to a recent survey, 90% of middle market organizations plan to maintain or increase their digital spending in 2021.



Reevaluating Cash Reserves
When the pandemic began, cash reserves were key, and many organizations found themselves struggling—our 2020 Nonprofit Standards Benchmarking survey found that 54% of organizations maintain only 6 months or less of reserves. In order to prevent this from happening in the future, 58% of organizations plan to rethink cash reserves, but 6% need guidance on where to start.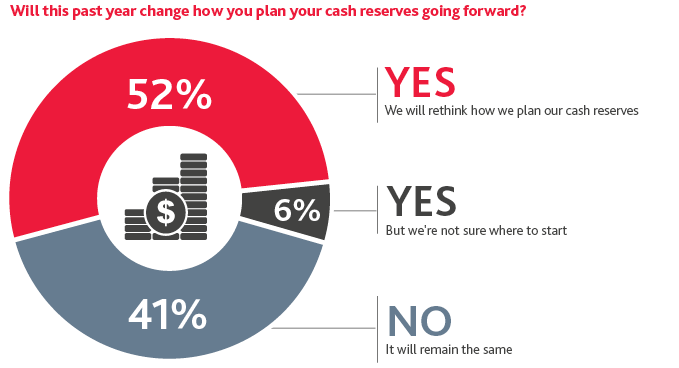 ---