Leadership
Leadership
Christopher Tower: BDO's Leadership & Essentialism
BDO employs an Audit Quality Framework based on five elements of internal focus ("pillars") unique to BDO's CLIMB strategy. Leadership is one of the five elements discussed in our 2017 Approach to Audit Quality report.
---
"Exemplifying strong leadership is fundamental at BDO. It is only through articulating a clear vision and setting priorities that we can inspire our professional staff to innovate, embrace accountability and promote audit quality."
Christopher D. Tower
Managing Partner of Audit Quality and Professional Practice, BDO USA, LLP
---
BDO's leaders have formally adopted the business discipline of "essentialism"2 – a concept that has been put into practice by many of the most innovative companies. Essentialism means doing the things that matter most to the organization. For us, essentialism translates into a relentless pursuit of audit quality. Using this lens, our leaders have re-designed our corporate governance structure to further accountability, emphasize risk management, encourage collaboration among our teams, and focus on the most critical client service activities.
Tone of Our Leaders
In our 2016 Pulse Survey3, we asked our professionals how they viewed our leaders' tone and their communications about audit quality.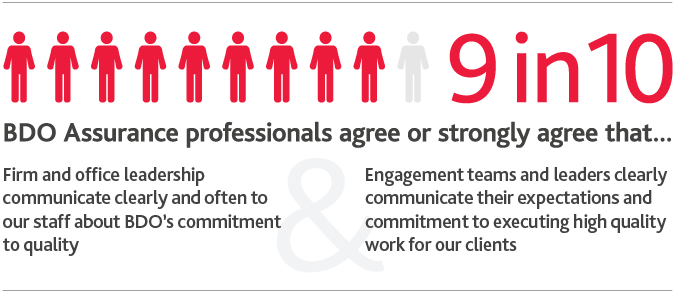 These, along with other data points from our Pulse Survey, provide us with important feedback that can be used to help assess and continually improve the effectiveness of our quality initiatives and related communications.
Promoting Accountability and Leadership
BDO has established oversight and collaborative structures for the Assurance and Tax business lines through a Managing Partner (MP) role in each of our six geographic regions who is responsible for:
Strategy and operations for Assurance and Core Tax business lines

Oversight of Assurance and Core Tax profit-and-loss statements

Integration, growth, expansion, increased profitability, and recruitment

Implementing CLIMB and industry strategies
These six MPs play a key role in overseeing the Regional Managing Partners (RMPs), who continue to separately oversee the regional Assurance and Core Tax practices. The two business line RMPs in each region report to a MP, while Office Managing Partners (OMPs) for Assurance and Core Tax report to their respective business line RMP. An additional focus of the MP role is to provide oversight of our key industries, with a MP overseeing the national leader for one or more industry groups. This structure promotes collaboration and a holistic approach to governance. The counsel and mentorship of the MPs, combined with a keen focus on managing risk, further supports and drives audit quality.

Oversight of the quality of our Assurance practice is led by the Managing Partner of Audit Quality and Professional Practice - Christoper Tower. Christopher is a member of the Executive Team, providing a clear, consistent, and direct line of communication to our Chief Executive Officer. A recent experienced direct hire Managing Partner of Auditing, Phillip Austin, leads our team of National Assurance professionals in the ongoing improvement of the design and transformation of our audit methodologies, approaches, and techniques. Chris Smith, formerly National Accounting & Auditing Professional Practice Leader of BDO USA, was named the new Global Head of Audit & Accounting for BDO International in 2016. These leadership changes focus our efforts on audit quality, while helping our leadership share best practices among the BDO International member firms.

Risk management is essential to providing assurance services and maintaining audit quality. BDO's risk management process comprises:

Protecting sensitive client information is an extremely high priority for us, and we understand the importance of guarding against potential cybersecurity threats. Our Chief Information Security Officer (CISO) oversees our cybersecurity program and infrastructure. The CISO is responsible for identifying, evaluating, reporting, and mitigating information security incidents and security risks in compliance with firm policies and regulatory requirements. In addition, the CISO leads the effort to deepen and broaden cybersecurity awareness and risk management across the entire firm. This new role was assumed by Tom Walch, who reports to both BDO's Chief Information Officer Russ Ahlers and Chief Compliance & Ethics Officer John Lucas.
---
"A leadership structure that holds professionals accountable for high quality performance underscores our commitment to audit quality."
Stephen Ferrara
Chief Operating Officer, BDO USA, LLP
---
Modeling Leadership through Education and Tools BDO's Board of Directors and members of our Executive Team participated in a Governance Fellowship credentialing training program, led by the National Association of Corporate Directors (NACD). Following this, the board committed to a continuing education program to ensure current and future board members remain abreast of leading governance practices. This program complements our existing experienced professional leadership skills and succession planning training.

Building off our work on essentialism, BDO licensed the Indiggo Leadership Platform and has rolled out the cloud-based solution to all professionals at the manager level and above. This platform helps our leaders ensure they are addressing their most important professional priorities and makes them accountable for their time. BDO also recently announced a strategic alliance to provide this platform externally to our clients and contacts.
Independence in Fact and Appearance
The value of audited information is contingent on the integrity and objectivity of the BDO professionals who perform the audit and should never be diminished by profit pressures or conflicts of interest. That is why, under the direction of our National Independence Group, we continue to make significant investments in investment-monitoring systems. Specifically, we have implemented new tracking software to assist professionals in complying with independence rules regarding their personal investments. The "BDO Investment Tracking System" (BITS) alerts professionals and the firm when personal investment holdings may present independence problems for the firm.

While the Securities and Exchange Commission (SEC) and the Public Company Accounting Oversight Board (PCAOB) require this type of software only for firms that audit 500 or more public issuers, BDO has voluntarily implemented the software. BITS has enhanced the firm's independence activities and complements our existing independence check process, independence confirmations, and independence audits.

As part of the BDO International Limited (BDO International) global network of firms, we have implemented systems to provide reasonable assurance that we adhere to independence requirements on an international level.
---
"Independence is the cornerstone of our profession. Developing and maintaining safeguards to ensure independence, and demanding that our professionals demonstrate independence in both fact and appearance helps support the integrity of the capital markets system"
Lisa Snyder
(Incoming) National Director of Independence (former AICPA Senior Director of Professional Ethics)
---
2 Essentialism: The Disciplined Pursuit of Doing Less, by Greg McKeown, who is commonly recognized as the originator of the essentialism movement.
3 Pulse is BDO's internal survey, which allows our staff to provide confidential feedback on the firm's program, initiatives, and strategies.