Innovation
Innovation
BDO employs an Audit Quality Framework based on five elements of internal focus ("pillars") unique to BDO's CLIMB strategy. Innovation is one of the five elements discussed in our 2017 Approach to Audit Quality report.

At BDO, innovation has taken on special significance: It is central to our strategic plan for all of our business lines, particularly for our Assurance practice.
Transfer of Knowledge between National Assurance Professionals and the Practice
Innovation in learning is an ongoing audit quality endeavor. We continue to expand our professional education offerings using a variety of formats:
We continue to build on our public company expertise through implementing a foundational and ongoing training curriculum focused on the requirements applicable to auditing public companies. These programs, along with applied experience, are being combined to create an ongoing formal Issuer Certification Program. Monitored by our National Learning group, the Issuer Certification Program will support engagement teams and the practice in aligning a balance of skilled resources to each SEC Issuer audit.

Rules and regulations regarding "new GAAP" have our clients assessing internal capabilities, financial and operational systems, and overall financial reporting and disclosure controls. The two most broad-reaching and impactful standards soon to be effective are the Financial Accounting Standards Board's (FASB) Revenue from Contracts with Customers (ASC 606) and Leases (ASC 842). To address the changes in accounting and disclosures these standards require, we have embarked on a significant educational and thought leadership campaign to ensure both our professionals and our clients understand and can address and comply with the standards' requirements. This effort includes webinars, in-person trainings, tools, publications, and alerts.

Our technical advisory professionals, each with significant accounting and industry experience, are dedicated to our Accounting and Reporting Advisory Services practice. In 2016, we formed a strategic alliance with CoStar Real Estate Manager to assist companies in analyzing and classifying real estate, equipment, and other leased assets as they prepare for the impact of the new lease accounting standard. Through this alliance, we can introduce our clients to CoStar's leading technology solution, Lease Manager SAAS, which will help them to:
Calculate the impact on their balance sheets from implementing ASC 842

Perform classification tests

Develop and apply amortization schedules

Process journal entries

Integrate with their general ledger systems

In light of "new GAAP," changing public company regulations and rules, and various industry-specific developments, we are making investments in, and adjustments to, the methods and tools we use to conduct our audits, as well as our training, protocols, and policies.
---
Increased regulations and accounting rules can cause a sense of constraint and confusion for companies. BDO has created a dedicated senior advisory team to assist clients with:
Financial reporting considerations

Evaluation of complex accounting and reporting issues

Implementation of new accounting standards such as revenue recognition and leases

Evaluation of, and accounting for, new business transactions such as business combinations, debt modifications, discontinued operations, and stock compensation

Pre-clearance and comment letters
---
Optimizing Our Audits and Managing Risk
In order to improve our audits, we are investing in a scalable, multi-disciplinary U.S.-based Business Service Center (BSC). Opened in late 2016, the BSC will aid the firm in optimizing operations and change the way we allocate our resources so that we remain focused on risk and professional development. The BSC will execute and handle many of the firm's standard and routine operational and transactional tasks from a centralized domestic location. This will allow BDO engagement staff to focus on higher-value, client-centric activities that better align with their skills and support their growth and that of the firm. The continued rollout of the BSC will be in the form of a phased pilot through 2018. It will begin with certain of our non-issuer clients, to refine practices and tasks across business lines. The BSC will be comprised of BDO USA employees and overseen by BDO USA leadership.

Addressing the risk of cyber threats remains a key priority for our firm, as well as for our clients. We have recruited highly experienced professionals from industry with backgrounds in cyber and information security, litigation, and related disciplines, who are working collaboratively across our business lines to educate and advise our clients as they navigate the cyber landscape. We have also developed a proprietary BDO Cyber Risk Assessment Tool that we provide to clients to help them identify and tackle areas for improvement within their cyber risk management systems. In offering this tool, we are mindful of our obligation to remain independent in appearance and fact and have set "bright lines" that delineate the services we can and cannot provide for our private and public audit clients.

BDO is playing an active role in support of the audit profession's efforts to develop a standard approach to examining organizations' cyber risk management programs. We are providing key professionals to work with the Center for Audit Quality (CAQ) and the American Institute of Certified Public Accountants' (AICPA) ASEC Cybersecurity Working Group, which are in the final stages of issuing cybersecurity attestation standards and guidance.

Accounting for income taxes and the accompanying tax provision is another area that continues to present challenges for our clients. In response, our National Assurance team has identified eight dedicated professionals, including a seasoned partner, to lead the firm's "ASC 740" group. The group works directly with engagement teams, consulting on income tax accounting and disclosure matters.
---
Spotlight - BDO Audit Methodology and APT
BDO employs a proprietary global audit methodology that enables our engagement teams to conduct consistent risk-based audits, both domestically and internationally, with maximum efficiency and minimal disruption to our clients' operations and people.

Our audit software and documentation tool, APT, is an essential part of our audit methodology. Our professionals use it to devise proper audit procedures and testing based on applicable U.S. auditing standards, as well as to factor in engagement- and industry-specific facts and circumstances. APT is designed to support large, complex engagements, yet it can be scaled for smaller, less complex audits. This helps our engagement teams focus on risk and audit execution, and has resulted in more-informed choices regarding alternative audit strategies and the types of testing.
---
Industry Specialization
We are organized around 13 primary industries to better serve our clients. We use a cross-discipline approach, with practice support from all business lines. Leadership structure, operational standards, and processes have been put in place to support this approach and allow the industry groups to easily engage experienced professionals from around the country, across specialty services and practices, as well as through BDO International and BDO Alliance USA member firms.5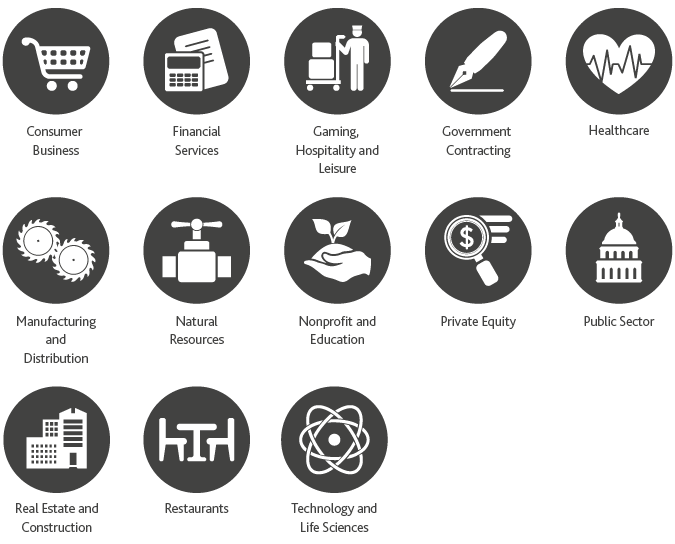 Our professionals specialize in particular industries beginning early in their careers. To support this specialization and provide them with more in-depth knowledge of the business issues impacting their clients, we create industry-specific education opportunities. We have also built industry-specific content and compliance strategies into our audit methodology and audit process tool, APT. This includes industry-specific testing strategies, risk supplements, working paper guides, and required communications to those charged with corporate governance. As a result, our engagement teams are able to provide a higher-quality audit with greater efficiency.
Harnessing the Power of Data
As the audit of the future emerges, it is important to find new ways of looking at issues--and bringing together information from disparate sources to portray an accurate business picture is one way of doing this. At BDO, we have deployed a global tool we call BDO Advantage that our engagement teams use to analyze specific and larger sets of data and visually depict anomalies and trends. This tool, which is packaged with audit techniques for using data analytics and custom training on data extraction, is included in our continuous learning curriculum. Our current BDO methodology is being formally aligned with these techniques, and guidance will be finalized in 2017.

We are also investing in several custom applications that are designed to reduce engagement time and allow auditors to directly record results of procedures performed on their mobile devices. They can then have the information downloaded securely into the working papers contained within APT.

These are just a few of the notable ways that our firm is designing solutions to address change and complexity in our audits. There will always be more work to be done. To ensure we continue to keep pace, we have assembled cross-functional and diverse teams of professionals to explore innovative techniques and participate in internal competitions to develop solutions and approaches for a broad spectrum of issues.
---
"All highly technical industries need to adapt or they will be left behind. Continually re-imagining and investing in the design and execution of our audits keeps us relevant and ahead of the changing tides."
Brian Miller
National Director of Data Analytics
---
5 BDO Alliance USA is one of the largest associations of independent accounting, consulting, and professional service firms.