Innovating Future Audits
Innovating Future Audits
---
"First-class auditing firms must have strong project management processes, the ability to leverage technology, a willingness to ask the right questions, and a focus on helping clients deal with risks and challenges that are uncovered by the audit results. But these core competencies are 'table stakes.' In today's landscape, clients require and, indeed, demand something more from their auditors: innovation."


BILL EISIG
Atlantic Region Managing Partner and Chairman of the Board of Directors
---
Financial statement audits represent independent assurance that a company is fairly presenting its financial position, results of operations, and cashflows. It is an understatement to say that various stakeholders must be able to trust and rely on these audits. To help ensure that each audit fulfills this role, an auditor must understand and provide timely insight into the nuances of a client's business and industry, financial reporting, and corporate governance. That is the nature of the audit.

In today's rapid age of change, many boards of directors, audit committees, CEOs, and CFOs are rightfully concerned about the future of the audit. Their concerns focus on how well and how quickly their auditors can adapt auditing methodologies, resources, and practices to the changes affecting their own companies.

In nearly every industry, well-established companies and business models face a constant threat of disruption as the Internet of Things (IoT), robotics, and artificial intelligence create new possibilities and transform customer expectations. Data analytics is rapidly revealing new insights about how companies and their auditors can operate more efficiently and create more value in the examination and presentation of information. The rise of distributed ledger technology (blockchain) and digital currencies is revolutionizing how financial transactions are made and processed. Looming over all of these innovations are the serious and ongoing concerns companies face when it comes to the security of and controls over their data.

All of these changes are putting immense pressure on service providers, regulators, and others throughout the accounting and audit community. However, we view these forces of change as a tremendous opportunity to apply our quality-centric mindset in innovative, valuable ways on behalf of our clients.
Innovation and Transformation: People, Process and Technology
We continue to innovate and transform our audit practice amid rapidly evolving business and regulatory landscapes by:
| | |
| --- | --- |
| | Maintaining professional skepticism at all times |
| | |
| | Constructing continual learning opportunities for auditors and clients |
| | |
| | Refreshing global and U.S. audit methodology |
| | |
| | Translating work papers using neuroscience-enabled software |
| | |
| | Undertaking digital transformation |
| | |
| | Developing data analytics platforms for hosting data and deploying data analytics techniques |
| | |
| | Leveraging augmented intelligence |
| | |
| | Increasing automation |
| | |
| | Enhancing an audit client portal for real-time information sharing and management |
Innovation and Transformation: People
Emphasizing the Mindset of Our Auditors
Beyond simply keeping up with the latest technological developments and trends that are shaping our clients' businesses, BDO is analyzing the trajectory of where these forces are headed and positioning our approach to audit quality accordingly. This means proactively sharpening tools and techniques in response to the realities of the marketplace, regulation, and other factors. It also means designing and testing our tools and techniques to help ensure that they maintain audit consistency even in the face of rapid change.

Our greatest asset in delivering both audit innovation and consistency is our people. Effective auditors must develop and maintain the mindset of an evaluator and the ability to break down any conscious or unconscious bias in audit execution and decision making. To foster this mindset among all of our people, we have worked alongside respected professors Douglas Prawitt, William Tayler, and Steven Glover of Brigham Young University (BYU), to create a Professional Skepticism and Judgment Framework as the central part of our auditor toolkit and continuous education (Figure 1).
Figure 1. Professional Skepticism and Judgment Framework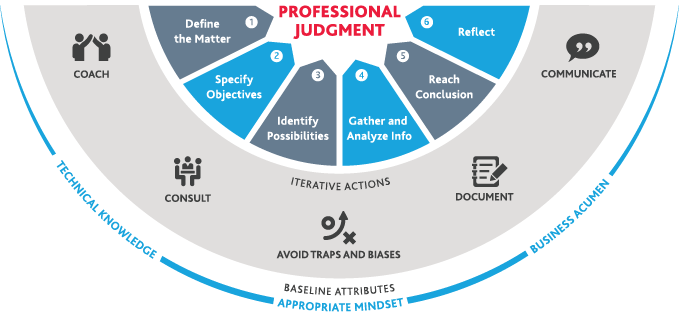 ---
"We are very pleased to have worked closely with BDO in developing this new framework. We are incorporating this professional skepticism and judgment framework as the basis for our continuing academic research and coursework at BYU. We are excited to see that the leadership demonstrated by BDO for new ideas and perspectives is making an impression on the next generation of auditors."
DOUGLAS PRAWITT
Brigham Young University Professor
---
By guiding audit-related decision making and honing professional skepticism, this framework is designed to drive the audit behaviors necessary to provide consistent outcomes that are supported with well-reasoned evaluative judgment. The framework provides the structure through which auditors can apply their technical knowledge and business acumen with the appropriate mindset of an evaluator. It supports an iterative process of coaching, consulting, communicating, and documenting the core elements of the audit process. Just as importantly, it helps our people avoid the traps and biases that can affect audits.
---
"When we can commit to the mindset of an evaluator and execute professional skepticism in everything we do, we will exceed every expectation that the regulators, client boards, and our profession have of us and that we have of ourselves."


PHILLIP AUSTIN
Managing Partner - Audit
---
Innovation and Transformation: Process and Technology
Our Professional Skepticism and Judgment Framework is just one element of BDO audit innovation. We are delivering tangible, meaningful improvements for our clients, their stakeholders, and the larger auditing community in several other prominent areas.
Driving Global Audit Consistency
Our National Assurance Office (National Assurance) has become a leader of our audit transformation and innovation endeavors and our efforts to strengthen collaboration with our network of colleagues throughout the world. To achieve this, we are equipping our people with powerful tools that focus on enhancing communication, connection, and the management of the many, often daily, interactions involved during audit engagements. The next generation of our Global Audit Process tool (APT)2 helps improve our ability to enhance scalable audit integration, including scaling how we evaluate and reach conclusions about a client's internal controls. We also collaborated with Microsoft on a successful pilot of our BDOLexi Translation App, a working paper translation tool designed to help manage information in multiple languages during global audits.
Leveraging the Digital Revolution
Cloud-based software and other digital tools can significantly improve the efficiency with which clients manage all aspects of accounting and auditing functions. We are at the forefront of investing in and developing cloud-based tools and augmented intelligence designed to help companies manage changing accounting requirements. For example, BDO is a founding member of the ConsenSys Accounting Blockchain Coalition, a group dedicated to educating businesses and organizations on accounting matters relevant to digital assets and distributed ledger technology, including blockchain.

In response to the implementation of significant new accounting standards, we are leveraging CoStar's Lease Manager solution through our Accounting Reporting & Advisory Services (ARAS) practice to allow clients to capture, analyze and classify leases, and satisfy compliance and reporting requirements under FASB ASC Topic 842, Leases. Last year, we launched BDODrive, an integrated solution with a unique combination of professional and technological resources for core accounting and financial management, and an exceptional range of business advisory services. Powered by Microsoft and Intuit, BDODrive leverages leading-edge, cloud technology and security to bring a new level of efficiency and standardized best practices to outsourced finance and accounting services.
Employing the Power of Data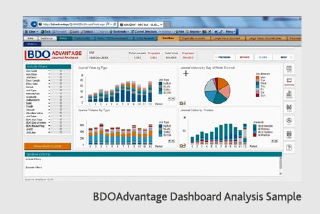 The ability to capture, analyze, and generate actionable insights from data has become a "must have" critical skill for auditing firms. We continue to develop and incorporate analytics-driven audit techniques designed to close the gap between data management and decision making. Tools including BDOAdvantage can help audit engagements streamline the extraction and analysis of large data sets throughout the year. The resulting changes to data management and analysis not only yield potential cost efficiencies but also identify and effectively channel auditing procedures to key areas of risk.
Adding Value From the Client Perspective
While we are continually improving our internal processes and developing new tools to support our commitment to audit quality, we never lose sight of the fact that our relationship with each client is critical to an audit's success.

Innovation isn't limited to leveraging new technology or implementing new methodologies. True innovation also involves looking at clients' challenges from new perspectives and identifying new ways to add value to a company and its stakeholders. We know that our clients are looking for a business advisor who can use the audit as an opportunity to uncover previously unknown or unrecognized risks and business issues, particularly as our clients move into new markets and pursue emerging opportunities.

Thus, communications with our clients have taken on new meaning. We have extended capabilities for our Client Portal App through which clients can now more easily share information and interact with BDO audit teams in real time.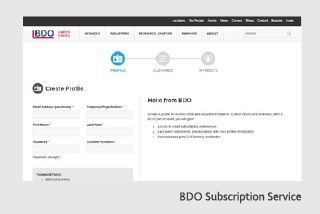 Through our subscription service on BDO.com, we are ensuring clients receive a steady stream of thought leadership and learning opportunities specific to their business.

At BDO, we are committing ourselves to continual innovation in the pursuit of audit quality, which has positioned us well to address our clients' evolving needs.
---