Developing Exceptional People
Developing Exceptional People
Any top-tier audit firm will tell you that their people are their most important asset and that attracting and retaining a diverse collection of the industry's best talent are essential to a firm's success. At BDO, we wholeheartedly agree with these principles and consider our people to be the core of audit quality. We believe that the success of an audit is dependent on "actively engaging" people with high caliber skills, knowledge, and judgment. This is why we have a rigorous plan in place for how we recruit, invest in, nurture, and inspire this talent.

Fourteen hundred new staff members, of who 57% are assurance professionals, were recruited from 195 top colleges and universities and included participants from our highly successful Pathway to Success program. Close to 300 experienced Assurance hires are drawn from both the profession and industry to expand the depth within specialty areas, including cybersecurity, income tax, and accounting and reporting advisory services.

We are extremely proud of the auditing team that we have built at BDO, a team made up of distinctive and talented individuals who are dedicated to the craft of auditing and passionate about serving their clients. We are excited to share some of the ways that we are empowering our people to continually expand their skills and their ability to serve our clients.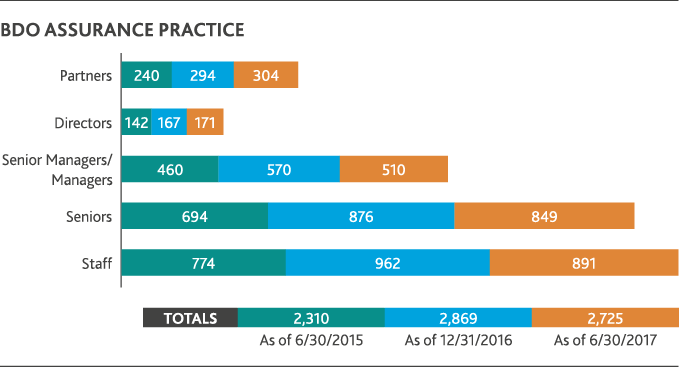 "We are extremely proud of the progress we continue to make in building a diverse workplace environment. Our workplace combines diversity in gender, race, and ethnicity with diversity in thought and experience in order to break down barriers that inhibit innovative solutions and problem solving."

CATHY MOY
Chief People Officer
---
A Culture That Demands Diverse Thinking and Fosters Excellence
Our clients, and the industry, expect excellence in every audit that we perform. We hold our people to this same standard. As a result, we are in the business of finding talented auditors and equipping them with a diverse yet inclusive environment that welcomes new ideas and perspectives and is supported by industry-leading education, resources, and guidance.

An important part of this education is helping our auditors develop a deep well of professional skepticism. We teach them to ask the right questions and view everything they encounter during an audit engagement with the "mindset of an evaluator." Another way that we help them achieve excellence is through our sustainable and compliant audit delivery system that provides consistency in each engagement. No matter what the circumstances, our people follow the same process with the same rigor. Outside of individual audit engagements, our people are fully involved in firm-wide efforts to drive innovation in the audit process, anticipate market needs, and cultivate our best-in-class organization.
This work has paid off handsomely. Our people have the skills, tools, and knowledge our clients expect and they apply them using the right frame of mind. Our people adhere to extremely high standards of professionalism and exhibit independence from our clients—in fact, in appearance, and in thought. Our people focus on listening and collaborating to deliver sound solutions that have been tested and considered from multiple perspectives.
A Differentiated Approach to Performance Management
The cornerstone of our performance management philosophy is providing our people with clear goals and timely feedback at all levels in the organization. We teach our professionals to set meaningful goals that directly tie to measurable performance objectives aligned with audit quality. We empower our leaders to provide feedback and coaching to help individuals achieve their performance objectives and increase each auditor's engagement in their work.


To create an environment that fosters our shared commitment to audit quality, our audit partners and leaders undergo regular quality assessments, conducted by our Audit Quality Committee3. Each partner's compensation, engagement supervision, and workload assignments are based, in large part, on his or her audit quality ratings.
Continuous learning is another central element of our approach to performance management. Education and training is recognized by all of our professionals as essential to staying on top of evolving auditing and accounting standards as well as latest industry trends. Over the past year, our over 2,700 Assurance professionals have earned more than 160,000 Continuing Professional Education (CPE) hours inclusive of accounting, auditing, business acumen, and industry focus, among other professional topics. Annual hours ranged from 30 to 42 hours of recommended level-specific accounting and auditing curriculum, which approximated sixty percent of total CPE delivered to our Assurance professionals. The rest of that time represents our people going above and beyond professional requirements4 to increase their knowledge and capabilities.
As a firm, we are continually evaluating our learning curriculum and coursework to make sure they reflect current accounting, reporting, and auditing standards. All of our professionals are expected to take a core curriculum focused on both issuer and non-issuer client engagements. For our professionals who work on issuer engagements, we have established certification requirements where, in addition to mandatory learning assignments, they must additionally complete at least 200 cumulative hours of issuer audit experience every two years.
During our most recent annual learning cycle, we achieved a 99.7% completion rate for mandatory learning assignments.
Assurance Annual Curriculum
Foundational Curriculum
Accounting, auditing, and reporting coursework delivered by level on a progressive nature by role
Emerging Issues
Emerging and dynamic issues coursework
Audit Quality / Current Practice Matters
Specific audit quality or practice matters coursework identified through inspection processes, or intended as continual reinforcement of underlying subject matter
Industry Focus
Custom content to foster and enhance industry proficiency and knowledge
Empowering People Through Emerging Opportunities
BDO's work in shaping the audit of the future is yielding tremendous benefits for our people. Being at the front lines of technologies like blockchain, data analytics, and other emerging forces that are shaping the auditing industry creates important opportunities for our team members to expand their skillsets and tackle new challenges. Our professionals' eagerness to learn is illustrated by the consistently overwhelming interest from internal applicants whenever we create new jobs or teams related to these and other emerging areas.
Our people can also choose among plentiful secondment opportunities. Assurance professionals may apply for opportunities lasting from three months to two years. These opportunities involve working within various departments of our National Assurance Office to cultivate technical and consulting skills before bringing that knowledge back to their local practices. Other professionals gain international experience by leveraging our BDO International network for a two-year assignment abroad. We believe that this cross-disciplinary exposure fundamentally increases our auditors' skills in their core practice areas and allows enhanced technical and global perspectives to spread throughout our firm.
All of these opportunities, and the resulting excitement, create a virtuous cycle for our firm and our clients. It further serves as an effective attraction and retention strategy in cultivating the types of professionals who are motivated by continuous learning—exactly the kinds of people who make great auditors.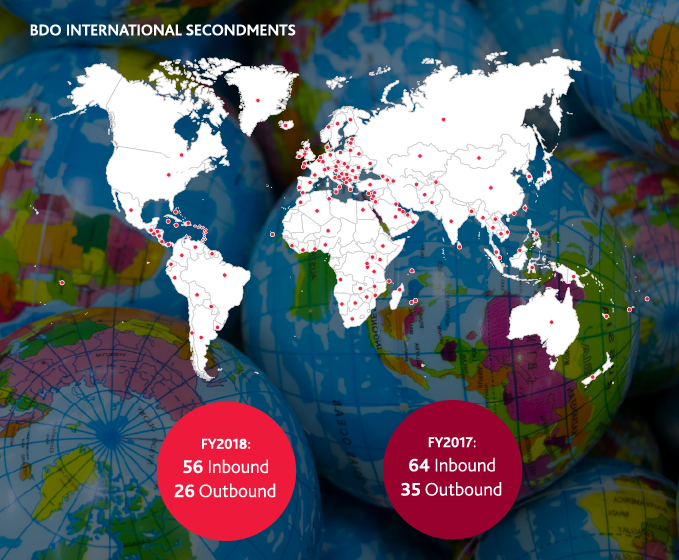 Building Flexibility, Consistency, and Sustainability
The success of our efforts to attract, retain, and nurture the best audit talent is measured, in part, by the flexibility and stability of our workforce. We are fully supportive of a flexible yet connected work environment that allows our professionals to continue to pursue rewarding careers while managing personal commitments. This, combined with the strategies discussed above, has led to strong retention rates, particularly at the more experienced levels.
Strong talent retention allows us to build long-term relationships with clients and maintain continuity through engagement team members on client assignments year after year. The result is a consistent experience that minimizes service disruptions and allows our professionals to draw on institutional knowledge about the client and its industry. At a time marked by significant changes in standard-setting and rapid changes to technologies being deployed in our audits, we can reassure our clients that some things will remain the same.
We also believe that our focus on building deep relationships—with clients, peers throughout the industry, and each other—is a vital part of our quality-centric culture. Client relationships thrive on frequent contact, idea sharing, and deep discussions about clients' business challenges, goals, and requirements. Strong relationships with colleagues based on mutual respect and trust are crucial to professional growth and learning. Relationships with peers outside of BDO help our professionals gain valuable perspective on the future of audit work and the evolving demands being placed on the industry. All of these relationships, and the knowledge we gain from them, enhance our ability to serve clients.