Auditor Communications: CAQ Issues Audit Quality Disclosure Framework
Auditor Communications: CAQ Issues Audit Quality Disclosure Framework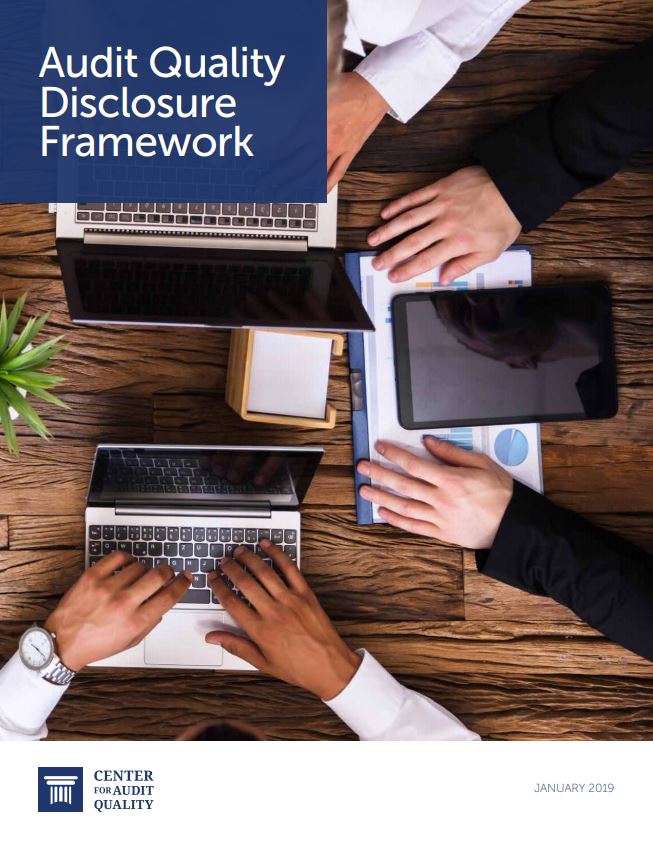 In collaboration with the audit profession, the Center for Audit Quality has issued an Audit Quality Disclosure Framework to assist audits firms – both large and small – in their ongoing efforts to determine, assess, and communicate information that may be useful to stakeholders in understanding how audit quality is supported and monitored at the firm level.
Overview
The public company financial statement audit is relied on by many - inclusive of investors, regulators, lenders and other stakeholders - as a "bedrock" of our financial system. The importance of trust in and reliance on such information is paramount to achieving audit quality and the performance of capital markets. Audit firms have a significant responsibility in building and maintaining that trust. Many audit firms have embraced the need to be more transparent about their approach to conducting audits and publicly share such information through both mandatory and voluntary communication channels – inclusive of transparency reports, audit quality reports, and other types of communications. These types of communications continue to evolve.

The Center for Audit Quality (CAQ) and the audit profession believe that "disclosures that describe a firm's system of quality control and that provide related metrics can promote important dialogue and deepen the understanding of the investment a firm makes in its people and other resources, processes, policies, and technology related to audit quality." In January, the CAQ, in collaboration with the audit profession, released a new tool, Audit Quality Disclosure Framework, as a resource for audit firms to leverage in preparing on-going audit quality communications which can facilitate consistency and comparability over time across firms. In addition, this Framework may also assist stakeholders in better understanding how a firm seeks to manage risk to audit quality.
The Framework's Principle Components
The Framework was created by the CAQ with the input of several of its large and small audit firm members and considered past efforts of the CAQ and others in developing a set of audit quality indicators (AQIs).[1] Development of the Framework further considered prior efforts and current focus on AQIs by the PCAOB.

It is important to underscore that audit quality is not defined in professional standards and stakeholders continue to have different views on how to measure and communicate information about audit quality. As a result, "no single reportable metric or set of metrics should be viewed as the sole determinant of audit quality." However, the use of metrics or AQIs coupled with robust discussion may provide additional transparency into audit firms' systems of quality control processes that underlie the performance of an audit.

The Framework was designed based on the following principles:
The Framework is voluntary and illustrative – its use is voluntary and provides examples of quantitative and qualitative information that firms may find useful in considering the type of information to share with stakeholders about audit quality.

The Framework is flexible and scalable – firms have the flexibility to identify and tailor the information it believes is most relevant and meaningful through the lens of how each individual firm manages its practices and tracks and collects data. This flexibility further allows the Framework to be scalable to both large and small firms.

The Framework provides firm-level disclosures – disclosures considered within the Framework are based on a system of quality control at the firm level rather than at the engagement level. The CAQ intends to continue development of additional resources related to engagement-level disclosures and AQIs.

The Framework provides approaches that drive transparency, consistency, and comparability in disclosures.

The level of detail within the Framework includes:

Elements of audit quality represent elements of a firm's system of quality control that are supported by professional standards and include:
Leadership, Culture, and Firm Governance

Ethics and Independence

Acceptance and Continuance of Clients and Engagements

Engagement Team Management

Audit Engagement Performance

Monitoring
Each of the above is further supported within the Framework by qualitative Points of Focus that describe potential processes, policies, and procedures along with criteria to consider when identifying points of focus and/or firm-level AQIs that a firm may use to address or support each Element. Again, important to note that Points of Focus are meant to be illustrative and not intended to be required or all-inclusive nor do they all lend themselves to disclosure of quantitative measures.

The Framework further provides an exhibit of potential example firm-level AQIs and other qualitative information for audit firms to consider when preparing audit quality communications.
BDO Insight
BDO has been issuing voluntary audit quality reporting for the past several years and has previously embraced significant elements of this new Framework within our own reports and communications. Our most recent 2018 Audit Quality Report reflects both quantitative metrics and qualitative narratives describing how we are proactively evaluating and adjusting our approach to audit quality within the dynamic and disruptive business environment that impacts our clients.

The report describes the commitments we hold our professionals accountable to that support our audit quality approach. We detail the investments we are making to innovate future audits through our people, processes, and technology while adhering to professional standards. We highlight our championing of building and deploying national resources to support our engagement teams and address the changing and complex needs of our clients. We convey how we are contributing to shaping the audit profession, our firm's culture, and our continued development and retention of our people. We share candidly our internal "pulse" survey results and the actions we are taking to enhance operational excellence. We further discuss how we design, monitor, and reward specific audit quality action steps through our overall system of quality control.

Throughout the report are metrics and scorecards that may help our stakeholders visualize and better understand BDO's approach. We view the opportunity to provide the public with our audit quality report and interactive website and video as a chance to demystify the audit process and add value and qualitative context about who BDO is and our contributions to the integrity of the financial reporting systems supporting capital markets.

We further note that we have engaged and continue to engage in positive dialogue with regulators regarding the evolution of our audit quality reports and more importantly the actions being taken described in our reports. We have sincerely enjoyed working directly with the CAQ in developing the Framework and look forward to further incorporating its elements and points of focus more comprehensively into our anticipated 2019 Audit Quality Report to be released later this year.
Next Steps
We encourage audit committees, management, as well as our own professionals to review the CAQ's Framework along with BDO's own audit quality reports available within our BDO Center for Corporate Governance and Financial Reporting. We further encourage robust dialogue with our clients and our engagement teams around audit quality.

We commend the CAQ for producing valuable tools and resources on this topic and others relevant to audit quality. We will continue to highlight these and other activities, trends, and relevant discussions points to our client audit committees and management teams through our Center for Corporate Governance and Financial Reporting.