2019 Board Survey - Top 5 Takeaways
2019 Board Survey - Top 5 Takeaways
Faced with a deluge of competing priorities, public company board directors' oversight responsibilities have reached new heights. Sustaining long-term value today means responding diligently to geopolitical tensions, unrelenting technology disruption, changing regulation, pressures to embrace diversity in the boardroom, and more.

According to our 2019 BDO Board Survey, boards are busy navigating these issues while enhancing the way they communicate key decisions, actions and company performance to meet evolving stakeholders' demands.
1. Progress, not parity, in boardroom diversity
This summer, gender parity in the boardroom reached a new milestone. For the first time, all companies in the S&P 500 now include at least one female board member.
The news was a significant step forward in leadership diversity at the largest U.S. companies, but with the S&P 500 representing only a small fraction of U.S. publiclytraded companies, there's still work to be done.
46% of large or mid-cap boards (above $2B in market cap) report high levels of diversity compared to 21% of small cap ($200M-$2B in market cap) and 13% of micro-cap company boards (under $200M in market cap)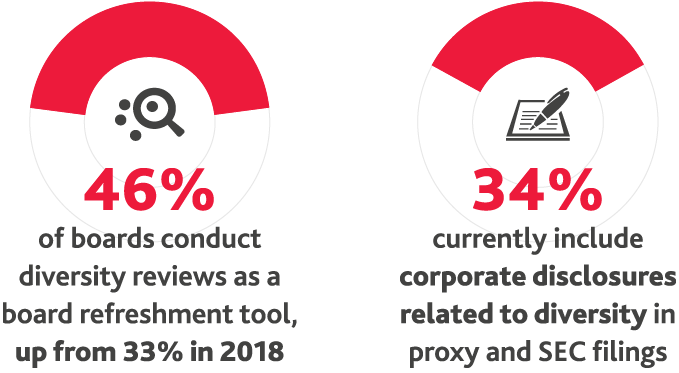 ---
2. Board directors are split on concern and action around geopolitical issues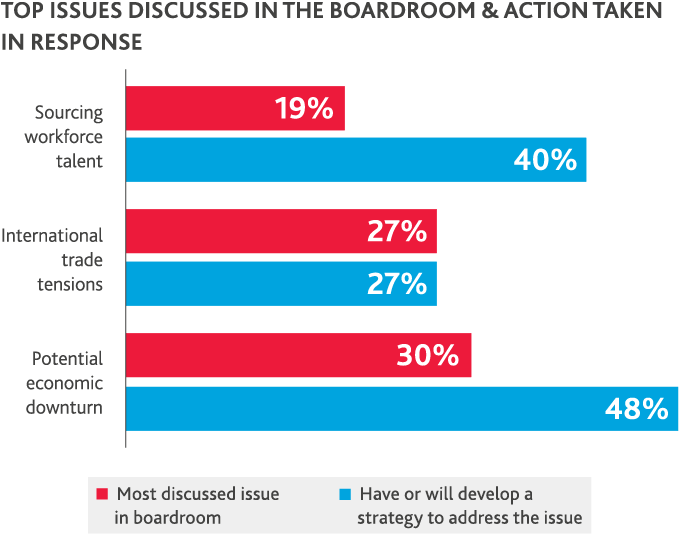 ---
3. Companies lay digital transformation foundation and manage digital risk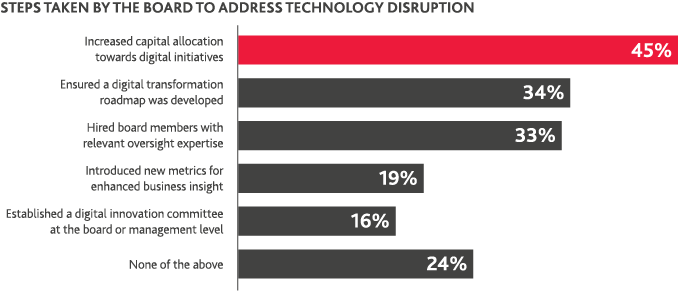 While boards may be fatigued by years of cybersecurity and data privacy alarm, related risks are only growing in complexity and continue to bring increasing scrutiny from regulators. It's critical that management and the board be well-versed in their company's digital risk profile and mitigation efforts.


Just 24% of board members are highly familiar with their organization's data breach response plan
Corporate actions being taken to address emerging privacy regulations:
47% implemented or updated internal privacy policies
42% updated breach notification policies and procedures
43% increased data privacy resources and budgets
---
4. Increased cashflow from tax reform fuels M&A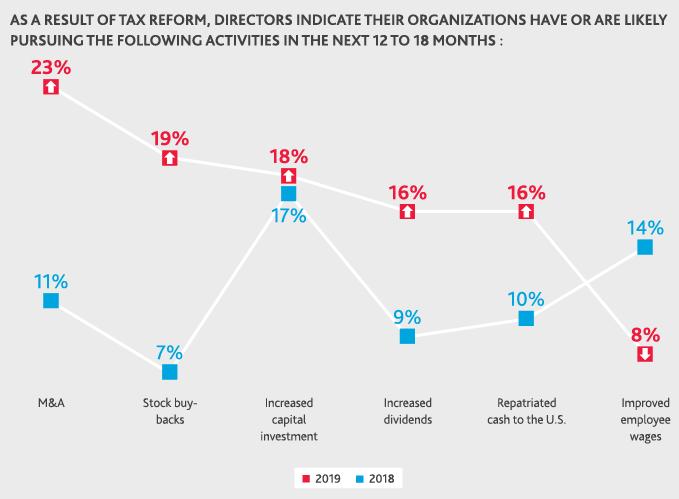 ---
5. Boards focused on regulation, risk
The Business Roundtable, which represents CEOs of leading U.S. companies, recently posited that the purpose of a company is to serve the needs of its customers, employees and communities, in addition to maximizing profit for shareholders. While today's boards remain focused on regulation and risk, companies of all sizes will need to give more weight to how they are perceived broadly as the definition of corporate governance continues to shift.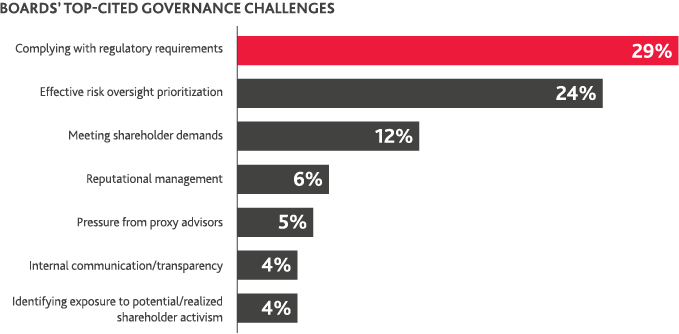 Although internal communication doesn't appear to be a top challenge for board directors, their external communication is evolving beyond traditional financial reporting metrics to portray company performance.

When communicating to the public, they use:

---
For more information, stay tuned for the posting of our in-depth report on the 2019 BDO Board Survey findings.