What's Next for Work: The Workplace Reimagined
What's Next for Work: The Workplace Reimagined
It's a story stranger than fiction. Overnight, the COVID-19 pandemic redefined what it means to "go to work." Millions of workers around the world traded their conference room meetings and office commutes for video calls and a spot on the couch. Masks became the new uniform and hygiene hypervigilance the new mandate for those who needed to stay on the frontlines. For many, modified operations created new or additional job duties, some of which required learning new skills.

A month of this strange dystopia turned into two, then three, then four. At the height of the pandemic, almost twice as many employees were working from home full-time as those working on business premises, according to Stanford research. But what happens when social distancing becomes a distant memory? Should you stay or should you go?

In this second of a three-part series on what's next for work, we break down the big trends shaping the workplace of the future.

Trend #1: The Remote Office
For a large part of the working population, the pandemic has proven that many organizations are able to function—and in many cases, function quite well—working remotely. Research from the University of Chicago's Becker Friedman Institute indicates that nearly 40% of all U.S. jobs can be performed effectively from home. The stigma of remote work is virtually gone. Allowing employees to work-from-home permanently is becoming increasingly common, with companies like Twitter and Slack leading the charge.


The remote option can provide significant benefits to both the employee and employer. For employees, remote work means no long commutes, greater work/life balance (at least in theory), and flexibility to work from anywhere—closer to family, a beach house, or even a new country. For employers, remote work means higher employee retention, lower costs and access to a wider pool of talent across state and international borders. But it isn't a panacea: It comes with a host of new challenges, from keeping employees engaged, to facilitating the level of collaboration that happens naturally with face-to-face interaction, to navigating the tax and equity compensation implications. Without intervention, remote work may also increase socioeconomic inequality. Workers who can afford to set up a private office at home, for example, are likely to be more productive than those who need to share a room or work from their bedrooms.

Trend #2: Rethinking the Office Footprint
While more businesses are offering up full-time remote options, only a small minority are considering going all-remote. But they are reevaluating their physical office footprints, factoring in real estate costs and expected changes in space utilization. Commercial real estate costs are actually lower than they've been in years, particularly in high-cost-of-living urban centers. However, continuing to spend a sizable portion of the budget on an asset that hasn't been used for the better part of a year is a tough pill to swallow. Companies still see the value of having physical space, but they're not sure they need so much of it, especially with fewer employees coming back to the office, or at least all at the same time. Some businesses are also thinking about ditching their expensive city lease for a lower-cost location.

While cost is a driving factor in rethinking the office footprint, the biggest determinant of space needs is where companies fall on the spectrum between all-remote and all on-premise work. Some positions simply can't be done away from the office. The prospect of never setting foot in the office again may appeal to a segment of the workforce, but just as many if not more crave in-person interaction and are itching to get back—though they don't necessarily want to go in five days a week. The best workplace strategy is the one that offers the most flexibility and choice, at the lowest possible cost.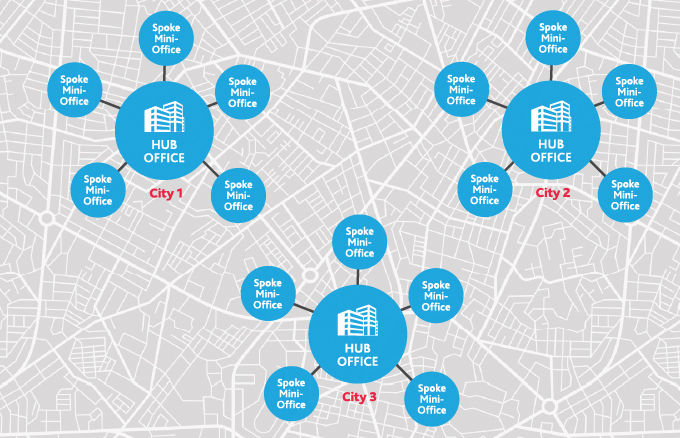 Trend #3: The Smart(er) Office
If the physical office isn't dead, what will the post-pandemic version look like? Enabled by technology, it will be smarter and more connected than we left it. On the heels of the smart home, the smart office—powered by Internet-connected devices and sensors—has been gaining steam over the last few years, primarily in the form of smart lighting, temperature control and motion sensors to reduce energy consumption. While greater energy efficiency (and the cost savings that come with it) will continue to drive adoption, health, hygiene and worker safety concerns are now inspiring many of the latest office innovations.

Some of these new smart applications are coming from essential businesses that needed to stay open during the pandemic. To protect their workers, they implemented pre-entry wellness screenings using digital applications and authorized building access using biometric technology. Given that the release of a vaccine is unlikely to eradicate COVID-19 completely, contactless health screenings and biometrics will remain part of the pre-entry process for the foreseeable future. While these measures may be necessary, the monitoring and collection of data on health symptoms does create new privacy and security risks. Companies will need to make sure they take a privacy-by-design approach to architecting these workplace solutions.

SMART OFFICE SETUP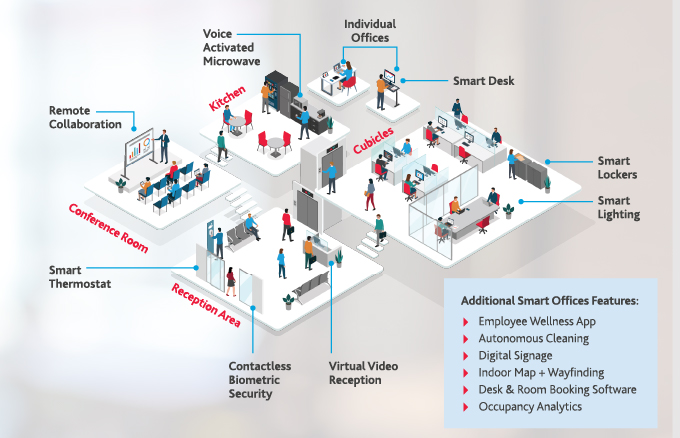 Trend #4: The Employee Experience
Having your own personal temperature setting might seem like a small gesture, but in aggregate, small gestures that improve the employee experience can amount to a lot. Providing an exceptional workplace experience is a competitive advantage. It creates engaged employees, wins over (and retains) top talent, and demonstrates a care factor that delivers reputational benefits with investors and customers.

What's changing in how we define an exceptional workplace experience is how we view employees. Many businesses are taking a more holistic view of employee wellness that includes psychological wellbeing in addition to physical and fiscal health. The new focus on mental health is influencing both office amenities and office design. Studies show that thoughtful workplace design can positively impact mental health outcomes. For example, greater exposure to natural light not only reduces eye strain and headaches, but it's also a proven mood booster. On the amenities side, emerging initiatives include built-in mental health hours and onsite access to mental health counselors.

The biggest change to what constitutes an exceptional workplace experience is our newfound realization of the importance of sanitization. Pre-COVID cleaning methods won't pass muster even after the pandemic abates. Cue the adoption of antimicrobial treatments and self-cleaning solutions, touchless elevator buttons, garbage disposals and faucets, UVC disinfection lights and autonomous cleaning robots. Making these sanitation efforts highly visible to employees can help them feel more comfortable in the office.

The Workplace of Tomorrow
COVID may be the catalyst of workplace transformation, but it shouldn't be the driver. Though the pandemic may feel like the never-ending story, it will end, and theoretically, companies could go back to a version of the traditional office model that preceded it. But with rare exception, that would be a wasteful mistake. The pandemic has forced suboptimal changes, to be sure, but it has also revealed inefficiencies in the old model, and opportunities to reinvent the office as a strategic driver of value in a new one. The right workplace strategy will incorporate the lessons learned from the pandemic, but more importantly, it will reflect the way the work itself is performed and support goals for improved performance, from facilitating greater collaboration to attracting new talent to boosting productivity.
"The workplace of tomorrow is less a physical space than it is a construct of company culture. And your culture is ultimately what makes or breaks your business strategy. Think about the culture you need to achieve your strategic goals—and then create a work environment that reflects and reinforces those attributes."
– Wayne Berson, BDO CEO
---
Catch up on the other two installments of our What's Next for Work series: