Investments in E-Discovery & Data Management Ramp Up
Investments in E-Discovery & Data Management Ramp Up
Because good e-discovery and information governance can create a virtuous cycle—with insights from e-discovery helping improve the efficacy of information governance policies and practices, and information governance helping make e-discovery more effective, efficient and inexpensive—many legal departments are investing in both areas.

More than half (57 percent) of corporate counsel plan to increase their total spending on e-discovery next year, more than double the percentage of those surveyed last year (25 percent). Large organizations, especially, are planning substantial e-discovery investments (78 percent).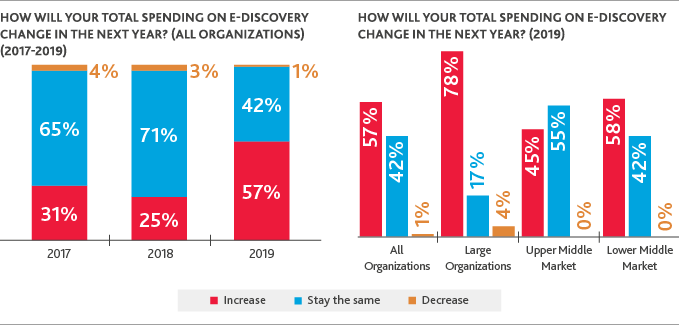 Successful e-discovery depends on multiple factors, and sound data management is crucial. Unfortunately, given the numerous types of data that exist, this can be difficult.

Big Data ranks as the top e-discovery-related issue anticipated to have the greatest business impact on organizations this year, cited by 58 percent of survey participants. Dark data—or information assets collected, processed and stored during regular activities but sitting around unused—ranks second (38 percent), followed by data disposition.
---
"Balancing record retention and disposition is tricky. Dispose of too much data—an issue cited by 34 percent of survey participants—and you risk losing valuable content or even spoliating evidence. Preserve redundant, obsolete and trivial (ROT) data, and you risk squandering resources storing and working with content unlikely ever to be of value to you, while making it much harder and expensive to discover what matters most. Organizations need to find a middle ground—one where they can keep data likely to be useful, while also disposing of that with little to no apparent value."

GEORGE SOCHA
EDRM Co-Founder and Technology & Business
Transformation Services Managing Director
---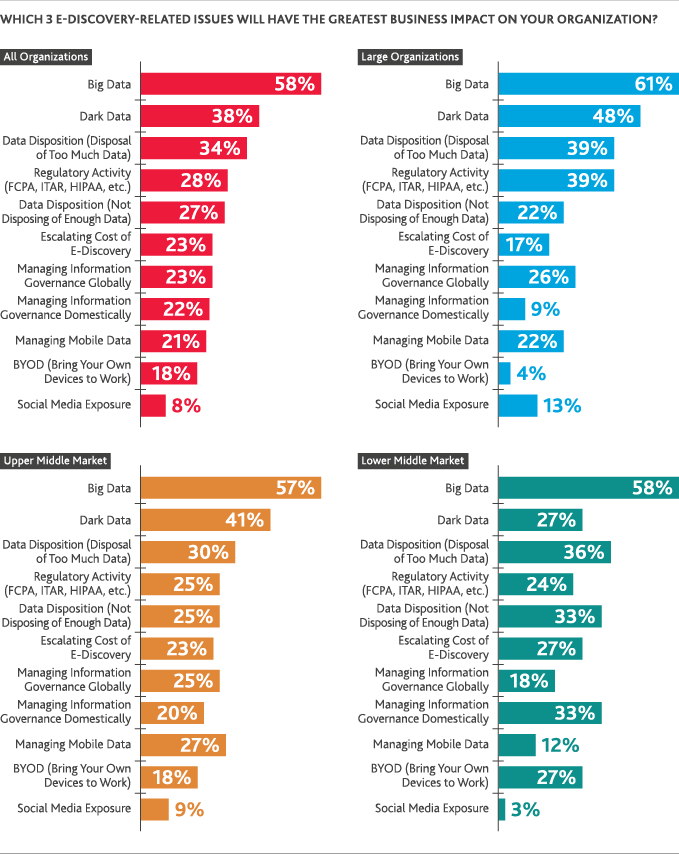 Many factors drive how legal departments manage e-discovery in litigation, with no single factor dominating this year's results. The spread between the most highly ranked factor (using previously collected and processed electronically stored information (ESI) for other matters, cited by 22 percent of respondents) and the lowest factor (disposing of data after e-discovery ends, at 10 percent) was not significant. This sharply contrasts with last year's spread, in which 42 percent of participants cited managing information and data before an e-discovery need arises as their top issue, compared to zero percent for disposing of data after e-discovery ends.

What accounts for the difference between the two years? It could be that in-house counsel are finally getting the message. After years of being told that previously collected and processed data can be reused for other matters, they are finally realizing the cost and time savings resulting from this more effective use of data. Another reason could simply be the fact that the tools and processes enabling organizations to reuse ESI in pre-review planning have improved considerably over the past several years.