Corporate Counsel Make E-Discovery Strides
Corporate Counsel Make E-Discovery Strides
To improve e-discovery, survey participants made several changes last year, including adding or switching to cloud-based storage (58 percent), adopting new tools and technologies (52 percent), and implementing new guidelines or policies (52 percent). The former—moving to the cloud—is an action we predict all organizations will have taken by year end.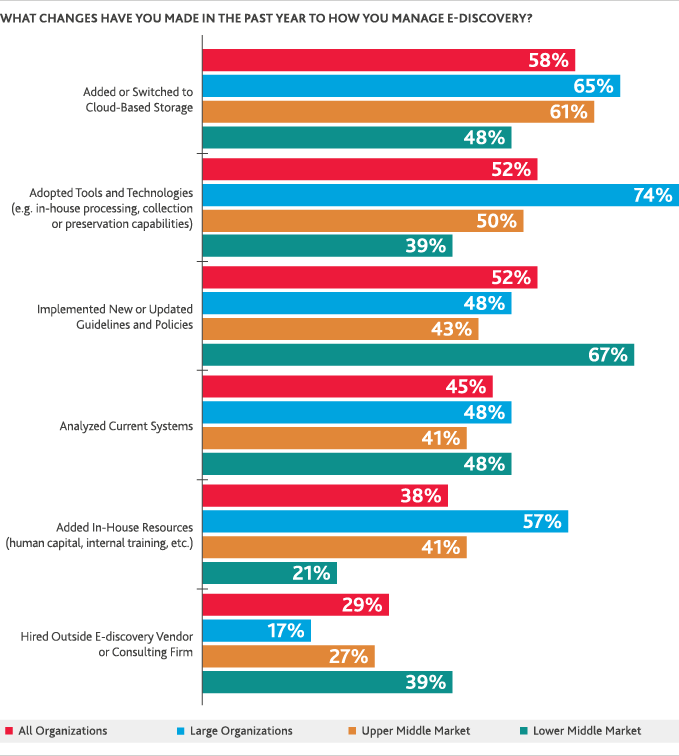 A combination of bigger-than-ever Big Data, compressed timelines and heavier workloads has made a human-only approach to e-discovery review not just impractical, but virtually impossible for the modern legal department.

Technology-assisted review (TAR)—even as rudimentary as its typical deployments have been to date—has proven to be a game-changer for legal professionals, serving as a gateway to the adoption of more advanced analytics tools and techniques. Sentiment analysis—which 52 percent of upper middle market and large organizations are considering deploying—can help legal departments gather important business intelligence on various topics, decide which tone to adopt in court cases, and even identify potential misconduct or discrimination based on subtle communication cues among employees. Meanwhile, new data visualization techniques—often embedded in advanced legal analytics tools—enable users to quickly spot potential data patterns, outliers and gaps, leading to enhanced communication and decision-making.

As expected, large organizations are deploying more translation and multilingual capabilities (65 percent) than their lower and upper middle market peers (39 percent each), likely due to their more global presence. They also are making more use of project dashboards or online portals (57 percent vs. 39 and 52 percent, respectively)—a factor likely attributable to their work on larger cases requiring more structure, as well as a need for more visibility on their progress.

Nevertheless, it is troublesome that a smaller percentage of lower middle market organizations are considering or currently deploying advanced e-discovery techniques. While lower middle market companies may have fewer resources, they cannot afford not to invest in tech—and they have a strong case for doing so. By using e-discovery technologies, they can reduce the number of manual or repetitive tasks they undertake, saving time and money. They also can mitigate risk, and monitor and assess spending. Even if they don't have the people and money to build out these technological capabilities themselves, lower middle market organizations can achieve similar results with help from consulting firms and outside vendors.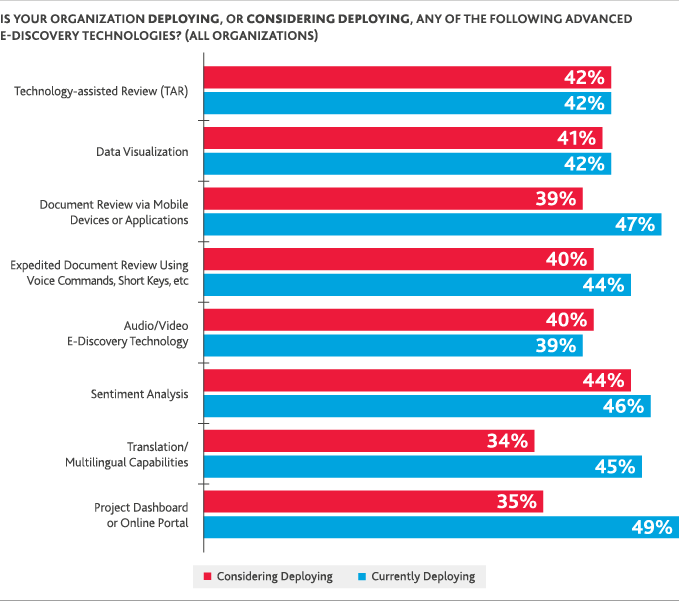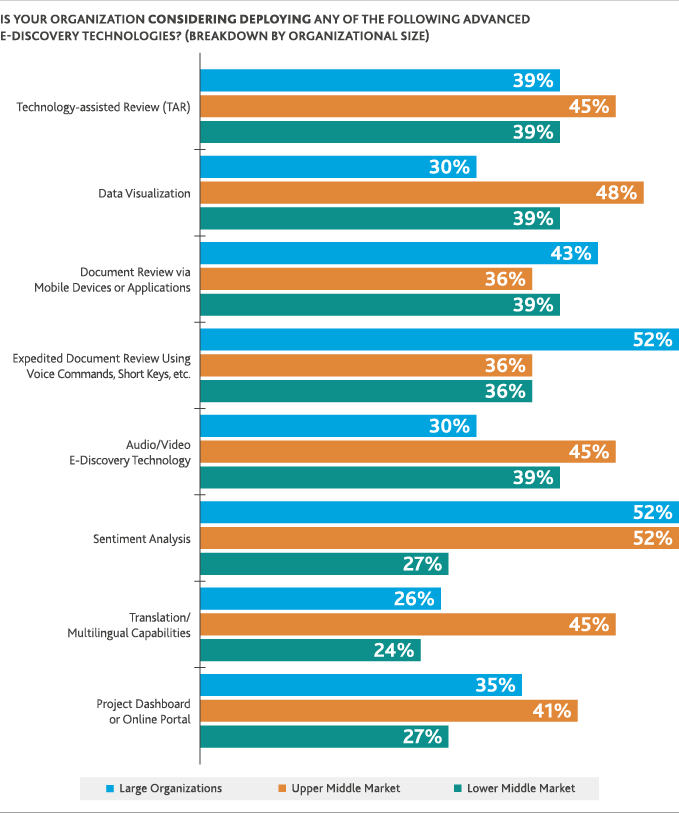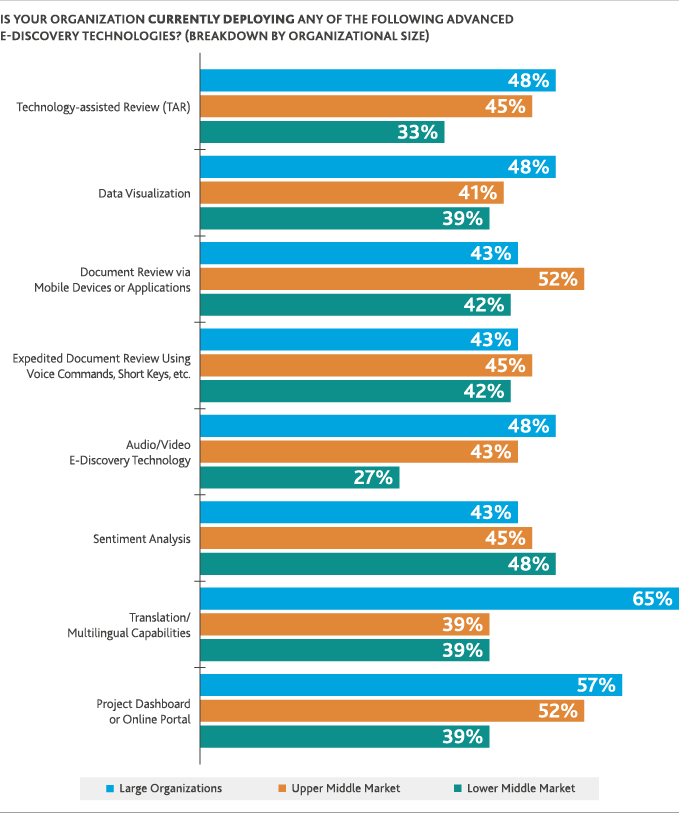 Failing to invest in e-discovery can have serious consequences, as indicated by respondents' responses to the question, "What is the most common e-discovery mistake you see from opposing counsel?" At the top of the list is having insufficient or inferior e-discovery skills (37 percent), followed by incomplete production (20 percent). Organizations that find themselves or their outside counsel making these mistakes should quickly realize that some changes may well be in order.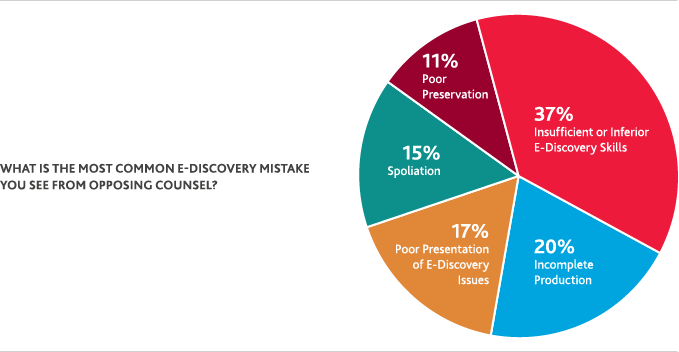 The Power of Two in E-Discovery
Why fish in a pond when you can fish in a lake?

In every e-discovery matter, you start with a lake full of data. Yet, all too often, the only place where you can fish is the small pond of data puddled at the bottom of the review waterfall. What if you could expand your scope and remain in the lake?

BDO has helped general counsel do just that—with only two reviewers—using a four-step analytical methodology.
1. Reduce
De-duplicate, deNIST, and cull by date range, file type, and domain name

2. Investigate
Use tools such as concept searching and visual conceptual clustering to locate the data that matters most

3. Match
Once the focus becomes clear, deploy predictive coding to "find more like this"

4. Verify
Utilize "hedge" technologies such as Boolean searching to evaluate the efficacy of work done in the previous two steps
Why is this important? Winning is about telling the most compelling story, and cloud-based e-discovery's powerful analytical capabilities can help organizations build that foundation. These tools, coupled with the right support and guidance tailored to each team's capabilities and needs, can help companies' core investigative and litigation teams quickly discover what matters most, use insights from that data instantly, and return whenever they desire to the lake of data they started with.