Business Restructuring & Turnaround Brief
Business Restructuring & Turnaround Brief
A Newsletter from BDO Consulting Group, LLC

After the initial disruption to the markets and most businesses caused by COVID-19, the credit and equity markets quickly normalized. By last summer, lenders and investors, for the most part, returned to "business as usual". The combined impact of trillions of dollars of government financial support, low interest rates and a generally supportive approach by lenders, helped prevent more business failures and bankruptcies. This downward trend in restructuring activities continues and according to S&P Global Market Intelligence data, bankruptcies through April 15, 2021 were down 14% compared to the same period in 2020. The following chart shows that most of the bankruptcy activity over the past year has been in a handful of industries, many of which had financial issues prior to the pandemic.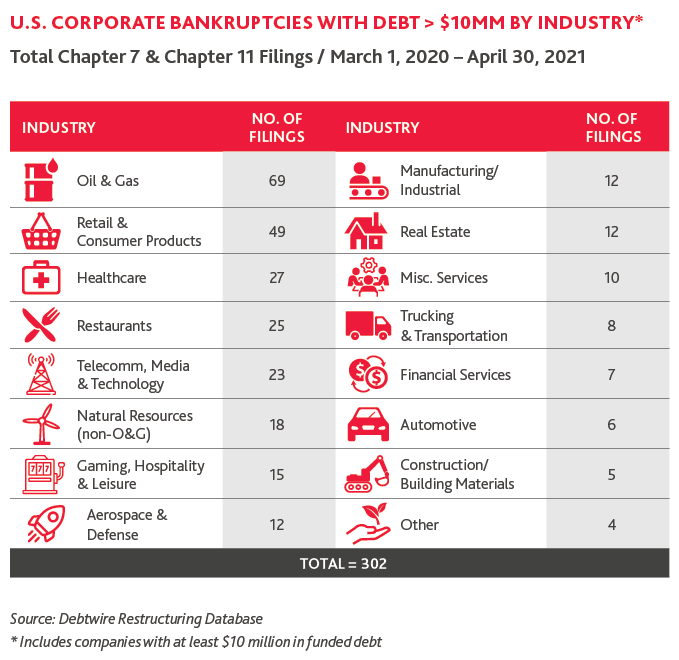 Considering that retailers had been under pressure prior to COVID-19 and low energy prices have had a negative impact on most businesses operating in the oil patch for the past several years, it is not surprising that approximately 40% of the bankruptcy filings of companies with more than $10 million of debt were in these two industries. A number of COVID-19 challenged industry sectors remain, such as live entertainment, healthcare, hospitality and commercial real estate, and we expect more to come as the recovery continues and the impact on challenged sectors is fully understood.

Our Business Restructuring and Turnaround Services practice provides operational, financial advisory and interim management services to companies in transition or seeking transformation as well as to their creditors. In this newsletter, we highlight a few of our recent case studies as we continue to enhance our capabilities across the country.
Case Studies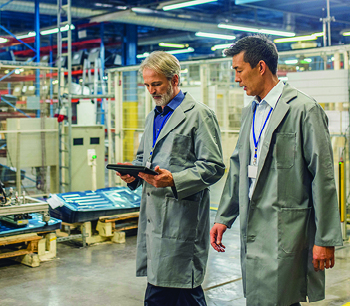 Due to the global pandemic, Camaco—a Tier 1.5 auto supplier—was forced to shut down operations leaving them with severe liquidity challenges when they were able to restart production.

The BDO Consulting Group team led by Robert Berdanier from our Pittsburgh office worked through all the requirements of the Main Street Lending Program with the company, assisted in the development of the financial forecast and loan package and made introductions to multiple traditional and non-traditional lenders. Camaco obtained several financing proposals including a $50M highly flexible financing facility from KeyBank which was a perfect fit for Camaco's needs.
---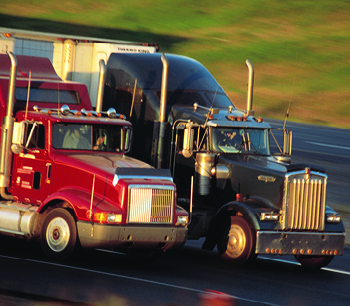 Fortune Transportation is a family-owned full truckload, over-the-road, refrigerated trucking business comprised of five related companies. We were hired to determine an optimal transaction structure that would facilitate an ownership transfer to the next generation while positioning the business for future success.

Our team, led by Robert Berdanier from our Pittsburgh office, worked with management to create a financial model for the future performance of the companies and performed valuations of each individual entity as well as the enterprise on a consolidated basis. Our team designed and presented various transaction scenarios as well as the tax impact of each option and identified potential financing sources. Additionally, our team performed an operational analysis and identified potential opportunities to improve EBITDA and to help optimize cash flow.
---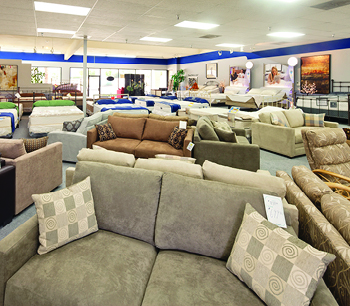 We were retained by a vertically integrated furniture manufacturer and retailer that had been losing money for several years due to reduced revenue and limited success launching new products. Ownership needed a comprehensive turnaround plan and hired us to assess the operations and identify strategic solutions to help the company become profitable again.

Our team led by John Krupar from our Phoenix office worked with management to complete a thorough review of all aspects of the business including marketing, sales, product development and manufacturing operations. We identified $15 - $20 million of EBITDA improvement opportunities designed to increase both the top and bottom lines. The company is on track to break even this year despite COVID-19 interruptions and shutdowns. Solid plans are in place and underway to double revenue in three years with new programs, manufacturing strategies and digital marketing initiatives.
---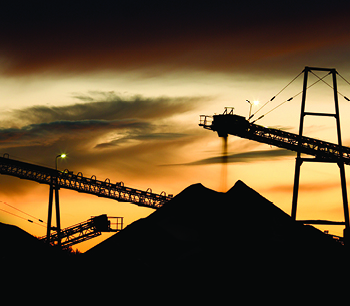 Rob Novak from our Chicago office was retained by Lighthouse Resources, a coal company, to serve as the Chief Restructuring Officer and to lead the company through the Bankruptcy process, including the sale of various assets, leasehold interests, and to settle several large liabilities.

The Chapter 11 bankruptcy allowed for a structured sale of assets and the orderly transition and reclamation or remediation of other liabilities, helping to maximize returns for all constituents, including bonding companies, the states of Washington, Montana, and Wyoming, and the secured and unsecured lenders. Our team helped avoid pitfalls and challenges which could have derailed the orderly process and outcome that was achieved.
---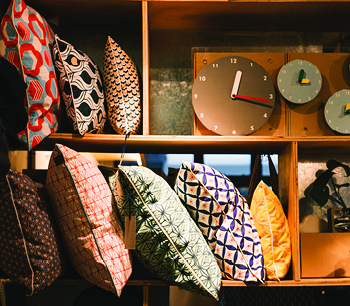 Our team led by David Berliner was engaged as the Financial Advisor to the Official Committee of Unsecured Creditors of Tuesday Morning Corporation (TMC), an off-price retailer of home goods products including furnishings, seasonal décor products and bath and kitchen products. TMC was particularly impacted by the COVID-19 stay-at-home orders, as the company only operated brick-and-mortar stores and did not sell products online. TMC filed for Chapter 11 bankruptcy and ultimately closed approximately 200 underperforming store locations (out of 687 total nationwide stores).

TMC proposed a Plan of Reorganization that initially included a partial cash recovery to the unsecured creditors at bankruptcy exit, with the remainder to be issued as five-year bonds. We helped achieve a better result for our clients as the plan delivered a very rare outcome - a 100% cash recovery, plus applicable interest, to all unsecured creditors. We advised on the various proposals and helped negotiate the final outcome. The TMC bankruptcy was an exceptionally successful case for all parties involved, including the equity holders who had their equity reinstated (subject to dilution from the exit financings).
---
Restructuring and turnaround services within the United States are offered through BDO Consulting Group, LLC, a separate legal entity and affiliated company of BDO USA, LLP, a Delaware limited liability partnership and national professional services firm. Certain restructuring and turnaround services may not be available to attest clients of BDO USA under the rules and regulations of public accounting.