Building a Digital Transformation Strategy
Building a Digital Transformation Strategy
Part 4: Accelerating Adoption
It's a modern catch-22: To survive disruption, middle market organizations must embark on digital transformation now—and yet, according to a large body of research from the change management industry, most change initiatives fail. The rate of failure is consistently estimated at 70%, based on a now decades-old study from leadership expert John Kotter. Recent surveys from McKinsey and Bain suggest the rate of failure for digital transformation, specifically, is even higher than that of conventional business transformations. If you're damned if you do and damned if you don't, why bother with digital transformation in the first place?

The reality, of course, is not so black-and-white. If success is defined as nothing less than achieving 100% of expected results, then by that standard, most digital transformation initiatives fail. If our metric for success is any degree of performance improvement, the data tells a different story. The issue is not that digital transformation is a total failure, but that it frequently falls short of its full potential.

The takeaway from this should not be to dismiss digital transformation as a waste of effort. Disruption goes on with or without our willing participation. Significant value can be captured if we get to the root of problem—one that comes down not to technology, but to people. Digital transformation initiatives fall short for four primary reasons: 1) change fatigue, the result of an increasingly frenetic pace of change and disillusionment from prior change initiatives that never came to bear; 2) unfocused or poorly articulated strategic direction; 3) lack of buy-in across the change ecosystem; and 4) a gap in skills.

Change is hard—whether it's digital or not—and too often, facilitating that change is treated as an afterthought. That's where an intentional approach to digital adoption and business enablement comes in. For digital transformation to succeed, organizations must focus as much on the why and the how as they do on the what.
Digital 3+1
While every company must follow its own trajectory, we can generally break down digital transformation into three primary strategic drivers, as outlined in BDO's Digital 3+1 approach: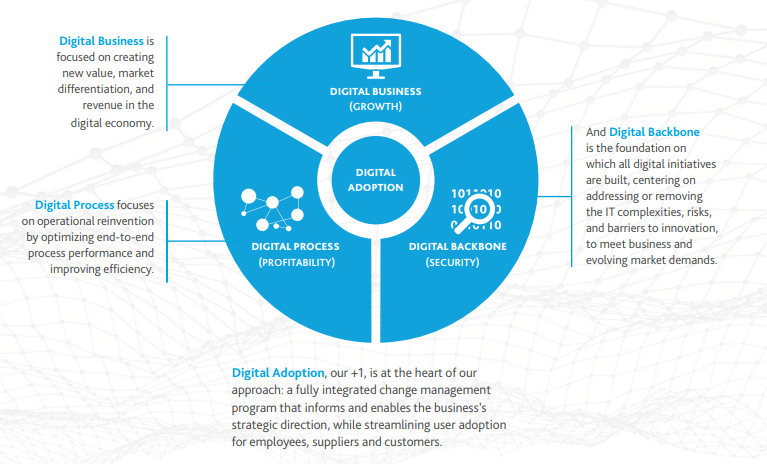 While Digital Adoption may seem, at first glance, to be synonymous with change management, it's not. Traditional change management is limited in its purview to the internal organization. The intent of digital transformation, however, is to have transformative impact across the entire business ecosystem. Vendor and customer acceptance of change is as critical to success as employee adoption—especially if it requires them to change their behaviors or if there is even the slightest of learning curves.

To understand the role digital adoption plays in your digital transformation, ask yourself these questions:
Does my organization understand and believe in the strategic vision?

Are all key business stakeholders on board and actively engaged in enabling transformation?

Do our frontline employees understand their role in making transformation successful?

Do I have the right talent and skillsets to support new digital capabilities and processes?

Have I put in place reinforcement mechanisms to foment lasting cultural change?

Do I have the necessary tools to facilitate customer understanding?

Essential to any digital initiative's successful implementation, digital adoption can be broken down into three key elements: