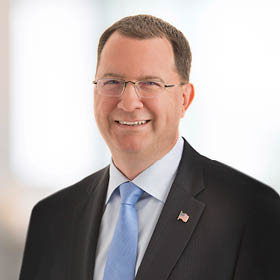 Frank Landefeld
Principal; Public Sector National Industry Leader
Executive Summary
Frank is the National Industry Leader for the firm's Public Sector practice. He leads all aspects of the firm's marketing, business development, and engagement delivery to federal, state, and local governments.

With deep industry knowledge executing complex advisory consulting services for clients in North and South America, Europe, Africa, and the Middle East, Frank brings more than 25 years of technology and business strategy, technology integration, process optimization and automation, and risk mitigation experience. His clients span several sectors and industries to include government, higher education, nonprofit, commercial retail, and telecommunications.

Frank works closely with leaders of departments and agencies with diverse operating needs and missions that reach national, regional, state, and local jurisdictions to enhance performance, increase efficiency, align technology investments with mission operations and manage current and evolving compliance concerns.
American Society of Military Comptrollers (ASMC)

Association of Government Accountants (AGA)

Government Technology and Services Coalition (GTSC)

Professional Services Council (PSC)
B.S., Mathematics, Wingate University
Arlington County Schools

Luke's Wings