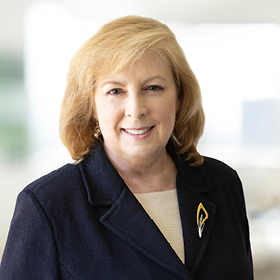 Dorothy Bossung
Wealth Advisory Director
CFP®, CIMA®, CPWA®, RMA®
Executive Summary
As a Director in the Wealth Advisory Practice, Dorothy serves as a personal advisor and fiduciary to high-net-worth families, family offices, foundations, and endowments with a focus on preservation and growth of assets. She also serves on the Wealth Advisory Executive Committee and the Financial Planning Committee.

Prior to joining BDO, Dorothy served as chair of the national investment policy committee for a very large international firm.

Dorothy applies knowledge gathered from more than 35 years of experience to each client engagement. Her focus is always on understanding the unique needs of her clients and applying an objective, unbiased solution to meet their financial goals.

Her clients include retiring executives, business owners, and those looking to sell their businesses, as well as widows who need assistance with their investments and financial planning.
Chicago Financial Exchange
Estate Planning Council of Lee County
Financial Planning Association
Hearing Committee National Futures Association
Investments & Wealth Institute
B.B.A. (cum laude), Accounting, Pace University
Condominium Association, President