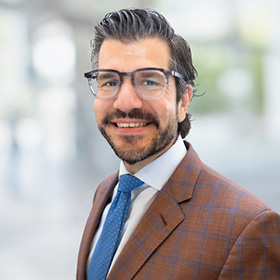 Demetrios Frangiskatos
Assurance Managing Principal; BDOADVANTAGE Leader
CPA
Executive Summary
Demetrios Frangiskatos is the Assurance Managing Principal in BDO's East region. He oversees all the elements of the Assurance practice, including: audit quality, strategy, operations and independence, as well as BDO's audit & accounting, SEC and global services offerings. Throughout his 22-plus years with BDO, he has worked with both publicly and privately held emerging growth and Fortune 1,000 companies across multiple industries, with a particular focus in Technology & Media and Healthcare. He has deep experience advising clients on complex transactions, such as IPOs, follow-on offerings, and domestic and international business combinations. He is known as a business advisor, providing recommendations for operational improvement for companies in all growth stages.

Demetrios also serves as a leader within the firm's Digital Transformation & Innovation (DT&I) initiative, which drives audit quality, enhances firm growth, supports a modern work environment and expands firm capacity. He oversees the Assurance business line's BDOADVANTAGE team, which focuses on strategic research and development in addition to the deployment and enablement of technology solutions that innovate the audit experience. The BDOADVANTAGE digital technology suite goes beyond traditional audit techniques and enables greater analysis within the audit through the use of data visualization, correlation, comparison and other and other shared techniques.

Beyond his role in the Assurance practice, Demetrios also served in leadership positions for BDO's SPAC practice, and is consistently involved in large-scale firm initiatives, including large accelerated filer program, Technology & Media Group and Audit Quality Advisory Council.
American Institute of Certified Public Accountants
New York State Society of Certified Public Accountants
B.A., Accounting, St. John's University
Tobin College of Business Alumni Association President Executive Board Member and Tobin Dean Advisory Member
Long Island Go Red for Women Executive Leadership Team
Board member for Archangel Michael Church
Board of Directors for the Bridge NYC