BDO Global Portal Resources
What is BDO Global Portal?
BDO Global Portal is a personalized, cloud-based window into both your business and your BDO relationship. The BDO Global Portal transforms and enhances your digital experience with BDO, providing you with real-time access to project milestones, apps, and data-driven insights, which enables us to collaborate seamlessly in a customized, shared, and secure environment
Getting Started with BDO Global Portal
The BDO Global Portal can only be accessed after you have been invited to it by a BDO professional. Once invited, you will receive an email invitation to access the BDO Global Portal. Invitations to the BDO Global Portal will be sent from the address [email protected] with the subject line "Welcome to the BDO Global Portal" and will look like the example below. Click the link to accept the invitation, and you will be prompted to login, during which you will need to accept the Terms and Conditions. Once you have successfully accessed your account and set your preferences within your profile, you can begin collaboration with BDO in your secure Global Portal environment.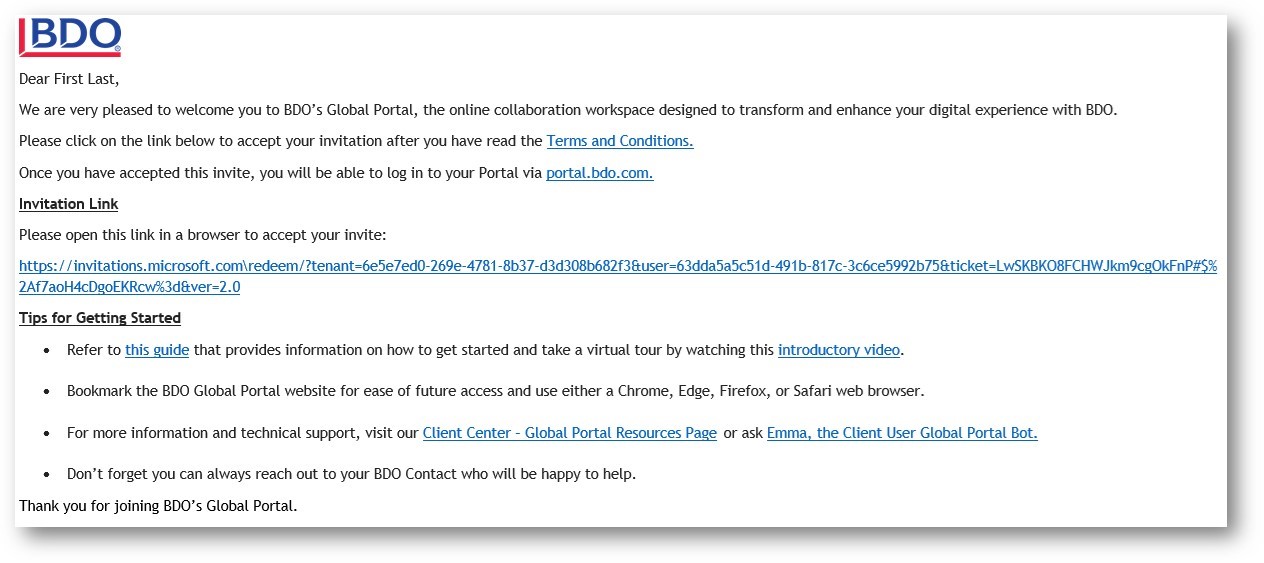 Navigating Global Portal Features
Frequently Asked Questions
Need further assistance?
We are here to help! If you require further support to ensure the best possible BDO Global Portal experience, please tell us a little about your circumstances and a member of our team will help you.
Helpful Resources