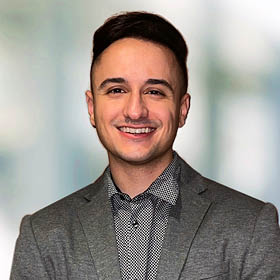 Antonio Anello
People & Culture Recruiter
Executive Summary
Antonio received a bachelor's degree in public accounting from Pace University. His interview tip is, "Just be yourself and show enthusiasm. At the end of the day, it is just a conversation. You don't need to memorize a response for every question because the perfect responses don't exist. Most importantly, HAVE FUN and show your personality!"
Get to know Antonio
What do you do in your free time?
I travel, work out, spend time with friends and family, and explore new places.
What is your favorite food?
Anything Italian.
What does thriving mean to you?
Thriving means being your authentic self at all times and constantly working towards your own self growth, both in your professional and personal life.
What do you enjoy most about working for BDO?
I really enjoy working in such a fun, collaborative, and flexible work environment. I'm surrounded by such positive people who are always willing to support me.
People who know growth, know BDO.